'Young And The Restless' Spoilers: Will Victoria And Billy Spend Thanksgiving Together?
They share children together and a complicated history, but with the holidays approaching, Victoria will reach out to Billy about Thanksgiving plans on the Wednesday, Nov. 21 episode of "The Young and the Restless."
Both Victoria (Amelia Heinle) and Billy (Jason Thompson) have been dealing with personal struggles recently, making them both a little grim as the holidays approach on the CBS soap. Billy has been reeling since entering rehab for his gambling because right before entering, he learned that Phyllis (Gina Tognoni) had slept with Nick (Joshua Morrow). Out of revenge, he then slept with Summer (Hunter King). However, issues have only continued to grow, with Phyllis then becoming CEO at Jabot—and he's been virtually edged out at the family company in the process.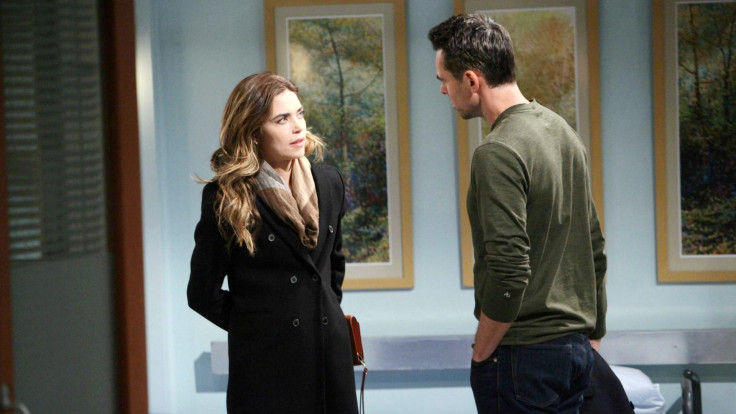 Meanwhile, Victoria has been continuing to try and cover up the role she, Nikki (Melody Thomas Scott), Phyllis and Sharon (Sharon Case) played in JT's (Thad Luckinbill) murder. She's been dealing with an investigation by Rey (Jordi Villasousa), as well as a blackmail scheme where they were all forced to hand money over to keep their secret safe. She feels potentially safer for now, after learning that Tessa (Cait Fairbanks) was the one who threatened them because she thinks she has destroyed the only video footage that existed. However, she doesn't know that there is more evidence being hidden—or that Rey is closing in.
For now though, since she feels as though her nightmare may be over, Victoria will let her guard down and make plans for Thanksgiving dinner with her family, and she may even decide to make some plans with Billy as well since Y&R spoilers tease that "Victoria reaches out to Billy."
Of course, since her holiday plans will likely include her father, Victor (Eric Braden), it's unlikely Billy will warmly accept an invitation to dinner. Still, the two may decide to find a way to spend the holiday together regardless.
"The Young and the Restless" airs weekdays at 12:30 p.m. EST on CBS.
© Copyright IBTimes 2023. All rights reserved.