Zoe Saldana Defends Nina Simone Role, Says 'I'm Doing It For My Sisters' [VIDEO]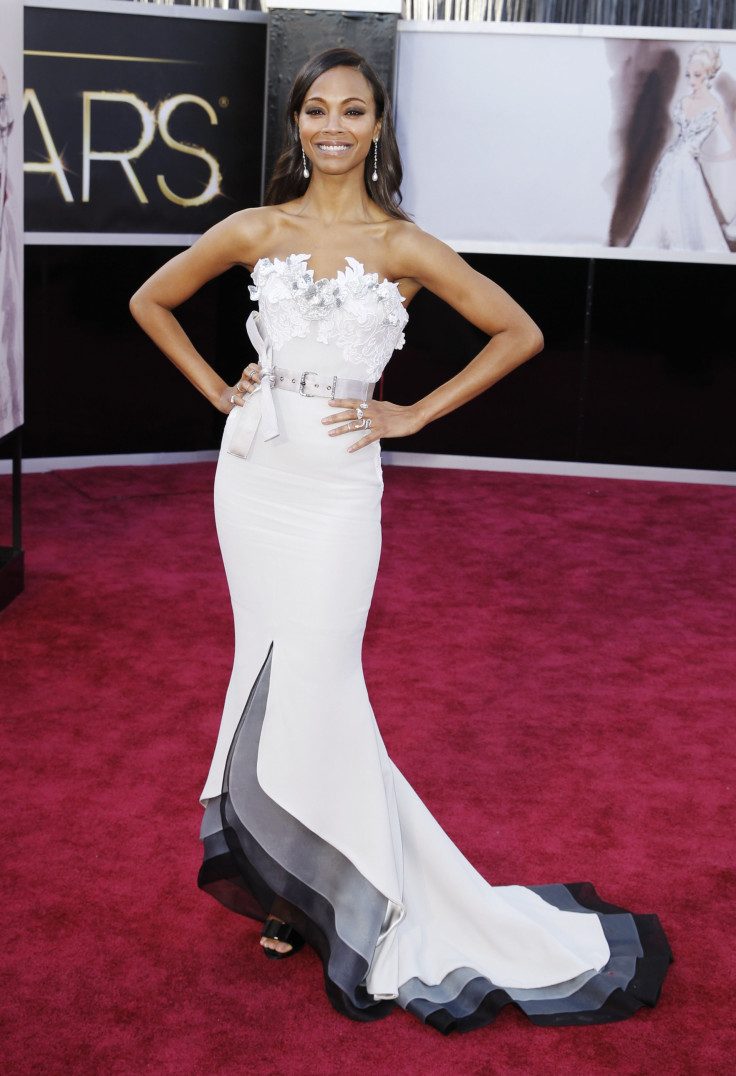 Much has been made of Zoe Saldana's casting as Nina Simone in the late songstress's upcoming biopic "Nina," with everyone from critics to Simone's daughter to singer India Arie weighing in who would be a better candidate to play the musical legend. But Saldana herself has stayed out of the controversy -- until now.
In a recent interview with Hip Hollywood, Saldana acknowledged the backlash against her and staunchly defended her claim to the role. Without responding to the specific criticisms against her, which have largely centered around her race and physical dissimilarities from Simone (Saldana is of Puerto Rican and Dominican descent and self-identifies as black and Latina), she told the publication that her convictions about the film have guarded her against criticism. The "Avatar" actress said she chose to take on the role out of love for both the singer and for "my people."
"What keeps me focused is, and what kept me from, I guess, getting stressed or being hurt by the comments, is that I'm doing it for my sisters, I'm doing it for my brothers, and I don't care who tells me I am not this and I am not that. I know who I am and I know what Nina Simone means to me," Saldana said. "I can only rely on that and maintain as much humility as possible, so that when I have to face the world and we have to then give the movie to the world to see, and share it with them, that if it comes back in … a negative fashion or positive, I'm gonna keep my chin up. … And Nina was like that too."
"I did it all out of love for my people and my pride of being a black woman and a Latina woman and an American woman, and that's my truth," Saldana added.
Saldana's allusion to "hurtful comments" likely included a petition that was posted on Change.org last August, which sought to replace her in the film with an actress who looked more like Simone. That petition, which has accumulated 10,510 signatures, took umbrage with Saldana's markedly lighter complexion and accused the film of practicing "revisionist history."
"Getting light complexioned actors to play the roles of dark complexioned historical figures is not only a sign of blatant disrespect to the persons they are portraying, but it is also disrespectful to their families, to history, to the people who look like the persons being whitewashed, and to the intelligence of the audience," the petition's creator, Naima Valier, wrote.
Valier's criticisms echoed those shared by Simone's own daughter, Simone Kelly, who is not affiliated with the project. Kelly, a singer and Broadway actress, revealed in an August interview with Ebony that she had shared her concerns about Saldana with "Nina" director Cynthia Mort, but felt she had been excluded from the project.
Kelly clarified that she was a fan of Saldana and respected the actress's past work, but that she felt there were other actresses who could better portray her mother that had been overlooked.
"The one actress that I've had in my heart for a very long time, whose work I'm familiar with already, is Kimberly Elise. Many people have spoken to me about Viola [Davis]. I love her look. I love her energy," Kelly told the magazine. "Both of the actresses that I've mentioned are women of color, are women with beautiful, luscious lips and wide noses, and who know their craft."
While the issue of skin tone and physical resemblance might seem like a superficial concern to many, especially considering the fact that, as the Boombox points out, an actress's job is to pretend to be someone they're not, Nina Simone's looks were arguably more central to her life than the average person's. As a civil rights advocate, Simone crusaded against racism throughout her life; as a singer she experienced regular criticisms for not meeting certain white, Western standards of beauty.
"My mother was raised at a time when she was told her nose was too wide, her skin was too dark," Kelly told The New York Times. "Appearance-wise [Saldana] is not the best choice."
Singer-songwriter India Arie added her own two cents about the casting of Saldana in a blog post for NinaSimone.com. Arie wrote that while she had initially "reserved judgment" about the choice, she was offended by leaked photos of Saldana on set.
"So today I saw the images of Zoe Saldana as Nina Simone… And I think they are ridiculous!" Arie wrote. "Yes there should be a movie made, and YES they should have chosen someone who LOOKS like Nina Simone, ESPECIALLY since her RACE played such a PIVOTAL role in WHO, WHAT and WHY, she was… THAT ASIDE for a second, this just looks WEIRD, it looks like a person in Black(er) face with a fake nose."
Although Saldana has not commented on either the makeup or prosthetic nose used to physically transform her into the singer for the film (photos have captured her on set wearing darker foundation and an afro wig), her co-stars have claimed that viewers will be "blown away" by Saldana's portrayal of Simone.
"I think a lot of people are going to be surprised of the sheer power of her," David Oyelowo, who plays Simone's manager and love interest Clifton Henderson in the film, told E! News. "She went to work. She is a huge admirer of Nina Simone, and that crept into what she did. She wanted to tell the truth, and, every day we were on that set, that's what I saw. "
View the video of Zoe Saldana explaing her choice to play Nina Simone below.
FOR FREE to continue reading
✔️ Unlock the full content of International Business Times UK for free
offer available for a limited time only
✔️ Easily manage your Newsletters subscriptions and save your favourite articles
✔️ No payment method required
Already have an account?
Log in
© Copyright IBTimes 2023. All rights reserved.