Zoe Saldana Sings In Nina Simone Biopic, Says Co-Star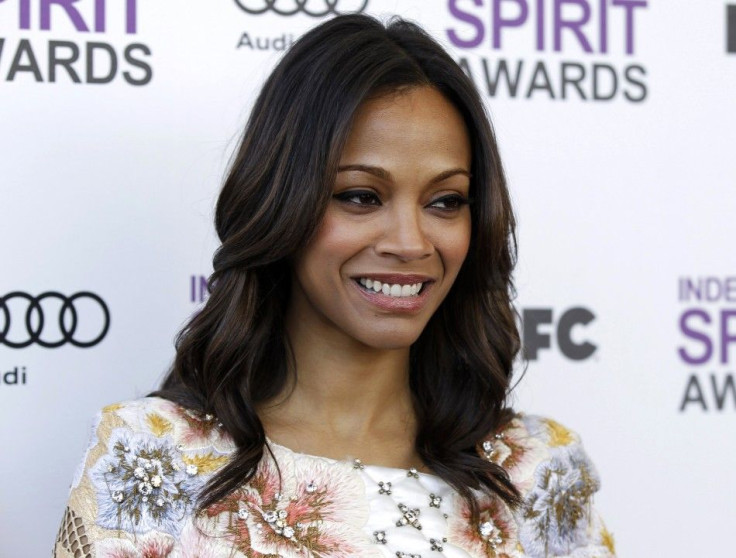 Zoe Saldana will be showing off her singing skills in the upcoming Nina Simone biopic, "Nina," one of the actress' co-stars has divulged.
David Oyelowo detailed to E! News that Saldana, who will embody the iconic jazz singer, has performed her own singing of the film and has the singing chops for the role.
"She did do her own singing," Oyelowo told E! News at the Essence Black Women in Hollywood luncheon Thursday. "It was fantastic, surprisingly. Nina Simone is no joke in terms of her singing voice. I was pretty blown away."
Controversy has notably shrouded Saldana in this role, with many considering her not fit to play the singer due to her features not being typically African-American.
The first images of Saldana on the set of the film revealed the actress wore makeup to make her skin darker like Simone's, as well as an afro-textured wig and a wider prosthetic nose, to which many found offense, comparing the actress' transformation to blackface.
Singer India Arie was especially vocal about Saldana being cast in the role. Arie wrote an essay that was featured on NinaSimone.com blasting the film's production for selecting the Latina actress to portray Simone who had prominent African features and was also extremely instrumental in the civil rights movement.
"Yes there should be a movie made, and YES they should have chosen someone who LOOKS like Nina Simone, ESPECIALLY since her RACE played such a PIVOTAL role in WHO, WHAT and WHY she was," Arie wrote, partially in caps to indicate that she was yelling. "THAT ASIDE for a second, this just looks WEIRD, it looks like a person in Black(er) face with a fake nose…REALLY?!!!!"
Many have suggested that actresses such as Viola Davis or Kimberly Elise play the role of Simone in Saldana's place. The singer's daughter, Lisa Simone Kelly, reportedly stated that her mother said she would like comedian Whoopi Goldberg to portray her in a film.
However, Oyelowo says that many will be shocked at how well Saldana embodies the role of Simone.
"I think a lot of people are going to be surprised of the sheer power of her," the actor told E! News. "She went to work. She is a huge admirer of Nina Simone, and that crept into what she did. She wanted to tell the truth, and, every day we were on that set, that's what I saw. "
Oyelowo also divulged that the film has already received an accolade from a close friend of Simone's, who revealed that she would have loved that "Nina" is a love story.
"Al Shackman, who was her guitarist for many years, was with us on set, and one of the things he said was that Nina would have loved the fact that we were telling her story as a love story because she was a big lover of love," he said. "And our film is basically a love story, so that was very heartening from someone who knew her for many, many years to say this is a rendition of a movie she would have loved."
© Copyright IBTimes 2023. All rights reserved.