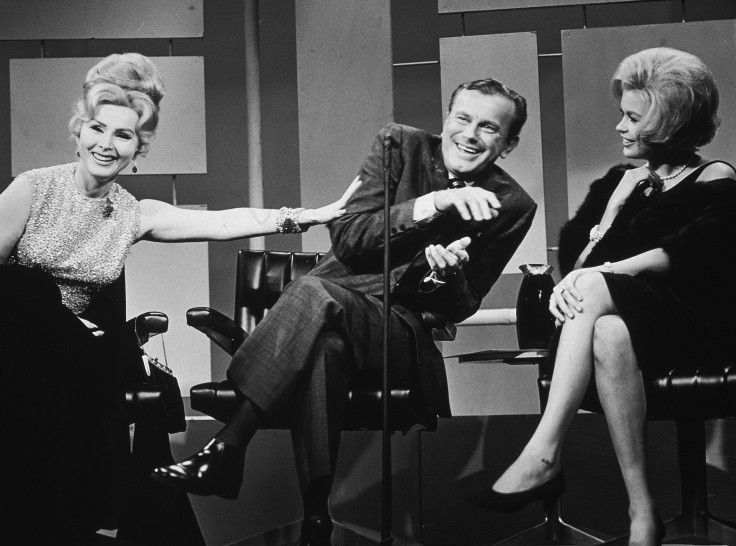 Hungarian beauty Zsa Zsa Gabor, who amassed TV and film acting credits into her 80s, mostly playing herself, died Sunday of a heart attack. She was 99.
TMZ reported Gabor, who would have turned 100 in February, was pronounced dead after being rushed to a hospital.
Gabor was known as the original Kim Kardashian, Hollywood Life said. She and younger sister Eva were Beverly Hills, California, socialites for decades, and critics often made them the butt of jokes, saying they were famous for nothing. Gabor was married to Conrad Hilton from 1942-47.
Her serious acting credits were in "Moulin Rouge," "Lovely to Look at" and "We're Not Married" in 1952 and "Lili" in 1953.
Gabor was known for her outlandish personality and extravagant lifestyle, the Hollywood Reporter said. Publicist Ed Lozzi told KCBS, Los Angeles, she died at her home Sunday afternoon.
Gabor broke a hip in 2010 when she fell out of bed. Her right leg later was amputated above the knee to prevent gangrene from spreading further.
The former Miss Hungary 1936 was married nine times, making a career from joking about her marriages, cultivating the image of an Old World golddigger and calling everyone "dahlink."
"I don't remember anybody's name," she once said. "How do you think the 'dahlink' thing got started?"
The blonde diva wrote a how-to guide for golddiggers, "How to Catch a Man," and was a popular guest on talk shows. Asked about her housekeeping skills by talk show host Merv Griffin, she quipped: "I am a marvelous housekeeper. Every time I leave a man, I keep his house."
She was convicted in 1989 of slapping a Beverly Hills Police officer and sentenced to three days in jail and community service.
She was born Sari Gabor in Budapest, Hungary, but the date is uncertain. The generally accepted date is Feb. 6, 1917. She emigrated with her mother and sisters at the outbreak of World War II.
In addition to Hilton, she was married to George Sanders, who later married the third Gabor sister, Magda. Her last husband was Prince Frederic von Anhalt, who was not allowed in her bedroom in recent years because she was so ill.
Magda, who shunned the public eye, died in 1997 and Eva, whose most memorable role was in the 1965-71 CBS comedy "Green Acres," in 1995.
© Copyright IBTimes 2023. All rights reserved.