10 Best Weighted Blankets Under $40 On Amazon
This article uses affiliate links, which means if you purchase products through these links, we may earn a commission. Click here to see our
T&C
. For licensing please click
here
.
If you've come to this page, then there's a big chance that you're already familiar with the product, as they're having a bit of a moment lately. But in the off-chance that you're exploring something new and curious as to what they are, here's a quick lowdown.
Proven to help with anxiety, prolong sleep times, and improve the overall quality of your ZZZs, weighted blankets, are therapeutic coverings that usually weigh between five to 30 pounds, and are specifically designed to create a sense of calmness to the person using it.
Here, we've listed down 10 of the best weighted blankets that you can get on Amazon if you're budget is under $40.
1. Bare Home Weighted Blanket (40" x 60")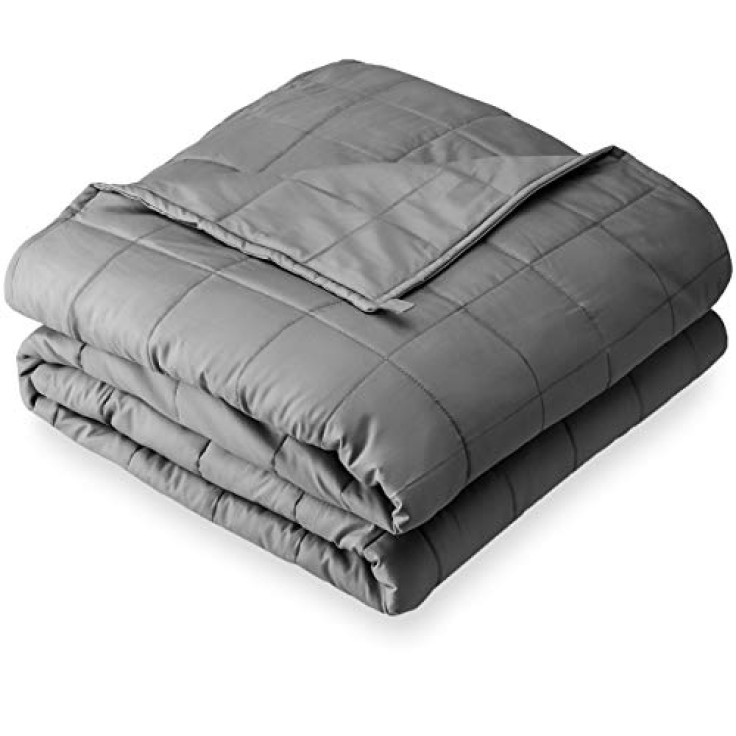 (photo from amazon.com)
First on the list is one of Amazon's highest-rated yet still affordable weighted blanket. Made by Bare Home, this 40" x 60" blanket is made from a blend of 100% soft cotton and non-toxic glass beads to give it the weight it needs.
It's also incredibly sturdy thanks to reinforced stitching, smaller square pockets, and increased filling, all-while still being machine-friendly. With its muted gray color, it's also perfect for modern homes, providing a pleasant and timeless design. Best of all, the blanket comes with an easy 30-day guarantee.
2. Smart Queen Cooling Weighted Blanket for Adults (15 lbs, 48"x 72", Twin Size)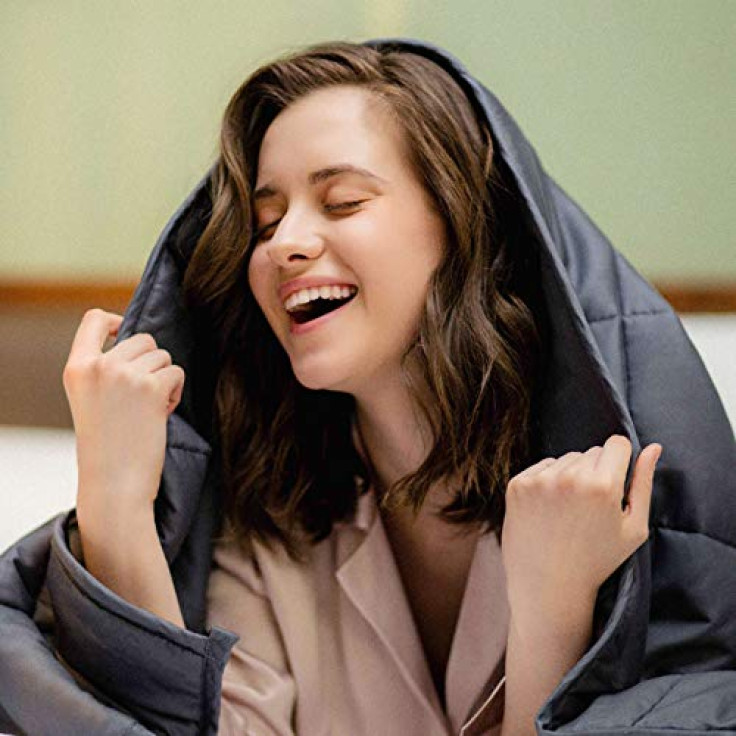 (photo from amazon.com)
Rest easy and sleep more soundly with this Smart Queen Cooling Weighted Blanket for Adults. Another top-rated and quality product, this Amazon favorite simulates a gentle hug via natural glass beads that provide the pressure weighted blankets are known to provide.
However, you don't have to worry about waking up in the morning with beads everywhere, as this blanket features a special and unique 7-layer structure to prevent them from leaking out, all while its cotton build ensures you're always comfortable and warm. As with most weighted blankets, this product also comes with a 30-day money-back guarantee.
3. GSLE Weighted Blanket (Grey, 36"x48" 05 lbs)
(photo from amazon.com)
Next on the list is the GSLE Weighted Blanket, which also easily falls under our $40 budget but still packs quite a punch… or pressure, as weighted blankets go. What separates this weighted blanket from the bunch however is its microfiber build, which is hypoallergenic and breathable. Tightly woven and double-brushed on both sides, this microfiber bedding guarantees a smooth and silky feel, while also being more durable than other sheets with higher thread counts.
The result is a cozier sleep with less layers, making it perfect for every season the whole year round. Best of all, this product comes with a no-risk purchase and lifetime warranty.
4. YYIJ Plush Weighted Blanket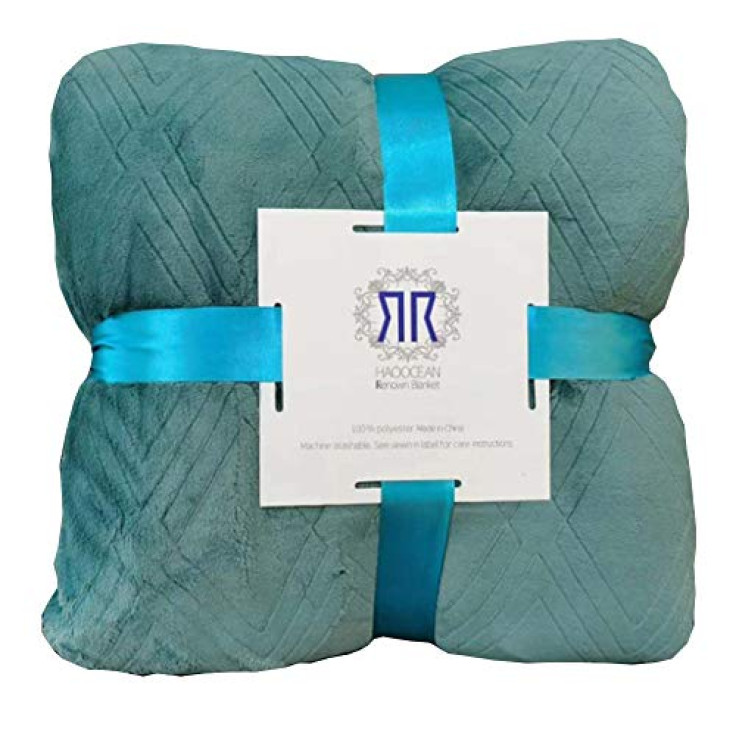 (photo from amazon.com)
This plush weighted throw blanket by YYIJ sports a high-quality suede design and super soft suede surface, making it extra comfortable and soft. There are also multiple sizes to choose from based on your preference or who will be using it, and each weighted blanket comes in different colors to further suit your taste. Made with high-quality, you are sure to never sleep the same way again.
5. Qusleep Diamond Weighted Blanket (48''72''15LB)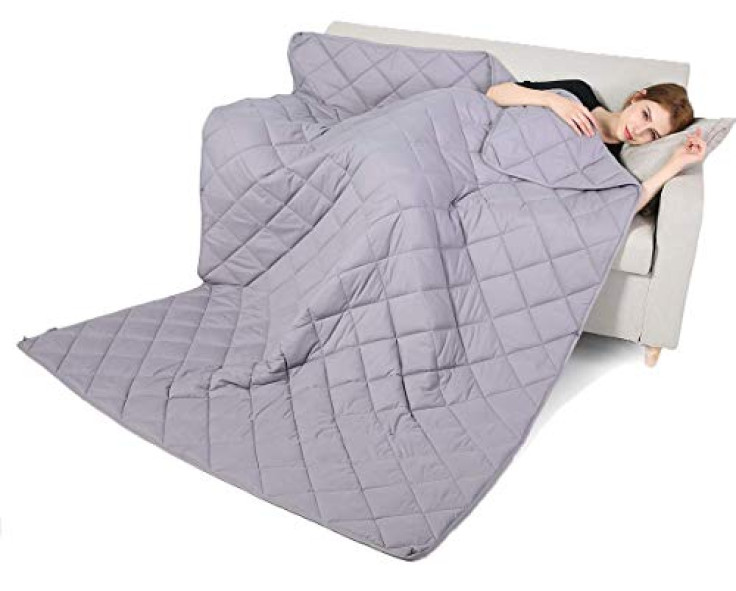 (photo from amazon.com)
Another highly-rated Amazon favorite, this weighted blanket offering by Qusleep is especially made to mold to your body much like a warm hug does. Filled with glass beads to gentle stimulate your nervous system and release some melatonin to help lull you to sleep. Every bead-filled square is also small and properly placed for the best weight distribution, while the Egyptian cotton fabric guarantees nothing but softness and warmth, even on people with sensitive skin.
Easily one of the best in the market, this weighted blanket also comes bundled with a 30-day guarantee, and will refund you with no questions asked if your expectations are not met.
6. SNUZZZZ Weighted Blanket with Summer Cooling and Fleece Duvet Covers
(photo from amazon.com)
Get the best value for your money and get the best sleep of your life with this SNUZZZZ adult weighted blanket and fleece duvet cover combo. Made from either cooling bamboo or warm flannel, this weighted blanket features minimal beads and instead uses premium insulation to make it more comfortable and fluffier.
And then there's the bamboo fabric, which coupled with the light and fluffy filling, prevents excessive heat buildup and even allows air circulation underneath. Expertly developed, this weighted blanket is proudly made in the USA, and might just be your next best friend.
7. AN Adult Weighted Blankets (20 lbs, 48" x 72", Twin Size)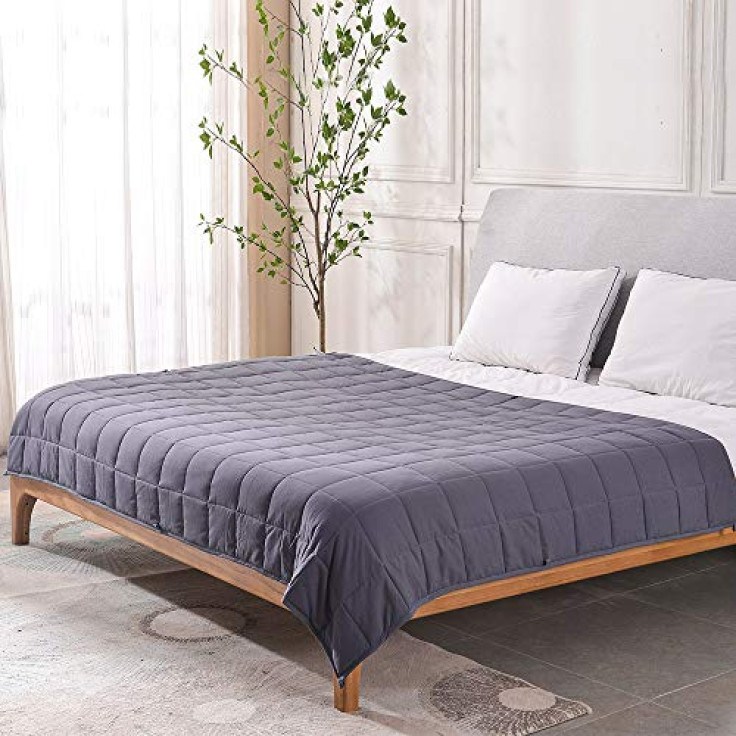 (photo from amazon.com)
Next on the list is the AN adult weighted blankets. Priced affordable, this weighted blanket features Oeko-Tex certified, hypoallergenic cotton and non-toxic glass beads to produce a softer and breathable weighted blanket.
Engineered to be 10% of your body weight, this blanket also uses 7-layer sewing technology to prevent any leakage, while the design provides a modern feel and aesthetic that will surely complement your bedroom. Additionally, the company also offers 24/7 online service, as well as a 30-day guarantee.
8. Waowoo Adult Weighted Blanket Queen Size(15lbs 60"x80")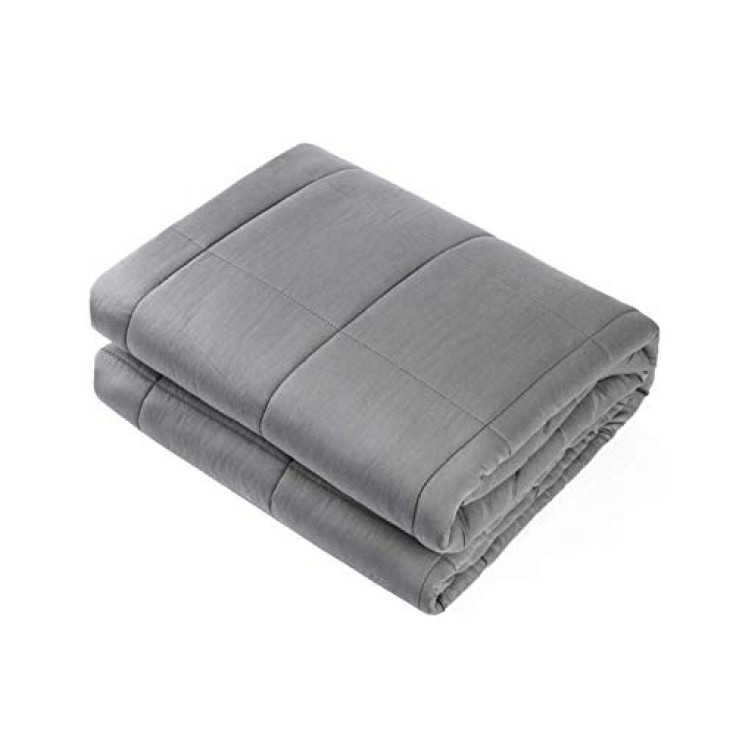 (photo from amazon.com)
While this weighted blanket may look simple, it's actually one of the most highest-rated blankets within its price range, which speaks volumes for the quality you get here. It has all the usual bells and whistles of weighted blankets, which includes better weight distribution thanks to glass beads, breathable fabric, and easy maintenance.
However, the company takes this a notch higher by making everything premium, without beefing up the price. Throw in 24/7 customer service and an affordable price point, and you have yourself a great deal.
9. ROSMARUS Weighted Blanket for Kids (36x48-5lbs, Dark Grey)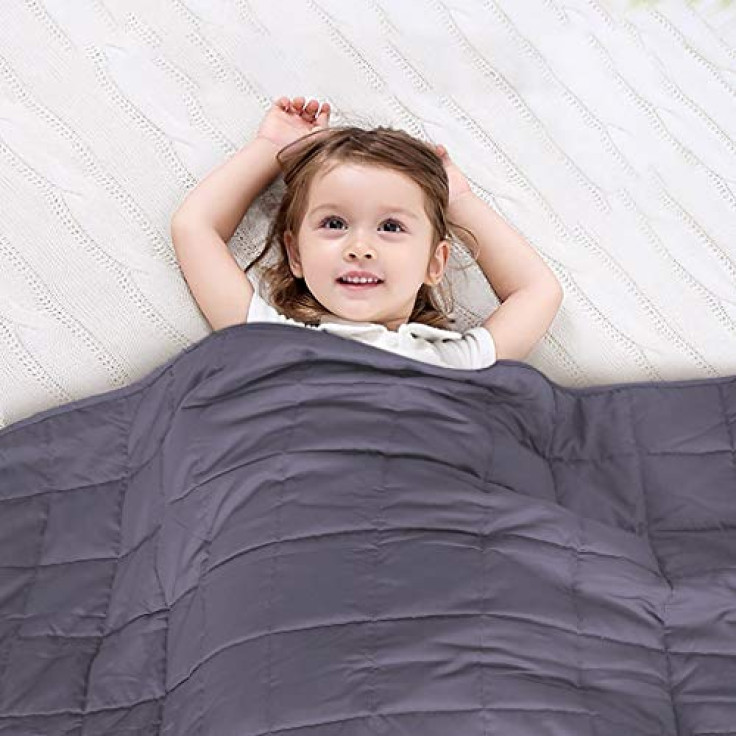 (photo from amazon.com)
Who said weighted blankets are only for adults? Give your child a good night's sleep with this weighted blanket by ROSMARUS. Specially made for kids, this breathable weighted blanket features a 100% cotton fabric build that's combined with polyester padding.
Since it's for kids, the blanket also features smaller pockets for its hypoallergenic beads, kept in place by a 7-layer quilt design that will keep it from falling off when in use. Giving off a sense of calmness and warmth while at use, this weighted blanket also features a 3-month warranty.
10. Luna Kids Weighted Blanket (5 Lbs, 36x48)
(photo from amazon.com)
Take your child's sleep to the next level of comfort with Luna, an innovative weighted blanket that combines 7-layers of fabric with a streamlined design that guarantees equal weight distribution all throughout.
Filled with cloud-like fabric inside and covered with a naturally soft cotton fabric outside, this weighted blanket is made to provide warmth and comfort, all while still being breathable when needed. Hypo-allergenic and featuring non-toxic glass beads, it also comes in many kiddie designs, making sure it's a delight to look at as much as it is a delight to sleep with.
FOLLOW MORE IBT NEWS ON THE BELOW CHANNELS