'12.12.12' Live Stream: Watch The Benefit Concert For Sandy Relief Online For Free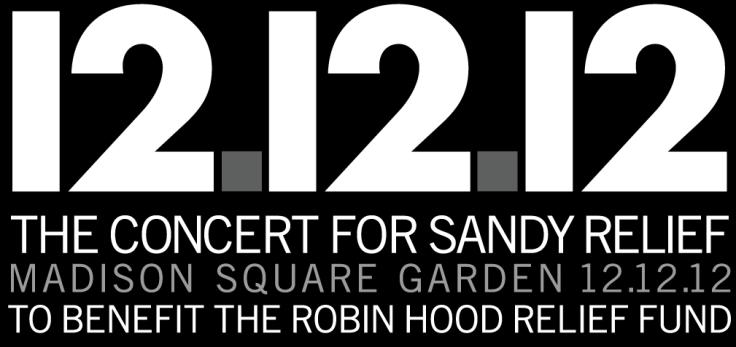 The "12.12.12" benefit concert for Hurricane Sandy relief will take place Wednesday at Madison Square Garden with Bruce Springsteen, Paul McCartney, The Who, Kanye West, Billy Joel and Eric Clapton. If you could not get tickets, there are plenty of other ways to catch this all-star event live.
The "12.12.12" concert is raising money for the Robin Hood Relief Fund, which provides aid and resources to other charities and organizations across the tri-state area providing relief efforts for Hurricane Sandy. The "12.12.12" concert was organized by the Weinstein Co., the Madison Square Garden Co. and Clear Channel Media and Entertainment.
The "12.12.12" benefit concert will also feature Bon Jovi, Kanye West, Alicia Keys, Eddie Vedder of Pearl Jam, Chris Martin of Coldplay, Dave Grohl of Foo Fighters and Roger Waters of Pink Floyd. For those who could not afford tickets or make it to New York, there are several ways of enjoying the concert.
In the U.S., "12.12.12" will be broadcast live on multiple channels. The full list is below. "12.12.12" will also be streamed live online on several sites. An embed of the live stream is below.
For residents of New York, New Jersey and Connecticut, movie theaters are offering tickets to concert broadcasts at select theaters. Residents would just need to go to the theater's box office to get free tickets. A full list of theaters can be found below.
The "12.12.12" benefit concert will begin on 7:30 p.m. EST on Dec. 12.
Theater Locations in New York
Clearview's Grand Avenue Cinemas,1849 Grand Ave., Baldwin,
Clearview's Franklin Square Cinemas, 989 Hempstead Turnpike, Franklin Square
Clearview's Babylon Cinemas, 34 Main St., Babylon
Clearview's Bedford Playhouse, 633 Old Post Road, Bedford
Clearview's Central Plaza Cinemas, 2630 Central Park Ave., Yonkers
Clearview's New City, 202 S Main St., New City
Clearview's Port Washington Cinemas, 114 Main St, Port Washington
Clearview's Squire Cinemas, 115 Middle Neck Road, Great Neck
Clearview's ChelseaCinemas, 260 W. 23rd St., Manhattan
National Amusements', Linden Boulevard, 2784 Linden Blvd.,
National Amusements' Island 16, Exit 62 & Route 97, Holtsville
National Amusements' Farmingdale Multiplex, 1001 Broad Hollow Road, Farmingdale
Theater Locations in New Jersey:
Clearview's Middlebrook Galleria Cin.10, 1502 Rte 35 South, Ocean
Clearview's Closter Cinema, 130 Closter Plaza, Closter
Clearview's Kinnelon, 25 Kinnelon Road, Kinnelon
Clearview's Parsippany Cinema 12, 3165 Route 46, Parsippany
Clearview's South Orange 5, 1 Trenchard Place, South Orange
Clearview's Succasunna Cinema 10, 21 Sunset Strip, Succasunna
Clearview's Warner Quad- Ridgewood, 190 E. Ridgewood Ave., Ridgewood
Clearview's Wayne Preakness Cinemas, 1220 Hamburg Turnpike, Wayne
FrankTheatres Towne Stadium 16, 6733 Black Horse Pike, Egg Harbor Twp.
FrankTheatres South Cove Stadium 12, 191 Lefante Way, Bayonne
Marquee Cinemas, Orchard 10, 1311 Route 37 West, Toms River
National Amusements' Edgewater Multiplex, 339 River Road, Edgewater
Rave Cinemas, Hazlet Multiplex, 2821 State Route 35, Hazlet
Theater Location in Connecticut:
Bow Tie Cinemas, Regent 8, 64 N. Main St., South Norwalk
Where to watch "12.12.12" on Television:
AXS TV
AMC
BIO
Bloomberg
CBS
Cooking Channel
Destination America
Discovery Fit & Health
Encore
EPIX
FX Movie Channel
Fuse
G4
Hallmark Movie Channel
HBO
HBO Latino
IFC
ION Television
Lifetime Real Women
Live Well Network
Military History
MSG
MSG Plus
mundoFox
NJTV
Ovation
Palladia
SHOWTIME
Smithsonian Channel
Sundance Channel
Thirteen
VH1 Classic
WEtv
WLIW.
© Copyright IBTimes 2023. All rights reserved.