15 K-Pop Idols Who Are Unrelated But Look Alike They'll Pass As Twins
KEY POINTS
A TikTok video went viral for its content about K-pop idol look-alikes
BTS' Suga, V and Jungkook's idol look-alikes could pass as their siblings
Stray Kids' Seungmin looks like his DAY6 bias, Wonpil
Some K-pop idols are mistaken to be twins or siblings because of their many similarities in visuals and personalities.
In May, a TikTok video went viral for its content about K-pop male and female idols with a striking, uncanny resemblance.
Here's a list of male and female K-pop idols who look very much alike that they could pass as twins or siblings separated at birth.
1. Itzy's Yeji and Stray Kids' Hyunjin
Aside from being company siblings under JYP Entertainment, Itzy's Yeji and Stray Kids' Hyunjin have the same surnames. They were even referred to by some fans as "Hwang Twins."
In a fan video edit under the Twitter thread "Rumors you have ever believed as a K-popper," the uploader shared they used to believe Yeji and Hyunjin were siblings because their features are very much alike.
2. BTOB's Minhyuk and Tomorrow X Together's Soobin

Fans started to notice the uncanny resemblance between BTOB's Minhyuk and Tomorrow X Together's Soobin when the latter was an MC (Master of Ceremonies) at "BTOB 4U" in November 2020.
Despite being born a decade apart, fans noticed they could pass as twins because of their similar features and smiles.
3. Le Sserafim's Kazuha and Suzy

In a past TheKstarNextDoor interview, the MC mentioned that Japanese member Kazuha of South Korean girl group Le Sserafim looked like Bae Suzy, to which she humbly replied, "Only a little bit."
Fans notice the resemblance of Kazuha with the former Miss A member, especially when she smiles and tilts her head to the side.
Because of their similar visual features, they were once nominated as K-pop idols who could pass as mother and daughter.
4. BTS' Suga and Seventeen's Woozi

Seventeen's lead vocalist Woozi previously appeared on BTS' Suga's online show "Suchwita" in May. His hair was even styled like Suga's to highlight their resemblance.
During the interview, Suga even suggested a unit name for him and Woozi, saying, "Maybe our group name could be 'Brothers,'" as reported by Koreaboo.
5. Itzy's Ryujin and Blackpink's Rosé

Aside from looking alike in some photos, Itzy's Ryujin and Blackpink's Rosé also seem to have similar facial expressions and personalities.
In 2021, Koreaboo challenged fans to guess the female idol shown in an upside-down photo. Many answered "Rosé," only to find out that the idol in the photo was actually Ryujin.
"Even after knowing it's Ryujin, I still see Rosé if I flip my phone. F—," one commented; another said, "Whoa I thought it was Rosé."
6. BTS' Jungkook and Day6's Sungjin

In 2020, a K-pop fan account posted a thread of photos where 30-year-old Sungjin from Day6 and 25-year-old Jungkook from BTS looked very much alike.
Aside from similarities in facial features and being vocalists of their respective groups, the two South Korean idols also have the same bunny-teeth smile.
7. Seventeen's Jun, Super Junior's Heechul and Enhypen's Jay

In 2021, KBS announced the launch of a new variety show that would pair celebrities as father and son. A fan replied to the tweet with side-by-side photos of Seventeen's Jun and Super Junior's Heechul and captioned it, "WE NEED JUN AND HEECHUL HERE!"
A fan added that fourth-generation idol Jay from Enhypen would make them triplets.
On "I-Land," Seventeen member Hoshi also noticed that Jun and Jay are look-alikes and asked them to dance to Seventeen's song "HIT" together. Dancing next to each other highlighted their similar facial features even more.
8. Twice's Mina and Enhypen's Sunghoon
In March 2022, an Enhypen fan account posted a Twitter thread on the "twinification" of Twice's Mina and Enhypen's Sungwoon.
The side-by-side photos showed the similarities between the Japanese member of Twice and the "Ice Prince" of Enhypen, not only in visuals but also in facial expressions.
9. BTS' V and NewJeans' Minji
In November 2022, a NewJeans and BTS fan account's tweet about BTS' V and NewJeans' Minji went viral with over 4,800 retweets and 41,000 likes.
The tweet was captioned "Hello V from NewJeans [and] Hello Minji from BTS" because they look alike.
Aside from having similar small faces with defined jaws and big eyes, the two idols' surnames are both Kim, too.
10. Le Sserafim's Eunchae and Red Velvet's Yeri

Le Sserafim's Eunchae and Red Velvet's Yeri look similar that they could pass as siblings, according to a Le Sserafim fan account on Twitter.
But for some netizens, Eunchae looks like a mix of Red Velvet's Joy and Yeri, according to Allkpop.
Eunchae and Yeri are both maknaes (youngest members) of their respective girl groups, too.
11. Blackpink's Jennie and aespa's NingNing

Since her debut, NingNing has always been compared to Jennie because of her similar cat eyes and "mandu" (dumpling) cheeks, according to an online thread on theqoo.
In April, the two female idols were also spotted sporting almost the same airport outfits – a pale blue turtle neck jacket.
"They really look alike. Even the hairstyle and clothes are similar," one commented; another said, "Is it because their clothes are the same? I thought it was the same person."
12. Seventeen's Joshua and Oh My Girl's Yubin

When Joshua from Seventeen wore a wig once at a past event, his similarities with Binnie – now known as Yubin – from Oh My Girl was highlighted even more, especially their eyes, lips and nose.
A Twitter fan account by the username @17LookAlikes also showed a photo where the side profiles of the two idols look the same.
13. Stray Kids' Han and Xdinary Heroes' Jun Han
According to a Twitter thread about Xdinary Heroes and Stray Kids members with twin behavior/similarities, Xdinary Heroes' Jun Han and Stray Kids' rapper Han Jisung are "the most iconic."
Visually, the two idols have similar facial features, especially in face shape, lips and nose. When it comes to personality, they are both introverts, too.
14. Day6's Wonpil and Stray Kids' Seungmin

Because of their twin-like similarities, Day6's Wonpil and Seungmin have been nominated as a "father and son" pair on a viral Twitter thread.
Apparently, Seungmin happens to be a huge My Day – Day6 fan. He even uploaded many covers of Day6 and eagerly talks about them in different interviews and live broadcasts, according to Koreaboo.
15. Le Sserafim's Sakura and Tomorrow X Together's Taehyun

It's not new to K-pop fans that Le Sserafim's Japanese member Sakura and TXT's vocal and rapper Taehyun could pass off as twins because of their many similarities.
When Taehyun did a TikTok dance challenge with Le Sserafim members Sakura and Kazuha for their song "Eve, Psyche & The Bluebeard's Wife," many fans commented, "The twins are back."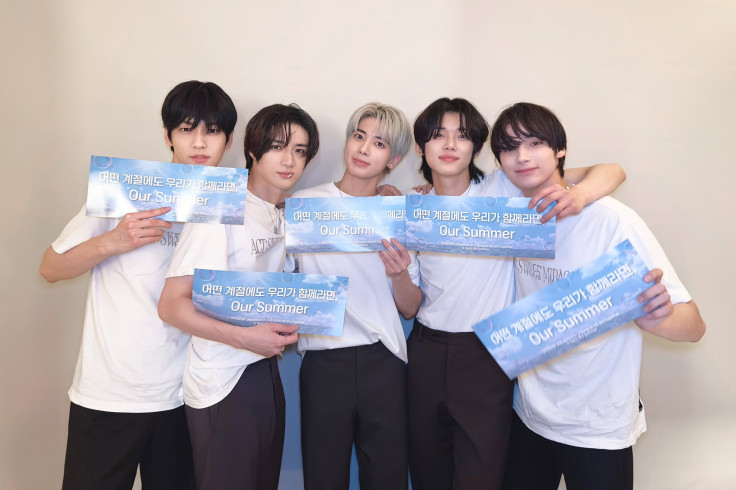 © Copyright IBTimes 2023. All rights reserved.