'19 Kids And Counting' Fans Create Counterpetitions To Keep Duggar Family's TLC Show On Air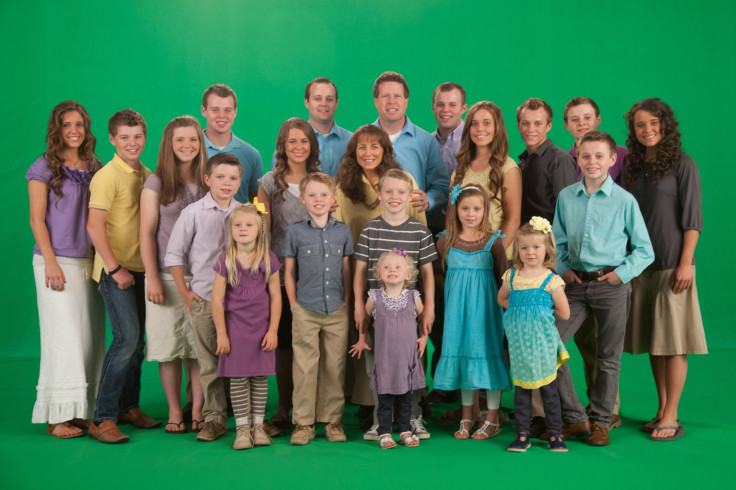 The Duggars' fans have spoken. Following the popularity of one anti-Duggar petition that is asking TLC to take "19 Kids and Counting" off the air for the family's discrimination against the lesbian, gay, bisexual and transgender community, supporters of the openly religious reality-TV family have taken a stand.
In response to Jim Wissick of San Jose, California's Change.org pro LGBTQ petition, a counterappeal, "Keep 19 Kids and Counting on TLC!," was created on Petition24.com Wednesday. While Wissick's movement, "End LGBTQ fear mongering by the Duggars," already has received more than 132,000 signatures of its 367,000 goal, the new petition, created by Jessica McCart of Upper Darby, Pennsylvania, has recently gained steam. As of Friday afternoon, the fan's project had just over 21,000 participants and thousands of comments requesting the network leave the long-running series be.
"There's a petition going around trying to get this amazing show canceled," reads McCart's petition. "I am not the same religion, I don't have 19 kids, and I don't dress like them, but their message is something that is found in all religions in every area of the world ... that is to live or at least strive to be the best versions of ourselves, to know what our convictions are and to stand by them, and to treat each other the way we would want to be treated."
A similar counterpetition in favor of keeping the conservative Baptist family on air, "Defend the Duggars as they come under attack!," has also gained momentum after it debuted on Lifesitenews.com Thursday. The appeal, which is using the hashtag #DefendTheDuggars, had 70,053 signatures Friday.
Wissick's petition was created in August after family matriarch Michelle Duggar urged residents near her hometown of Fayetteville, Arkansas, to vote against an anti-discriminatory act. While the ordinance, which forbids business owners and landlords from denying employment or housing because of sexual orientation or gender identity, has since been approved, the petition has regained steam following Michelle and husband Jim Bob's recent actions.
Last week, the couple came under fire after issuing a challenge to their fans on their official Facebook page in an effort to defend their daughter Jessa Seewald's controversial honeymoon photo. The challenge, which called for all married couples to share an image of them kissing, quickly turned sour after some same-sex couples claimed their submissions were removed from the page. Following accusations that the Duggars purposefully deleted only gay couple's kissing photos, Jim Bob and Michelle responded by posting a Bible passage.
"We will always stand for truth and the values we hold dear without compromise but we will do so in love and kindness," reads their Nov. 13 Facebook post. "Treating others well even if we don't agree with them and we will do so without hateful words."
"19 Kids and Counting," originally titled "17 Kids and Counting," premiered on TLC in 2008. The show, which follows the daily lives of Jim Bob, Michelle and their 19 children (ranging in ages from 26 to 4) is in its eighth season under its current title.
© Copyright IBTimes 2023. All rights reserved.