'19 Kids And Counting' Stars Ben And Jessa Seewald Reveal Baby Name Plans; Will They Continue The Duggar 'J' Theme?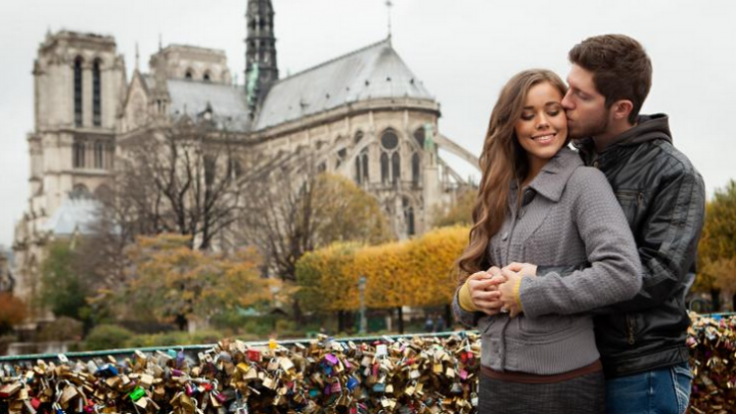 "19 Kids and Counting" stars Michelle and Jim Bob Duggar are famous for having named each of their 19 children a moniker that starts with the letter J, but it appears one of their daughters won't be following in their footsteps. During an appearance at the Southern Women's Show in Orlando, Florida, Sept. 26, Jessa Seewald and her husband, Ben Seewald, revealed they will not be following a name trend with their offspring.
When asked by a fan if they plan to give their future children names that start with the same letter, Ben Seewald said he didn't think they would be going that route. "We thought to ourselves, if we do that, we'll kind of limit our name selection," Ben, 20, said, as reported by Entertainment Tonight. "We thought maybe we'll keep our options open."
And it appears the couple is doing just that. Ahead of the arrival of their firstborn, due Nov. 1, the couple is asking all of their fans to give them baby name suggestions. In a video recently posted to their blog the mom-to-be discusses their baby name journey. "So we haven't told whether or baby is a boy or a girl but we are in the middle of choosing the baby name," she says. "Put in your top pick for a boy name and a girl name and who knows? We might choose yours!"
Jessa Seewald isn't the first Duggar daughter to decide against giving her children first names with the same initial. Jill Dillard revealed in October 2014, ahead of the arrival of her now 5-month-old son Israel David, that should we not be following the J name trend. "We are not going to do a letter theme," she told People. "We may do some kind of theme, like family names."
While two of Michelle and Jim Bob Duggar's daughters have not continued the name trend, their eldest son, Josh Duggar, has. The 27-year-old father's four children each share a first name with the letter M. He shares Mackynzie, 5; Michael, 4; Marcus, 2; and Meredith, 2 months, with wife Anna Duggar.
While Josh and Anna Duggar welcomed four children, the Seewalds are undecided about how many kids they will have. However, Jessa Seewald, 22, has made it clear she will not follow be following her parent's footsteps by having 19 kids. While they may not be having a double-digit brood, Jessa and Ben Seewald do plan to adopt. "We'd love to adopt," Jessa Seewald said, according to ET. "We're looking into that and trying to see what the process is, what the requirements are."
This isn't the first time the couple has opened up about their desire to adopt. In February, they told People that they were pursuing adoption. Their plans were soon after put on hold after they discovered they had to be married for two years before being able to legally adopt a child in the state of Arkansas – they tied the knot Nov. 1, 2014. Jessa Seewald recently shared that she and her husband are planning to enroll in adoption classes after the birth of their baby.
Fans of the Seewald-Duggar brood will be able to watch Jessa and Ben Seewald prepare for the arrival of their child in an upcoming special on TLC. The episode is expected to air before the end of the calendar year.
© Copyright IBTimes 2023. All rights reserved.
FOLLOW MORE IBT NEWS ON THE BELOW CHANNELS