Is Jessa Seewald Having Twins After All? Duggar Family Promotes Gender Poll, Asks For Baby Name Suggestions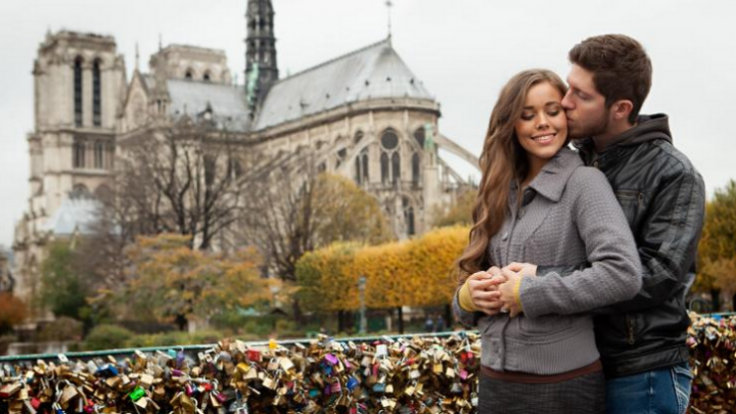 Jessa Seewald has denied she's expecting twins but could she be keeping a secret from her fans? While the former "19 Kids and Counting" star is refusing to share her child's -- or should we say children's? -- gender, she is doing her part to include her fans in her pregnancy. Jessa and Ben Seewald recently shared a poll with their supporters and asked them to vote on what gender they think their baby is. However, alongside the options "boy" and "girl" the poll also includes the options "twin boys, twin girls, twins (boy and girl)." Does that mean Jessa Seewald could be having multiples?
The couple was first thought to be having twins when they announced the pregnancy in April. Their rumors began swirling when they posted a video of themselves making smoothies. "You know, pretty soon we'll be making another little smoothie," Jessa Seewald says.
"Maybe more than one," Ben Seewald teases.
Watch the Seewald's pregnancy announcement below:
After their pregnancy announcement caused some buzz about a potential new set of twins joining the Duggar brood, she shared a 13 week ultrasound photo with fans. The image showed just one baby. "#BabySeewald is growing!" Jessa Seewald captioned the picture. "Already so in love with this little person!"
Despite Jessa Seewald's ultrasound scan showing just one child, the twin rumors persisted. In May, Jessa Seewald's mom, Michelle Duggar, admitted during an interview with KGUN 9's "The Morning Blend" that the rumor have been her doing. "I think maybe Mom, Grandma here, started that rumor. I said to Jessa when she let us know that they were expecting, we were so thrilled. I said, 'Who knows, Jess? You may have twins!'"
Jessa Seewald most recently spoke out about speculation she's having twins during an appearance at the Southern Women's Show in Charlotte, North Carolina, on Aug. 29. People magazine reports the former reality star told them they have only seen "one baby in the ultrasound."
While the Duggars and Seewalds are keeping quiet about the baby's gender, they're asking their fans to vote on what they think the child's gender will be. "In just six hours, over 89,000 people have voted in Ben and Jessa's Baby Poll," reads a post from Michelle and Jim Bob Duggar's Facebook fan page Wednesday night. The grandparents also asked their supporters to share baby name suggestions. "Do you have a favorite baby name? If you do, please send a message to Ben and Jessa ... I know they would like to hear from you! "
The Seewalds are due to welcome their baby on Nov. 1. The date also marks their one-year wedding anniversary.
Do you think Jessa Seewald is having twins? Share your predictions below!
© Copyright IBTimes 2023. All rights reserved.