'19 Kids And Counting' Stars Jim Bob And Michelle Duggar Celebrate Josh Duggar's Son Michael's Birthday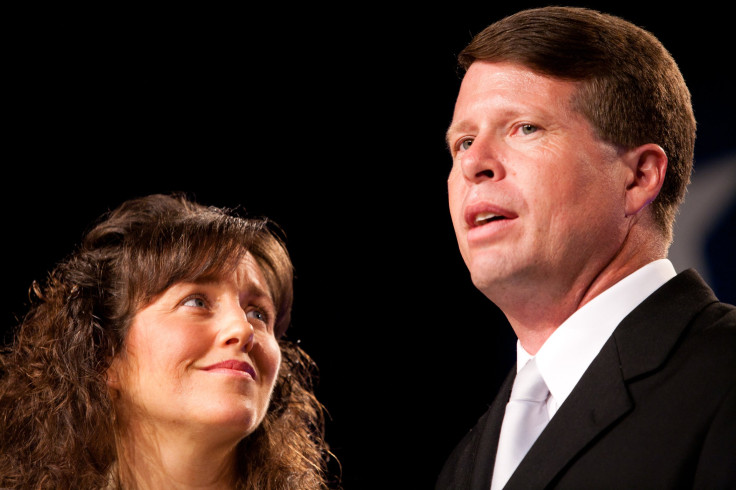 The Duggar family may in the midst of a scandal, but that isn't stopping them from celebrating. In honor of their eldest grandson Michael's birthday, Jim Bob and Michelle Duggar posted a tribute and new photos of the young "19 Kids and Counting" star to social media on Monday.
"This boy is 4-years-old today!" Michelle and Jim Bob wrote on their official Facebook fan page. "He is clever and he is kind. There was a time when we could not imagine anything as amazing than being parents. Now, we are grandparents too and we absolutely love everything about it! Happy, happy birthday Michael! Grandma and Grandpa Duggar love you so much!"
Their birthday post was accompanied by four personal snaps of Michael, who is the son of "19 Kids" star Josh Duggar. The images featured the birthday boy posing with several different members of the Duggar family including his big sister Mackynzie, 5, and his 2-year-old brother Marcus. The couple later shared a photo on Twitter of themselves posing Michael as his celebrated his birthday in their Arkansas home.
Michael is the first-born son of Jim Bob and Michelle's eldest son Josh and his wife, Anna Duggar. Anna also posted a birthday message to her son on social media on Monday. "So glad to be in Arkansas celebrating Michaels' 4th birthday — we love you Mikey!" she captioned a black and white video of Michael blowing out his birthday candles.
So glad to be in Arkansas celebrating Michael's 4th birthday -- we love you Mikey! #HappyBirthday pic.twitter.com/BGKWMCgxAo

- Anna Duggar (@Anna_Duggar) June 16, 2015
Josh and Anna have three children together. Their fourth child, a girl, is due to arrive in July. Josh, 27, recently admitted to molesting five underage girls as a teenager following the release of a police report last month which detailed his actions. As a result of its release, he resigned from his position at the Family Research Council. TLC responded by yanking "19 Kids and Counting" off its schedule. The network has yet to announce their official decision for the series' future.
While the family has received notable backlash following the scandal, the Duggars have stuck by Josh. Two of his molestation victims, sisters Jill Dillard and Jessa Seewald, recently spoke out in defense of their sibling. "… He was a boy, a young boy in puberty and a little too curious about girls. And that got him into some trouble. And he made some bad choices, but really the extent of it was mild, inappropriate touching, on fully clothed victims, most of it while girls were sleeping," Jessa said during her appearance on Fox News' "The Kelly File" on June 5. Jill added that she had already forgiven her brother and "moved on."
© Copyright IBTimes 2023. All rights reserved.