7 Of Jim Bob And Michelle Duggar's Biggest 'The Kelly File' Interview Bombshells About Son Josh's Scandal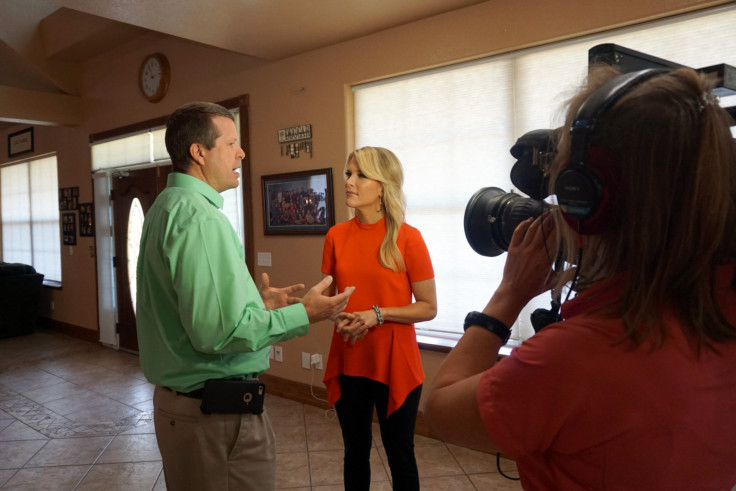 After weeks of remaining radio silent on the controversies surrounding their son Josh Duggar's molestation scandal, "19 Kids and Counting" reality stars Jim Bob and Michelle Duggar sat down with Fox News' Megyn Kelly on "The Kelly File" Wednesday night to speak out about their eldest offspring's indiscretions. The TLC stars discussed everything from their daughter's reactions to Josh's sexually abusive behavior (he admitted to molesting five underage girls as a teenager in 2002 and 2003; four of the victims include his sisters Jessa Seewald and Jill Dillard) to the truth about their son's treatment, their feelings on In Touch's decision to release Josh's juvenile record and what they feel is in their future for their infamous Arkansas brood.
1. Josh's reasoning for his actions
Michelle and Jim Bob said when their son Josh admitted to committing acts of sexual molestation as a teenager against his sisters, he told them he did it because he was "curious about girls."
"He had gone in and just basically touched them over their clothes while they were sleeping," Jim Bob explained. The dad of 19 later added that he did not equate Josh's actions to "rape."
"There was a couple more times that he came to us and told us what we had done… this was not rape or anything like that, this was like touching somebody over their clothes. There were a couple incidents where he touched them under their clothes, but it was like a few seconds and he came to us and was crying and told us what happened."
2. Josh's victims were "not aware"
Newly released police reports state that at least one of Josh's sisters alerted Jim Bob and Michelle to their son's actions, but according to the couple, many of their son's victims were completely unaware they had been molested until they were later informed.
"They didn't even know he had done it," Jim Bob said.
"It was so important for us, as parents, to talk to our girls and make sure that nothing else had happened," Michelle added. "One by one, as we talked with them. None of them were aware of Josh's wrongdoings."
3. Josh's treatment
Jim Bob and Michelle did not deny reports that they sent to Josh, then 15, receive Christian-based treatment from a family friend in Little Rock, Arkansas, who specializes in mentoring boys who had made "unwise choices in their lives." While the duo admitted their son did lend a hand to their friend's construction business during his treatment, they stated he was mentored and came back a new man.
"Josh was a changed person," Jim Bob said.
4. Duggar boundaries today
While Michelle confirmed she felt Josh was no longer a threat to her other children after receiving treatment, she revealed the family still has "safeguards in place" in order to keep their daughters safe. Some rules include not letting boys and girls playing hide-and-seek together, not allowing boys to babysit, among other measures.
"Little ones don't sit on big boys laps, or people that you don't know, or even family members, unless it's your daddy," Michelle shared of her boundaries for her little ones.
5. Not angry about leak
While Jim Bob said he is talking to attorneys about possibly issuing a lawsuit for the release of Josh's juvenile record, he claims to fine with Josh's indiscretions being known.
"There's a lot of families out there that are hurting," he said. "This isn't something that we wanted to come out, but if people can see that Josh, who did these very bad things when he was a young person, that God can forgive him for these terrible things, then I hope that other people realize that God can forgive them and also make them a new creature."
6. Duggar women's response
Jill and Jessa will share their thoughts about Josh's actions during Friday's episode of "The Kelly File," but until then, Jim Bob and Michelle shared their own interpretation of their daughter's reactions to the release of Josh's police report.
"They were shocked to hear this. This was something that crushed them at first. They did not want this out," Michelle said. "No victims wants their record, their minor story told. Every victim should have the right to tell their own story, not a tabloid."
7. "19 Kids and Counting" canceled?
While the future of "19 Kids and Counting" remains unclear -- TLC temporarily pulled the series from its airwaves May 22 -- Jim Bob and Michelle said they're not concerned about continuing the series. While Jim Bob said he didn't think the rest of his family "should be punished" for Josh's actions, he said he's fine "whether they film us or not."
"We're [going to] enjoy our grandchildren and continue on with life and either way, we're at peace," Michelle said.
Catch Jill and Jessa's episode of "The Kelly File" Friday at 9 p.m. EDT on Fox.
© Copyright IBTimes 2023. All rights reserved.
FOLLOW MORE IBT NEWS ON THE BELOW CHANNELS