1,900-Year-Old Portrait Mummy Of Girl From Roman-Era Egypt Studied Using X-Rays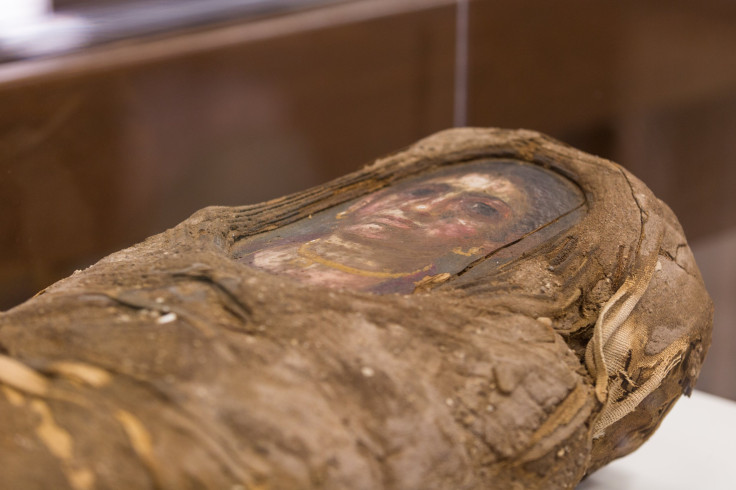 It is just over three feet long, and has a portrait drawn on it, showing a girl's face with her hair gathered behind her. The girl in the portrait lived over 1,900 years ago and her portrait mummy is not just a rare archaeological specimen but also a source of mystery, in terms of its origin.
To unravel some of that mystery, researchers put the mummy through a day-long X-ray scattering experiment at the Argonne National Laboratory in Illinois, using the synchrotron at the facility. Detailed findings from the first-of-its-kind experiment on a human mummy, which was carried out Monday, will have to wait a while, but some preliminary data was already available. For instance, shards in the girl's brain cavity are likely solidified pitch, and not some crystalline material.
Portrait mummies are what the name suggests — they have a portrait on the outside, usually a life-like one, of the occupant of the sarcophagus within. Egyptians earlier used 3D portraits, fashioned like masks (such as the famous one of King Tutankhamen), but the Romans introduced the 2D version to them later.
The portrait mummy in question belongs to a little girl, as evidenced by both the portrait and the size of the mummy. The girl's body is wrapped in several layers of linen, and the outermost wrappings are ordered in intricate geometric patterns, with overlapping rhomboids framing the portrait.
Thirteen students of material science and humanities at Northwestern University in Evanston, Illinois, are studying the mummy — excavated in 1911 and owned by Garrett-Evangelical Theological Seminary, also in Evanston — and they have already learnt that it was likely prepared in a different workshop from some other portrait mummies held at the Phoebe A. Hearst Museum of Anthropology at the University of California, Berkeley.
"This is a once-in-a-lifetime opportunity for our undergraduate students — and for me — to work at understanding the whole object that is this girl mummy. Today's powerful analytical tools allow us to nondestructively do the archaeology scientists couldn't do 100 years ago," Marc Walton, a research professor of materials science and engineering at Northwestern, said in a statement Wednesday.
Before going to the synchrotron, researchers led by the university's Stuart R. Stock put the mummy through a CT scan, and determined she was roughly 5 years old. A research professor of cell and molecular biology, Stock also led the synchrotron experiment.
"From a medical research perspective, I am interested in what we can learn about her bone tissue. We also are investigating a scarab-shaped object, her teeth and what look like wires near the mummy's head and feet," he said in the statement.
© Copyright IBTimes 2023. All rights reserved.
FOLLOW MORE IBT NEWS ON THE BELOW CHANNELS