1st Amendment Protester Shoots Himself In The Leg Opposing Fake Antifa Rally At Gettysburg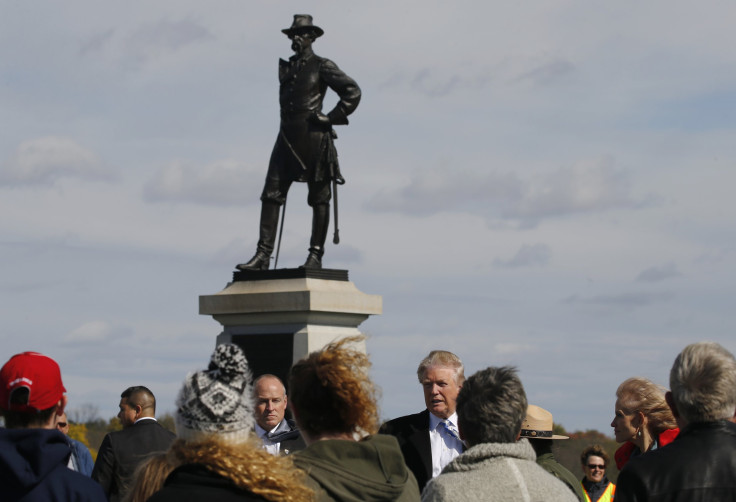 A social media swirl might be the reason that Benjamin Hornberger had a very bad Saturday.
An online rumor got started that an anti-racist, anti-fascist (Antifa) group was planning to desecrate Confederate graves, burn flags and protest Saturday at the memorial site of the Battle of Gettysburg. Saturday marked the battle's 154th anniversary.
READ: What Is Antifa? Anti-Fascist Movement Clashes With Alt-Right
Even though there are no Confederate gravestones at Gettysburg, in anticipation of Antifa's presence, four pro-Confederate groups requested permits from the Park Service to counter-protest according to WPMT, the central Pennsylvania Fox affiliate.
"There has been a lot of social media about this, a lot of rumors," said Park Service Spokesperson Katie Lawhon to WPMT before the protest. "We'll do our very best to accommodate anyone who comes here and wants to use their First Amendment rights."
Antifa members insisted that the entire thing was a hoax.
"The rumored event in Gettysburg this Saturday is a complete fabrication. No Antifa groups have planned a rally there that day. Instead we have planned to participate in the anti-Trump demonstration in Philadelphia, along with many other Antifa and anti-racist groups in P.A. and surrounding areas," read a statement given to WPMT before Saturday. "Further, we have traced the rumor back to a Facebook page for a fake Antifa group calling themselves Harrisburg Antifa. This page is not run by antifascists but by alt-right trolls attempting to discredit Antifa, create confusion, and attempt to stir violence. Central PA Antifa does not condone the desecration of graves. In particular we would never damage the historical value of Gettysburg, a site of great historical importance in the struggle against oppression."
Despite the central Pennsylvania Antifa saying the whole thing was a hoax, self-styled "patriots" traveled to the park to face members of Antifa anyway according to the Harrisburg newspaper the Patriot-News Saturday.
What the "patriots" found was a heavy police presence and no Antifa. Then, shortly before 1p.m., a gunshot rang out.
Hornberger, who was carrying a revolver in a gun holster on his leg, rested a flag pole on the holster. This caused the gun to go off, shooting him in the leg according to the Patriot-News. Police had to wrap a tourniquet around the man's leg. The gun went off a second time as police attempted to unload the weapon.
READ: Should Sex Offenders Be Allowed To Use Facebook? Supreme Court Makes 1st Amendment Decision
"It was apparently an old gun, not in good working order," Lawhon said to Hanover newspaper the Evening Sun Saturday.
Sgt. Anna Rose, a U.S. Park Police spokeswoman, reported that Hornberger would be OK.
© Copyright IBTimes 2023. All rights reserved.