20 Best K-Pop Lightsticks Of 2023 Based On Over 300,000 Fan Votes
KEY POINTS
King Choice created a poll for fans to vote for the best K-Pop lightsticks of 2023
The month-long poll, with 59 lightstick nominees, tallied over 360,000 votes so far
Lightsticks from second- and third-generation K-Pop groups topped the list
K-Pop lightsticks, often used by K-Pop fans during concerts and events, are more than just merchandise; they also act as a symbol of a fandom's identity and unity.
Although lightsticks have the same purpose, K-Pop artists add a special light color, feature, aesthetic, or shape to theirs to make it unique and special for their fans.
To determine the top lightsticks for K-Pop fans, King Choice, the biggest international K-Pop voting website, organized a month-long poll, asking fans to choose the best K-Pop lightstick out of 59 nominees.

Reigning and leading the poll is Red Velvet's lightstick, "Kimmanbong," with over 137,164 upvotes as of press time. Its name is an abbreviation of kimchi mandu (dumplings) because ReVeluvs – the group's fans – thought it looked like a dumpling when it was first revealed, according to Koreaboo.
Because "Kimmanbong" sounds like a real Korean name, Red Velvet members also refer to it as Kim Man Bong-sshi or Mr. Kim Man Bong.
In the second and third spots are SUPER JUNIOR (SJ) and TWICE's Super Wand/Super Bong and Candy Bong, respectively. SJ's lightstick tallied 94,572 upvotes, while TWICE's tallied 33,332 upvotes as of press time.
They are followed by BIGBANG's "Bang Bong" at the fourth spot with 20,926 upvotes and SHINee's Shabat at the fifth spot with 11,082 upvotes.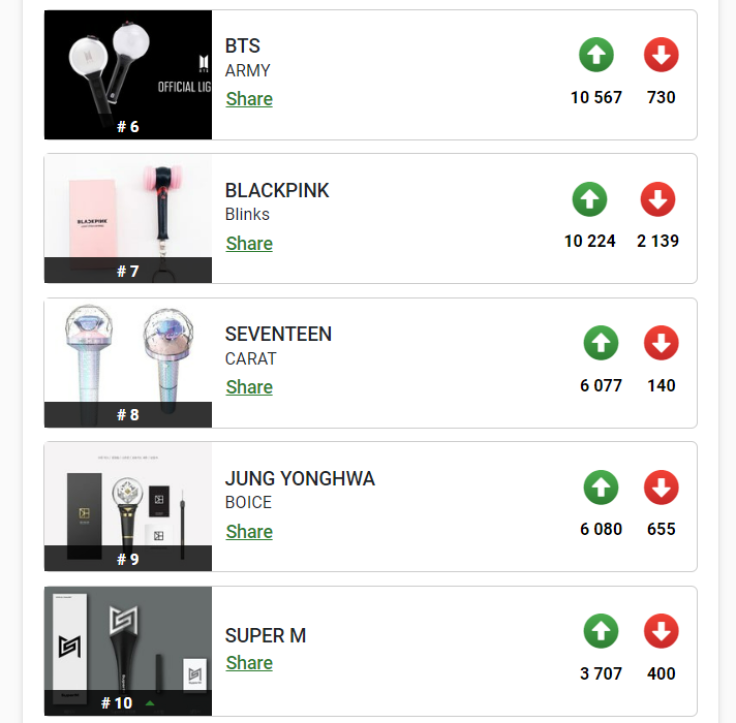 BTS' ARMY Bomb, BLACKPINK's Hammer Bong, SEVENTEEN's Carat Bong, Jung Yonghwa's official lightstick and SUPER M's Fanlight occupied the fifth to tenth spots in the poll.
BTS and BLACKPINK's lightsticks received over 10,000 upvotes, while SEVENTEEN and Jung Yonghwa's lightsticks tallied over 6,000 upvotes. Meanwhile, SUPER M received over 3,700 votes.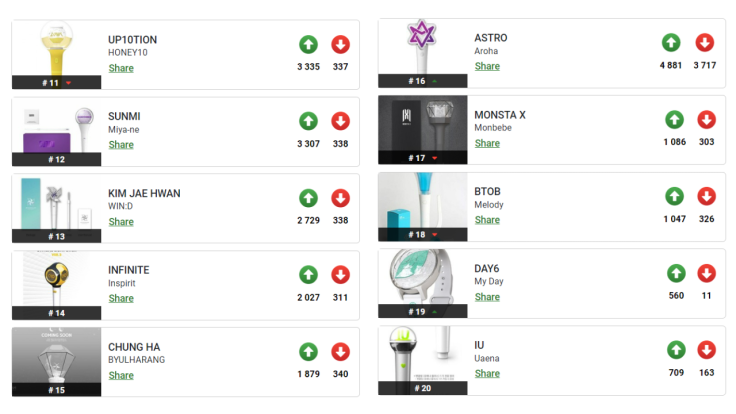 Occupying the 11th to 15th spots are lightsticks from UP10TION, SUNMI, Kim Jae-hwan, INFINITE and CHUNG HA, respectively.
Closing the top 20 spots in the poll are lightsticks from ASTRO, MONSTA X, BTOB, DAY 6 and IU.
In other news, a total of 42 different K-Pop lightsticks borrowed from K-Pop fans were displayed in the special exhibition "The Pop Culture We Loved, and Rise of the Korean Wave" at the National Museum of Korean History in Seoul, per The Korea Times.
The lightsticks — considered a symbol of the communication between Korean artists and their fans — are included in the third section of the exhibition, which focuses on the rise of the Korean wave or Hallyu from the late 1990s and 2000s.
K-Pop albums, TV shows, movies and some K-Pop merchandise purchased by fans that contributed to making Hallyu a global phenomenon are also on display.
K-Pop fans can visit the special exhibition until Sunday, Sept. 3.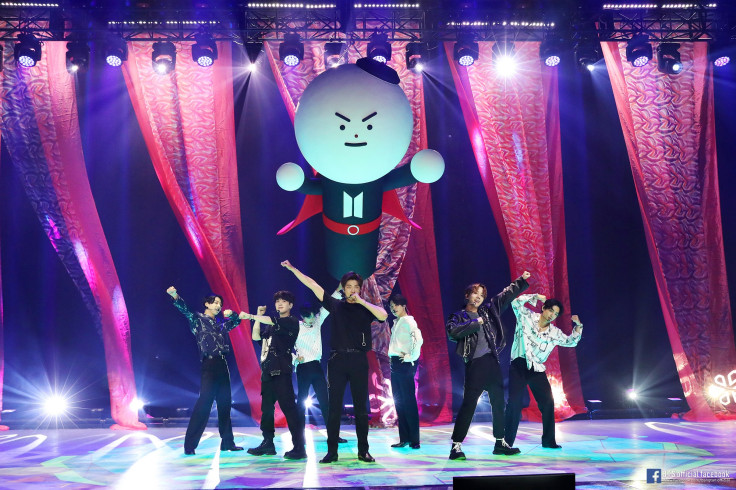 © Copyright IBTimes 2023. All rights reserved.