2014 World Cup Early Exits Could Imperil Bottom Line For FIFA, Advertisers, Retailers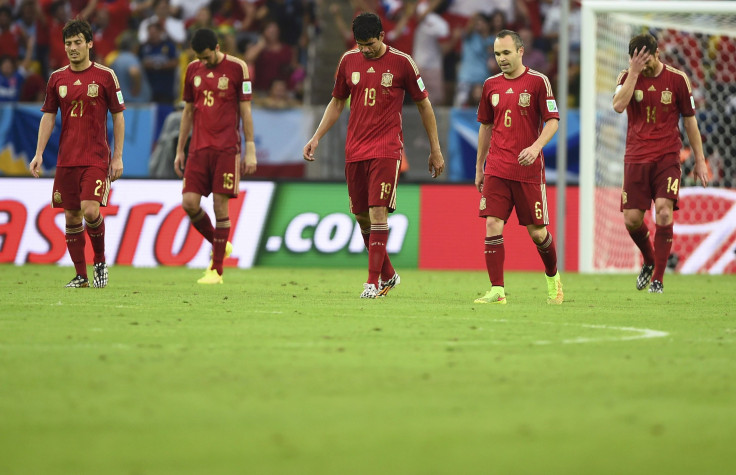 When Spain was eliminated from the 2014 World Cup in a heartbreaking 2-0 loss to Chile on Wednesday, it dealt a major blow not only to Spaniards' self-esteem but also to the financial prospects of a range of companies with stakes in the tournament.
The World Cup is the most-watched sporting event in the world, with nearly a billion viewers expected to tune in over the course of little over a month, and with such prominence come hundreds of millions of dollars in advertising, sponsorships and TV deals.
But when the most soccer-obsessed countries' teams bow out, the blow to TV viewership will eventually be quantified in monetary terms, as their fan bases become less engaged with the ensuing matches, experts say.
"Although FIFA spends significant time and money boasting their standing as a 'non-profit,' the World Cup, in the end, is a business selling a product," Tony Knopp, CEO of Spotlight Ticket Management, said. "That product loses value when superstar-laden teams are knocked out of the tournament early, just like any major sporting event or league."
There is some disagreement about how much teams like Spain and England, which was knocked out Thursday by Uruguay in a 2-1 game, exiting the tournament early affects the money making prospects of the World Cup, but nearly all observers admit that it is a signficant blow.
FIFA may not find itself losing significant amounts of money, but connected firms will take a hit, Andre Pacheco, co-founder of SecondMic, a platform that offers alternative commentary during the World Cup and other sports broadcasts, said.
"I believe that the impact of an early exit from major nations impacts mostly advertisers. TV networks and FIFA have signed their World Cup sponsorship deals long ago, so they wouldn't feel as much of a financial impact in the short-term," he predicted. "Advertisers, on the other hand, paid top dollars and may dilute their impact when nations start switching off their TVs early on."
That concern also extends to sponsors and equipment retailers, who will likely suffer reduced influence, exposure and sales if major teams drop off early on in the tournament, according to Kirk Wakefield, a professor of retail marketing at Baylor University.
"Everybody loves a winner, and losers go home -- and take their fans with them. The primary market of passionate soccer fans will continue to watch matches, but not everyone else," he said. "So, the restaurants, bars, clubs and media all suffer because the secondary market that gets caught up in following a winner lose interest. So, they're not joining the passionate fans at watch parties and they're certainly not buying merchandise and apparel to be associated with an early loser."
Advertisers, sponsors and other companies can help to offset those negative impacts by quickly reevaluating and adjusting their strategies to the shifting demands of the World Cup audience, according to Ricardo Trigueiro, director of international marketing at the image and brand development company CHUVA Group.
"What will be critical and expected from the marketing experts of companies that are mainly in those disqualified countries is to bounce back quickly with new strategies and approaches on how to maintain their audience focus and somehow still be involved with the games," he explained.
However, the World Cup still commands high interest despite any early bow-outs, and it appears that this year's will be no exception, according to Pacheco.
"I believe Brazil 2014 is shaping up to be one of the best World Cups in history, and will most likely draw its largest audience ever," he said. "The so-called 'Groups of Death' might result in early elimination for some major nations, but they also provide FIFA and TV networks with large audience games at the group stage."
© Copyright IBTimes 2023. All rights reserved.