2016 Final Presidential Election Results: Google Falsely Shows Trump Leading Clinton In Popular Vote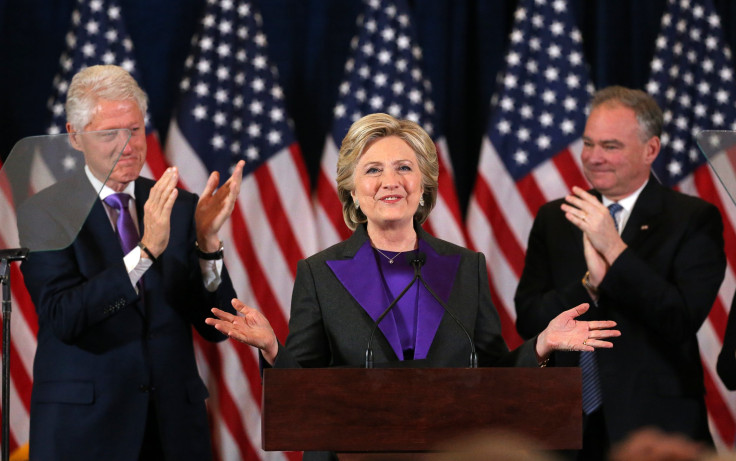 Former Secretary of State Hillary Clinton beat billionaire Donald Trump in the general election's popular vote by a considerable margin. But that fact is still up for debate — at least, according to Google.
The Democratic nominee reportedly garnered at least 61,324,576 votes as of Tuesday, or 47.9 percent of the total vote, compared to Trump's 60,526,852, or 47.2 percent. The gap between those numbers could grow even bigger as left-leaning counties continue to send in the last of their ballots, giving Clinton upwards of a 2 million-vote lead. Still, Trump secured more than the 270 Electoral College votes required to take the White House without receiving the majority of votes from individual Americans, scoring 290 to Clinton's 232.
But if you missed last week's presidential election entirely and simply searched "who won the popular vote?" on Google, the first page of results would yield starkly different answers.
A right-wing WordPress site titled 70News.com managed to land itself at the top of Google's election results in the wake of the contest, reporting Trump received the majority of votes instead of his opponent. The site called for the shutdown of a "loony petition" on Change.org urging the Electoral College to vote in line with the majority of the country. It has features on "Hillary's Health" and "Religion," which argues the Republican president-elect is a prophetic entity who has come to save the White House.
Though Google does not remove search results save for malware or illegal content, the search engine took responsibility for the circulation of the unfounded reports.
"The goal of Search is to provide the most relevant and useful results for our users. In this case we clearly didn't get it right," a Google spokesperson told International Business Times in an email. "We are continually working to improve our algorithms."
Trump's first official days as president-elect have seen a bevy of protesters and activists demanding the real estate magnate be kept out of the White House. Some demonstrations have been motivated by Clinton's popular vote victory.
One week after the election, 70News.com remains on the front page of Google's search results, along with similar headlines like "Hillary did NOT win the popular vote – Trump won landslide by the numbers" and YesImRight.com's "No Liberals…Hillary did NOT win the popular vote."
© Copyright IBTimes 2023. All rights reserved.