21 Savage vs. Tyga Beef: 'No Heart' Rapper Changes Instagram Profile Picture To Kylie Jenner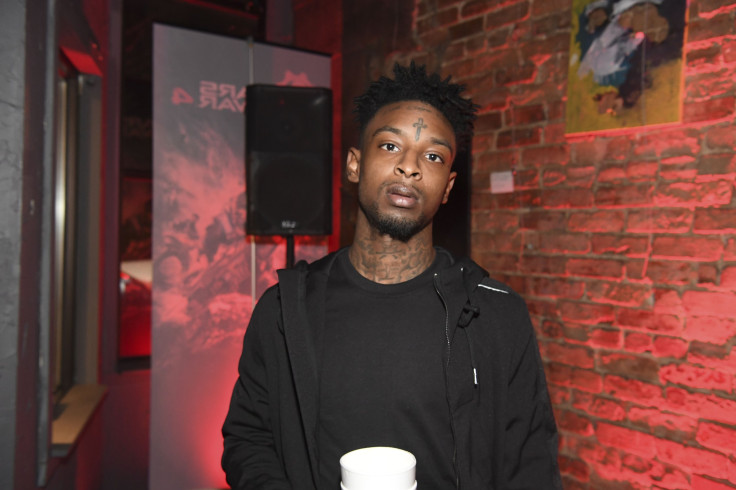 Rapper 21 Savage is living up to his name when it comes to his feud with Tyga. After posting pictures of Tyga's girlfriend Kylie Jenner on social media, 21 Savage has now changed his profile picture to Jenner.
On his Instagram account, which has 1.7 million followers, the rapper's profile picture features a photo of Jenner with a dagger tattoo edited onto her forehead. The tattoo is similar to the one 21 Savage has in real life. The rapper has since changed his profile picture back to a photo of him.
The feud between the two rappers began in November when 21 Savage tweeted, "Got this super star chick I got a big crush on." As fans wondered who the rapper was talking about, he eventually revealed it when he tweeted a snap of Jenner on Nov. 22 and put three heart-eye emojis under the photo.
While Tyga has yet to diss the rapper, a snippet of Tyga rapping over 21 Savage's "No Heart" leaked online. The song featured Tyga rapping a line that many assumed was directed at 21 Savage.
21 Savage hasn't responded to Tyga on a song yet but the rapper has continued to troll Jenner and Tyga by posting more photos of Jenner on his Instagram account. During a Dec. 3 concert, he also called out Tyga while performing.
Although 21 Savage has only been rapping for a few years, the rapper has gained a significant buzz after being featured on songs with Metro Boomin and Drake. 21 Savage's collaboration with Drake on "Sneakin'" is expected to be featured on Drizzy's upcoming project, "More Life."
At 24 years old, 21 Savage has yet to release a debut studio album but did team up with producer Metro Boomin to release the EP, "Savage Mode." The nine-track album features the rapper's latest hit, "No Heart," as well as his collaboration with Future, "X."
© Copyright IBTimes 2023. All rights reserved.