30 K-Pop Idols Reveal Their Ultimate Celebrity Crushes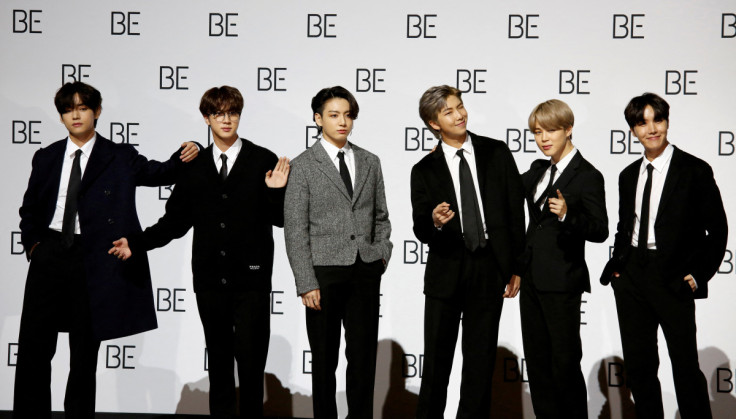 KEY POINTS
BTS is seemingly a fan of American actresses
Giselle guessed her fellow Aespa members' celebrity crushes on BuzzFeed's BFF test
TXT's Soobin revealed that he's a huge fan of Bebe Rexha
K-pop idols — just like regular people — are not immune to the charms of famous celebrities. Some have admitted to having crushes on famous Hollywood stars or fellow idols in the industry.
Below is a list of 30 K-pop idols who have revealed their biggest celebrity crushes.
30.
BTS' Jungkook - IU
It's no secret that BTS member Jungkook has a major crush on South Korean soloist IU — real name Lee Ji Eun. He first admitted to being a fan of the 30-year-old "Celebrity" hitmaker back in 2016 during a guest appearance on SBS Entertainment's "Flower Crew."
Since then, Jungkook has been vocal about IU being his ultimate crush. He even went the extra mile to show support for her by attending the latter's "The Golden Hour" concert at the Olympic Stadium in Seoul, South Korea, three years ago.
Check out Jungkook's confession here.
29.
Blackpink's Lisa - Gong Yoo
As a fan of the classic K-drama "Goblin," Blackpink member Lisa couldn't resist the charms of South Korean actor Gong Yoo. During an episode of JTBC's "Knowing Bros" in 2020, the 26-year-old Thailand-born singer admitted that Gong was her "ideal type," given his tall height and handsome features.
The 43-year-old actor later reacted to Lisa's confession and revealed that he sent her an autograph along with a message of support.
Be updated on the latest celebrity guesting on "Knowing Bros."
28.
TXT's Yeonjun - Audrey Nuna
Audrey Chu — professionally known as Audrey Nuna — has captured the heart of TXT's Yeonjun with her soothing vocals and relatable songs. The 24-year-old Korean-American singer is best known for her tracks "Damn Right," "Space," "Top Again," "Baby Blues" and "Blossom," among others.
Get to know more about TXT's celebrity crushes here.
27.
Astro's Cha Eun Woo - Shin Min Ah
Shin Min Ah is popularly known as an actress with captivating dimples and angel-like visuals, so it's no wonder Cha Eun Woo would fall for her charms.
During a variety show guest appearance, the 23-year-old South Korean vocalist was asked to choose between famous South Korean actresses, and he confidently chose Shin all the way.
In a later appearance on SBS' "Real Basketball, Handsome Tigers," Cha explained why Shin was his ideal type.
"My ideal type is Shin Min Ah. I recently watched her drama, 'Chief of Staff,' and completely fell in love. I really want to meet her through a drama one day," he said.
Find out more about Cha Eun Woo's ideal type.
26.
IU - BigBang's Taeyang
Since the early days of her career, IU has been vocal about her admiration for BigBang's Taeyang and even named him her ideal type.
When the 35-year-old "Shoong!" singer found out that IU had no plans of her changing her celebrity crush, he predicted that she would eventually outgrow it in the future but was thankful for her support.
Lucky for IU, she was able to dance with Taeyang and even got the chance to kiss him on the cheek during an episode of SBS' "Heroes" back in 2012.
Here's a rundown of IU's crush history on Taeyang.
25.
BTOB's Eunkwang - Red Velvet's Seulgi
When discussing celebrity crushes, BTOB leader Eunkwang admitted that Red Velvet member Seulgi immediately came to mind. However, he seemed to feel sorry about making the confession, fearing that it would make Seulgi, her fans as well as his own fans uncomfortable.
But the 29-year-old "Psycho" singer was flattered by the confession, telling him through a phone call during Mnet's "Yang and Nam Show" that she was actually happy and thankful.
Watch how Seulgi reacted to Eunkwang's confession.
24.
Chuu - Itzy's Ryujin
Though it was rare for female K-pop idols to confess to having girl crushes, former Loona member Chuu revealed that Itzy's Ryujin was her type. She described the "Dalla Dalla" singer as the prettiest among K-pop idols.
Check out Chuu's confession here.
23.
Block B's P.O - Sandara Park
Back in 2017, Block B member P.O — real name Pyo Ji-hoon — got the chance to meet Sandara Park during an episode of "Outrageous Roomies," which was a dream come true for him. He admitted to having a crush on the former 2NE1 member since he was young.
Watch P.O. and Sandara Park meet for the first time.
22.
BTS' RM - Blake Lively
BTS' RM seems to have a soft spot for blondes as he admitted that his celebrity crush was actress Blake Lively. His feelings, however, are mere admiration for the "Age of Adelaide" star, given that she is already married and has four kids.
Listen to RM's confession here.
21.
Aespa's Karina - Kendall Jenner
Following the promotions for their 2022 mini album "Girls," Aespa members Karina, Winter, Giselle, and NingNing took a BFF test with BuzzFeed, quizzing each other on various facts about themselves. There, Giselle was given the task to guess her fellow members' celebrity crushes and correctly guessed that Karina admired reality star-turned-model Kendall Jenner.
Get to know more about Aespa here.
20.
Lee Jonghyun - Red Velvet's Seulgi
Back in 2015, when Lee Jonghyun was still a member of the South Korean pop-rock band CNBLUE, he and his members appeared on an episode of KBS2's "A Song For You." There, Jonghyun admitted that he was a fan of Red Velvet and revealed that Seulgi was his bias.
Here's where to watch Lee Jonghyun's interview.
19.
TXT's Soobin - Bebe Rexha
Since TXT member Soobin — who debuted under BigHit Music in 2019 — was a rookie, he has been expressing his admiration toward singer-songwriter Bebe Rexha. Though he is now one of the rising stars in the K-pop industry, his feelings still haven't changed.
Get to know more about TXT here.
18.
EXO's Chanyeol - Sandara Park
Former 2NE1 member Sandara seems to be the ideal type of many male K-pop idols, as she has also captured the heart of EXO member Chanyeol. In an interview back in 2013, the 30-year-old rapper admitted that Sandara possesses most of the features of his ideal type.
Read Chanyeol's magazine interview here.
17.
BTOB's Yook Sungjae - Bae Suzy
BTOB member Yook Sungjae has a certain requirement when looking for an ideal girlfriend: she must be older.
When the 28-year-old singer appeared on MBC's "A Real Man" in 2015, he was asked about the celebrity he wanted to date. He confidently answered that it was "While You Were Sleeping" star Bae Suzy because she is older than him.
Listen to Sung Jae's confession on "A Real Man."
16.
GOT7's BamBam - SNSD's Taeyeon
BamBam has no filter when it comes to interviews, often showing his honesty when being asked random questions. So, when Eric Nam asked him who he wanted as a guest on his show, titled "Snake House" on YouTube, he confidently confessed to it was his dream to work with SNSD's Taeyeon, whom he described as the "love of his life" for over a decade.
Watch Bambam gush over SNSD's Taeyeon.
15.
Aespa's Winter - Harry Styles
Harry Styles has got the voice and visuals to charm almost every girl in the world, and Aespa's Winter is no exception. She previously revealed that her biggest celebrity crush was the "As It Was" hitmaker.
Watch Giselle guess Winter's celebrity crush.
14.
BTS' Jin - Anne Hathaway
Anne Hathaway has a timeless beauty and effortless charm that have made her the celebrity crush of many around the globe. BTS' oldest member Jin is also one of those who admire the actress' stunning visuals.
Listen to Jin's confession here.
13.
NCT's Johnny - SNSD's Yoona
Back in 2017, NCT member Johnny's dream came true when he finally met his longtime crush SNSD's Im Yoon Ah — professionally known as Yoona — during an episode of SM Entertainment's former variety show, "MY SM Television (SMT)." There, the 28-year-old singer was able to profess his love for Yoona in person, reading her a two-minute speech. Though he felt really embarrassed afterward, he was also happy to be in that moment.
Throwback to 2017's episode of "MY SMT."
12.
SF9's Rowoon - Red Velvet's Irene
Idol-turned-actor Rowoon — who starred in the hit K-dramas "Extraordinary You," "The King's Affection," "Tomorrow" and "She Would Never Know," among others — confessed his admiration for Red Velvet member Irene in an episode of the K-reality show "Laundry Day." He described the singer as "beautiful," though he was quite shy about telling Irene in person.
Here's how Irene reacted to Rowoon's confession.
11.
TXT's Huening Kai - Avril Lavigne
Growing up, Huening Kai has always been a fan of the rock genre, and that's why Avril Lavigne is among his celebrity crushes. Last year, the TXT "maknae" released his rendition of Lavigne's hit track, "Sk8er Boi."
Lavigne later reacted to his cover, describing it as "amazing."
Watch TXT spill the tea on their friendship.
10.
BTS' Suga - Scarlett Johansson
In an interview with E! News, the "Daechwita" hitmaker revealed that his celebrity crush was actress Scarlett Johansson, which also earned the approval of his fellow BTS members. Johansson, 38, is famously known for her role as Black Widow in the Marvel Cinematic Universe.
Listen to Suga reveal his celebrity crush here.
9.
GOT7's Jackson Wang - Song Ga Yeon
GOT7 member Jackson Wang — who previously debuted as a soloist under his own entertainment Team Wang — seemingly preferred athletic women. Eight years ago, the 29-year-old singer revealed in an episode of MBC's "Radio Star" that his ideal type was mixed martial arts fighter Song Ga Yeon.

Follow to watch more clips from "Radio Star."
8.
Jessi - BTS' Jungkook
BTS member Jungkook's stunning visuals are unmatched, as he has even caught the attention of veteran artists in the K-pop industry like Jessi.
The "Zoom" singer admitted that the "Dreamers" hitmaker was indeed her ideal type due to his "manly" features and revealed that she wants to collaborate with him in the future.
Jessi, however, clarified that she simply admired him for fear of making fans uncomfortable with her confession.
Watch Jessi gush over BTS' Jungkook.
7.
BTS' J-Hope - Amanda Seyfried
It appeared that many of BTS' members are fans of American actresses. J-Hope revealed that his biggest celebrity crush is Amanda Seyfried — a Golden Globe awardee who starred in the films "Letters to Juliet," "Mamma Mia," "Chloe," "Les Misérables" and many more.
Watch BTS talk about its biggest celebrity crushes.
6.
Aespa's NingNing - Doja Cat
Instead of giving her ideal type, NingNing revealed who she admired the most in the music industry: Doja Cat. The 20-year-old China-born singer enjoys music spanning different genres, but the "Say So" hitmaker definitely stands out for her.
Here's some must-know facts about Aespa.
5.
Hanbin (B.I) - Red Velvet's Seulgi and TWICE's Dahyun
Despite his cool demeanor, Kim Han Bin — professionally known as B.I — actually has a soft spot for female K-pop groups. He previously admitted that he was a huge fan of TWICE and Red Velvet, revealing that his biases were Dahyun and Seulgi, respectively.
Watch B.I. gush over TWICE and Red Velvet.
4.
BTS' Jimin - Rachel McAdams
Hollywood star Rachel McAdams has captured the heart of BTS member Jimin.
The "Like Crazy" hitmaker previously revealed that he watched the 44-year-old actress' movie "The Notebook" for the seventh time, according to Twitter user @BTStranslation_.
Check out BTS' interview with E! News here.
3.
SHINEE's Onew- TWICE's Nayeon
SHINEE's Minho, Taemin, Key and the late Jonghyun dished years ago that fellow member Onew was the type to change crushes "every day." But TWICE's Nayeon was definitely a standout as the 33-year-old main vocalist was entranced by her "pretty" visuals.
Listen to Onew's confession here.
2.
Aespa's Giselle - Possibly Machine Gun Kelly
During the BuzzFeed BFF test, Giselle did not reveal her own celebrity crush. However, one fan claimed that Machine Gun Kelly was her ideal type.
International Business Times could not independently verify this information. But another fan, who attended Aespa's live showcase in Los Angeles, also claimed that the Japan-born artist was a huge fan of the "Bad Things" singer.
1.
BTS' V- Lily Collins
V — real name Kim Taehyung — is a longtime fan of "Emily in Paris" star Lily Collins. In 2022, his dream of being noticed by her came true after Collins re-posted V's Instagram story in which he praised Ashley Park's rendition of BTS' "Dynamite."
Watch BTS' V reveal his celebrity crush.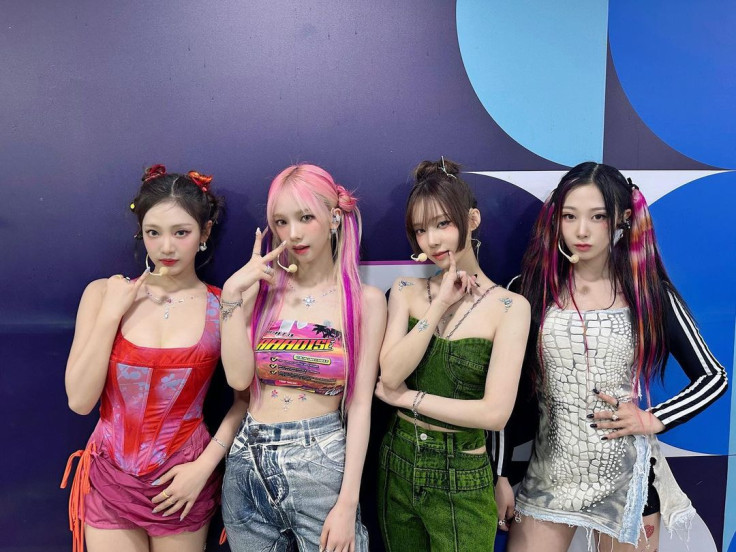 © Copyright IBTimes 2023. All rights reserved.