'50 Shades Of Grey' Movie Rumors: Angelina Jolie Laughs Off Reports She Was Pegged To Direct 'Fifty Shades'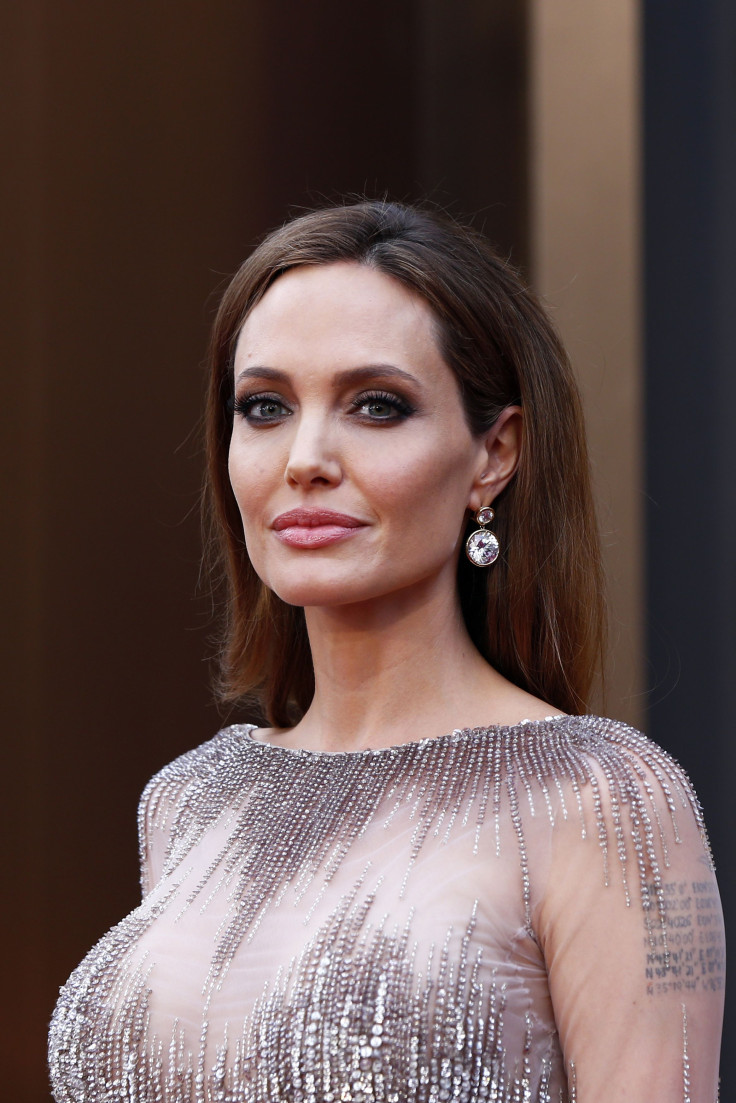 Apparently, the idea of directing the "Fifty Shades of Grey" film adaptation is laughable to Angelina Jolie.
Following rumors that she was a prime pick to direct the highly-anticipated "Fifty Shades" movie, the 38-year-old "Maleficent" actress is now laughing off reports that she was almost in charge of bringing the E.L. James, best-selling erotica book to life. "I- I just was," Jolie told Entertainment Weekly, reportedly laughing, shaking her head and "turning bright red" before coyly responding, saying, "I came very clear out of the gate: after ["In the Land of Blood and Honey"], if I ever directed again, it would have to be a certain kind of film."
According to Jolie, the rumors of her directing the feature, which stars Jamie Dornan as the sexually sadistic billionaire Christian Grey and actress Dakota Johnson as his inexperienced college lover Ana Steele, are humorous. "I—I think they're just … it's funny," said Jolie, later adding, "I think with directing, you just think: I'm better at telling some stories than others but um, who knows?"
While Jolie's interest in working on the feature comes across as less than enthusiastic in the interview, the former Oscar-winner did admit her plan to watch the Sam-Taylor-Johnson directed film following its February 2015 debut. "You know, I'm looking forward to seeing what Sam does with 'Fifty Shades,'" said Jolie, going on to call the "Nowhere Boy" filmmaker "amazing."
Following the interview's release, fans of the romance trilogy have since taken to social media to request the A-lister's involvement in the series next feature length installment. "IF Sam Taylor Johnson [doesn't] director Fifty Shades Darker, I would love Angelina Jolie as the new director," one "Fifty Shades" fan page posted on Twitter Monday. While some readers have since expressed their interest in having Jolie direct the franchise's yet-to-be confirmed sequel, others suggested that the former "Girl, Interrupted" star should instead star in the flick alongside her longtime off-screen hubby, Brad Pitt. "Anyone think that Angelina Jolie and Brad Pitt should star in '50 Shades of Grey'? Yeah me too," posted on Twitter fan.
Jolie's response to the casting rumors comes over one year after reports began surfacing that not she was not only speaking with Universal Pictures about possibly directing, she was also reportedly hoping to secure a leading role in the feature. "Ange is dead-set on a major part," a source told the UK's The Mirror back in July 2012, adding that the veteran actress was "up for the challenge" in snagging a leading role.
Jolie can be seen next in the action/adventure flick "Maleficent." The movie is based off of the 1959 Disney fairytale "Sleeping Beauty." The Robert Stromberg film, also starring Elle Fanning of "Somewhere" fame and Jolie's daughter, Vivienne Jolie-Pitt, is due in U.S. theaters on May 30.
© Copyright IBTimes 2023. All rights reserved.