6 Moments You Missed On 'DOOL,' 'Y&R,' & 'B&B' This Week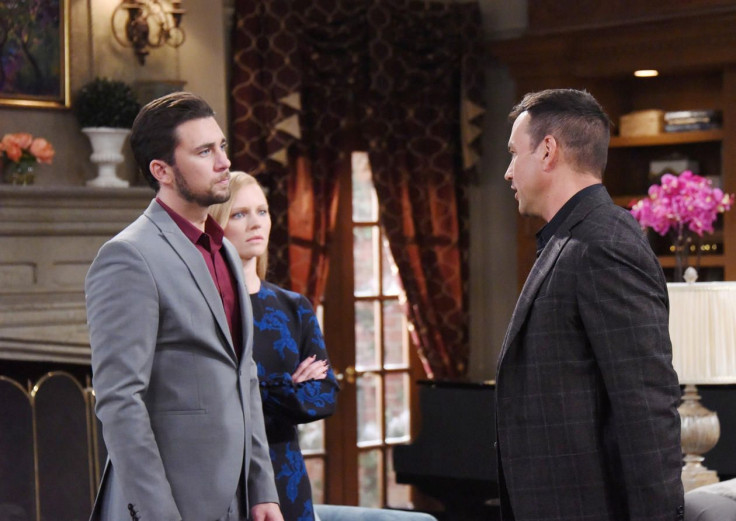 The New Year has certainly started off with quite the bang in soap opera world, and things aren't looking to settle down any time soon on "Days of Our Lives," "The Young and the Restless," and "The Bold and the Beautiful."
All three soaps saw quite the bombshells during the first week of the New Year. From surprise arrivals, shocking double-crossing betrayals, unexpected returns, heartbreaking twists and actual heartbreak, there was never a dull moment. In case you did happen to miss some of the action, here were the six biggest moments.
"Days Of Our Lives" (NBC)
Stefan Asserts His Power
The DiMera family was stunned when Vivian (Louise Sorel) arrived back in town and introduced them to her son, Stefan (Tyler Christopher)-- and insister he was Stefano's heir. In addition, the two revealed he had been given the CEO position of the family company by the board, and had a right to live in the house as well. Chad (Billy Flynn), Abigail (Marci Miller), Kate (Lauren Koslow) and Andre (Thaao Penghlis) all tried to fight it, but have been unsuccessful so far. However, Chad and Abigail have a plan to try and take Stefan down.
Andre's Betrayal Is Revealed
However, while Andre has seemed outraged by Stefan's arrival, an unexpected twist happened when it was revealed he was double-crossing his family. With his eyes set on controlling the company, he has secretly teamed up with Vivian, and is actually the mastermind behind her whole scheme.
"Young And The Restless" (CBS)
Christian Goes Missing
After Sharon (Sharon Case) learned about Scott (Daniel Hall) and Abby's (Melissa Ordway) affair and confronted the other woman at the club, Chelsea (Melissa Clare Egan) rushed over to break it up. However, doing so proved to have unexpected consequences when she returned to her table to find Nick's (Joshua Morrow) son Christian missing. After a desperate search, it was finally revealed that Dina (Marla Adams) had taken him under the misconception that he was a baby Jack. The real father and son were quickly reunited afterwards.
Graham Returns For Dina
However, Dina's latest stunt didn't go unassisted, as Graham (Max Shippee) came back to town, and actually helped her take the baby. However, he later used that incident, as well as the ones where Dina set the Underground on fire and stabbed Nikki (Melody Thomas Scott), as reasoning for why he would once again take over as her caretaker. Jack (Peter Bergman), Ashley (Eileen Davidson) and Traci (Beth Maitland) successfully kicked him out of the house for now, but he left them with an ominous warning-he still had Dina's power of attorney, and he planned to use it.
"The Bold and the Beautiful" (CBS)
Liam Leaves Steffy
After finding her paternity test on their unborn baby, Liam (Scott Clifton) demanded answers from his wife about why she had doubts he was the father. After trying to talk her way out of it, Steffy (Jacqueline MacInnes Wood) finally broke down and confessed to sleeping with his father, Bill (Don Diamont), on the night they renewed their vows. After learning that Steffy hadn't been drugged or coerced and the sex was consensual, Liam told her their marriage was over and walked away.
Liam Confronts Bill
After leaving his wife in tears, Liam then went to confront Bill for his actions, and it didn't take long for things to turn physical, as Bill tried to convince Liam not to toss both him and Steffy out of his life. In the end, it didn't matter though, as Liam ripped off his Spencer sword necklace and used it to cut the palm of his own hand, before slapping his bloody handprint on his father's face and walking away.
To see how these stories continue to play out next week, tune in to "Days of Our Lives," weekdays on NBC, "The Young and the Restless," weekdays at 12:30 p.m. EST on CBS, and "The Bold and the Beautiful," weekdays at 1:30 p.m. EST on CBS.
© Copyright IBTimes 2023. All rights reserved.