7 Highest Grossing K-Pop Concert Tours So Far In 2023: Blackpink Reigns Supreme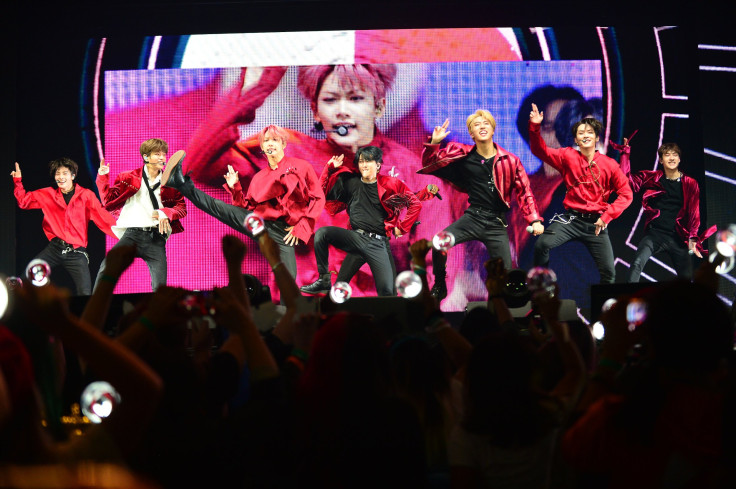 KEY POINTS
K-Pop artists resume global tours as COVID-19 restrictions are lifted
Three 4th generation K-Pop groups join the list
Blackpink has the highest-grossing K-Pop concert tour so far in 2023
Over the years, K-Pop artists have been able to reach more fans across the world by performing outside of South Korea. However, when the COVID-19 pandemic hit in 2020, K-Pop concerts and tours had to be paused. To keep the fans engaged during the absence of in-person concerts, K-Pop entertainment companies produced virtual tours as an alternative.
In 2021, as COVID-19 restrictions were eased, K-Pop groups like NCT 127, SHINee, TWICE, Blackpink, ONF and BTS slowly started touring globally again. In the following year, more K-Pop groups followed suit and reunited with their fans worldwide.
Supporters of different K-Pop stars and groups reciprocated the love by flocking to shows and selling out tours. Needless to say, 2022 was a successful year for K-Pop acts and 2023 is no different.
We looked at the data from the past year and listed the 7 highest-grossing K-Pop concert tours in 2023 so far. Some kicked off in 2022 and will continue for most of this year.
7.
Twice – "Ready To Be World Tour"
"Ready To Be" is Twice's fifth world tour. It kicked off with a two-night concert at KSPO Dome in Seoul on April 15-16 this year, before continuing with stops in other Asian countries and North America.
The nine-member group toured globally as part of promotions for their album of the same name, "Ready To Be." The theme of the album revolves around the group's determination to break away from the world's gaze and prejudice.
Twice's ongoing world tour has so far earned $2,985,463 from two out of 31 scheduled shows.
6.
Treasure – "HELLO" Tour
The 4th generation K-Pop group reportedly earned $25,246,865 from 28 out of 40 reported shows from their "HELLO" Asia tour.
After kicking off the tour at KSPO Dome on November 12 and 13 last year, Treasure members continued to greet fans "HELLO" in Japan, Taiwan, Malaysia, Indonesia, Thailand, Singapore, Philippines, Macau and Hong Kong.
5.
Enhypen – "Manifesto" World Tour
In September 2022, Enhypen held their first world tour titled, "Manifesto," to greet Engenes in South Korea, U.S., Japan and the Philippines.
Starting in Seoul, the group was able to visit 12 cities around the world and held 22 concerts in five months.
The seven-member boy group under Belift Lab reportedly earned $26,877,744 from these shows.
4.
Tomorrow X Together – "Act: Lovesick" and "Act: Sweet Mirage" Tours
The group popular for their lead single "Crown," held their first concert tour in Seoul in support of their second full album, "The Chaos Chapter: Freeze," and their fourth extended play, "Minisode 2: Thursday's Child."
The "Act: Lovesick Tour" began in July 2022 in Seoul and concluded in October 2022 in Manila, Philippines. The 19 shows reportedly earned $14,200,330.
Members Soobin, Yeonjun, Beomgyu, Taehyun and Huening Kai continued meeting fans through their "Act: Sweet Mirage" tour this year.
17 out of 27 shows from their second world tour have reportedly earned $23,661,146 already. The tour started in Seoul in March and will conclude on August, in Bulacan, Philippines.
4.
Seventeen – "Be The Sun" World Tour
Seventeen kicked off their "Be The Sun" World Tour in Seoul's Gocheok Sky Dome, in June 2022. The 13-member group performed for their fans – known as "Carats" – across Asia and North America.
The tour, totaling to 29 shows, reportedly earned $58,391,630.
Before the pandemic, they held 24 shows in Asia and America for their "Ode To You" World Tour.
2.
Stray Kids – "Maniac World Tour"
Stray Kids recently achieved a historic feat with their latest album, "5 Star." The eight-member South Korean boy group topped the preorder sales chart with over 5 million preorders, beating big groups like BTS and Blackpink.
"Maniac" is the group's first in-person concert tour since "District 9: Unlock" in 2019 and 2020. "Maniac," Stray Kid's second concert tour, kicked off in April 2022.
The 4th generation boy band formed by JYP Entertainment had 42 shows across Asia, North America and Australia to promote their 2022 extended plays "Oddinary," "Circus" and "Maxident"; and their 2023 album, "The Sound."
"Maniac's" 42 shows reportedly earned $62,791,187.
1.
Blackpink – "Born Pink World Tour"
Blackpink tops the list of highest grossing K-Pop concert tours so far with their "Born Pink World Tour." In just 40 out of 60 shows, the group has already gathered a revenue of $163,832,685.
The group's sold-out world tour started in October 2022 and will continue to Q3 2023, with a total of 60 shows.
Member Jisoo recently missed the last leg of the tour in Asia after she tested positive for COVID-19.
© Copyright IBTimes 2023. All rights reserved.