9 Best Galaxy Note 9 Tips And Tricks To Enhance User Experience
The Samsung Galaxy Note 9 may be expensive but it does have a lot of new features that enable you to customize the display. From changing your display and other settings, users can find many stylish options for their Note 9 phone. Check out these helpful and awesome Galaxy Note 9 features.
Edge-Panel Taskbar
Similar to laptops and desktops, the Samsung Galaxy Note 9 can set up a taskbar of favorite apps on its sides. With this feature, users can quickly get to their favorite apps faster instead of doing a lot of clicks before getting there. To set this up, go to the Display settings, then Edge, and press the Edge panels. Normally, the Apps and People tab are registered for this Taskbar but you can add more once done.
One-Hand Mode
Even if the Galaxy Note 9 is a big device to be held on one hand, it actually supports one-handed mode if the users need it to. To activate this, go to the Advanced Features menu and select One-handed mode. Once in, users can select if they want the Gesture or Button option. With this feature, users can minimize display sizes easily according to their preferred setting. So far, using the triple Home button press seems the easier option when one-handing the Note 9.
Hiding The Navigation Bar
For times users want to maximize their display for what they're looking at, hiding the navigation bar is also possible, according to Guiding Tech. To do this, go to Settings, then Display, and to the Navigation bar settings. Users can now toggle the show and hide button. Once set to Hide, a small black button will appear next to the Navigation bar. This button hides it if you need it to be concealed from view. To bring back the Navigation Bar, simply swipe from the edge.
Navigation Bar Colors
Since the Note 9's front screen is mostly display and less screen frame, users can change their navigation bar colors to personalize it. Normally, pastel colors are mostly available, but other styles can be achieved through downloaded apps.
Transparent Notifications
Since notifications always come in a white rectangle with text, users can also customize it to become transparent. Once users head on to Display and on to Notifications, the Transparency slider can be set to its maximum to make incoming notifications truly transparent. Whether it be playing a game or watching videos, incoming notifications will not interrupt the visuals as much as it used to.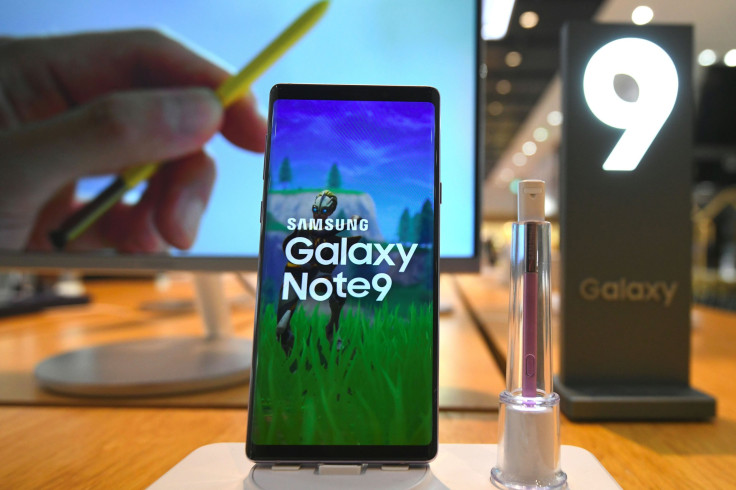 Display Color
Similar to most TV screens, the Samsung Galaxy Note 9 also comes with display settings which can improve the quality of videos and images as you look at them. So far, the available modes are Basic, AMOLED Cinema, AMOLED Photo, and Adaptive display. Basic and the two AMOLED settings are automatically set up to boost the quality of specific settings. However, the Adaptive display can be fully customized per the user's preference. For experienced users, the RGB setings can also be fiddled with according to your likes.
Edge Lighting Color
Aside from the notification bar, the Edge lighting color can also be changed. The available settings for these are: Basic, Glow, Multicolor and Glitter. These Edge lighting settings can be found at the Edge screen menus in the Display settings. Once inside, users can go ahead and mix and match how they want their edge lightings to be for their Galaxy Note 9.
Clock Style Settings
Aside from the Edge lightings and changing colors, users can also change the idle clock screen when they're checking time. With Samsung's official clock face AOD app, users can not only change the clock design but also its colors. However, this app can only be installed on your phone through sideloading where users have to transfer the installer from a computer to their phone.
Always On Display Notes
For times users need to be reminded of something but always have to be on their phone, Samsung's Notes app actually has a feature available to the Always On Display screen of the Note 9, as per Android Police. After writing up the note in Samsung Notes, owners can use the share feature for the Notes, and select Text Only and Always On Display. Once the idle Always On Display screen shows up, their notes will be displayed there. This app is best for Samsung Note 9 users that are always on the go.
© Copyright IBTimes 2023. All rights reserved.