9 Best Hallmark Channel Valentine's Day Movies To Watch
No network knows love stories better than Hallmark Channel, which is why there are no better movies to watch on Valentine's Day than Hallmark originals. There are so many to choose from, so we've helped out by narrowing it down to the best nine Valentine's Day premieres - in chronological order - from previous years on the channel.
1. "Elevator Girl" (2010)
When a stuck elevator brings a free-spirited woman and an uptight lawyer together, they are faced with the reality that their separate worlds might be too different for their relationship to get off of the ground floor.
This flick holds a special place in Hallmark history as its Lacey Chabert's debut movie on the network. That alone is reason enough to watch it this holiday, but the love story between her character and Ryan Merriman's is also good motivation.
2. "Be My Valentine" (2013)
Firefighter lieutenant Dan Farrell (William Baldwin) is a widower and single dad who isn't looking for love. But a few weeks before Valentine's Day, his team responds to a fire at a local florist and he can't help but notice the pretty owner, Kate (Natalie Brown). When he struggles to buy flower arrangements for the stations annual Valentine's Day Firefighter's Ball, Dan enlists Kate's expertise and soon the two are spending lots of time getting to know each other.
Starring Baldwin and Brown, expect a sweet story about finding a second love in life. The chemistry between the leads is great and the movie combines firefighters and party-planners, what more could you want?
3. "Chance at Romance" (2014)
After making eye contact at one of his shows, Sam (Erik Krakow) initiates an online relationship with photographer Heath Madsen (Ryan McPartlin). Sam is later shocked when she receives a plane ticket to visit Heath. But when she arrives for her romantic weekend, Sam learns that her online relationship was actually created by Heath's 12 year-old son, and his longtime housekeeper May (Patricia Richardson).
This is an interesting romance about how catfishing can be used for good and how love can even come from it. Well, in this case, at least.
4. "All of My Heart" (2015)
A young caterer's life (Lacey Chabert) suddenly changes course when she inherits a country home and learns she must share it with a career-obsessed Wall Street trader (Brennan Elliott). At first, these opposites do not attract, but feelings begin to change when they find themselves having to work side-by-side to restore their newly acquired home.
As one of the most popular Hallmark movies, how could it not make the list? It's a fan-favorite for good reason, too, as Chabert and Elliot's chemistry is off the charts. Plus, the storyline is a classic one about characters who can't get along having to share a property. Once you watch this one, be sure to check out its sequel, "All of My Heart: Inn Love," as well.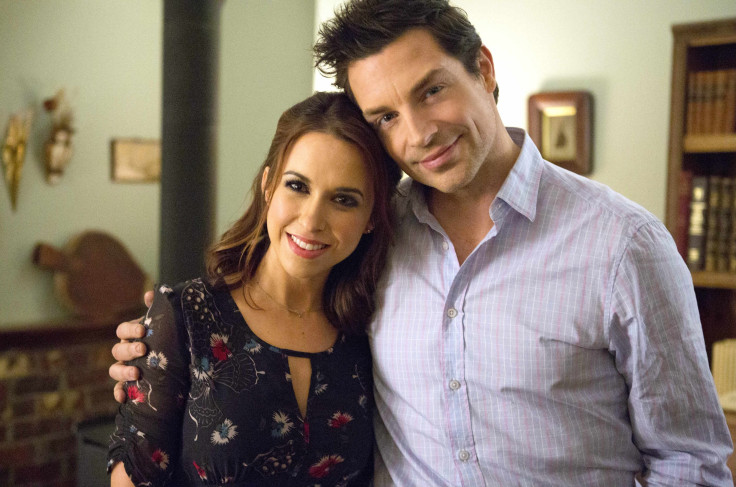 If that's not enough of these co-stars for you, don't worry, as they're teaming up for a new Hallmark Movies and Mysteries series, "The Crossword Mystery," this year.
5. "Cloudy with a Chance of Love" (2015)
Quirky meteorologist Deb (Katie Leclerc) spends most of her time finishing the passionate pursuit of her meteorology Ph.D. The wind of change starts blowing, however, when a handsome news director (Michael Rady) recruits her to fill in as an on-air weather personality.
Aside from the two leads doing a fabulous job in the film, this movie also earned its place on this list because its plot is interesting and unlike any other movie on Hallmark. This is an unusual feat for a network that is known for reusing old storylines for new movies.
6. "Dater's Handbook" (2016)
Realizing she has a recurring habit of picking the wrong type of guy, Cassandra Barber (Meghan Markle) turns to relationship expert, Dr. Susie, and her latest self-help book, "Dater's Handbook" to help with her ailing love life. She follows the advice in Dr. Susie's book to evaluate potential suitors, and then must ultimately choose between reliable George (Jonathan Scarfe) and fun-loving Robert (Kristoffer Palaha).
This was Markle's second and final Hallmark movie and it was her best one. It's always fun to have a Hallmark movie with two male leads, even though it's usually fairly clear which one the female lead will choose in the end.
7. "Valentine Ever After" (2016)
Big city girls Julia (Autumn Reeser) and Sydney (Vanessa Matsui) take a trip to a dude ranch in Wyoming for a fun weekend getaway. But when a brawl ensues in the local bar one night, the girls are sentenced to perform community service for disorderly conduct and are forced to stay in town. In addition to doing odds and ends around town, the girls discover a charitable cause that just might change their lives.
This film shows a great female friendship between Julia and Sydney, which is nice to see. On the romance side of things, before Julia falls in love and decides to drop everything for him, she falls in love with the town and a new job prospect, too.
8. "A Dash of Love" (2017)
A young woman (Jen Lilley) who dreams of opening her own restaurant lands a job at a prominent restaurant whose head chef (Brendan Penny) becomes her unlikely ally when the restaurant's unscrupulous owner, a Master Chef herself, plots to return the place to its former glory by presenting her new assistant's recipes as her own.
When Hallmark puts two fan-favorites in one movie there's always a good chance it'll become an instant classic and this one is no exception. Add in that it's a cooking romance and there's no chance of fans not loving it.
9. "Love Blossoms" (2017)
Perfumer Violet (Shantel VanSanten) is desperate to formulate her late father's unfinished signature scent. Under great pressure to finish by Valentine's Day, Violet hires an inexperienced botanist (Victor Webster) with an uncanny ability to identify scents. It's not long before their professional relationship turns romantic, threatening their deadline and feelings for each other.
It should become clear to everyone who sees this movie that VanSanten needs to be in more Hallmark movies and become a network staple like her co-star Webster. She's wonderful in this film and was able to work well with Webster to really show their characters' love come alive onscreen.
© Copyright IBTimes 2023. All rights reserved.
FOLLOW MORE IBT NEWS ON THE BELOW CHANNELS