Aakash $60 Tablet: Will the World's Cheapest Tablet Lift Countries Out of Poverty?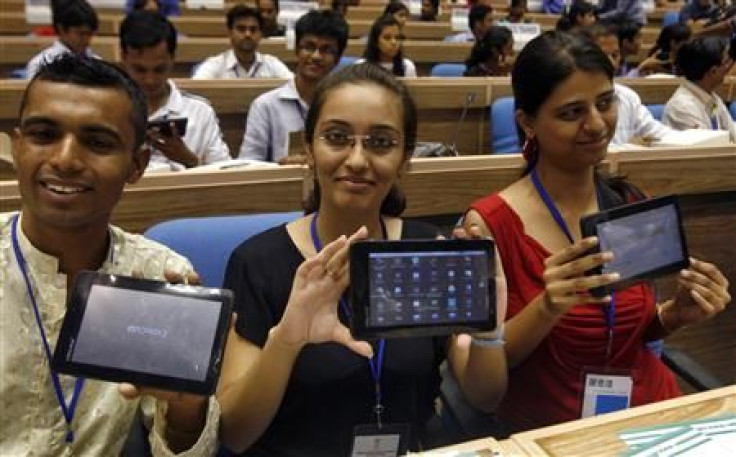 Dominating the tablet computer market, Apple's iPad 2 currently sells at a starting price of $499. Its biggest competitors at Samsung or BlackBerry offer theirs for about $100-200 cheaper. Even what seems the most affordable option right now, Amazon's Kindle Fire, is priced at $199. But, as of today, for as little as $35 you can own a tablet computer - thanks to India. This is huge in the economy of development technologies, but is it enough to close the digital divide?
In the U.S., most of us live in a world made up of choices. Whether we're deciding between which type of pasta to go with or which smartphone to upgrade to, we're bombarded with decisions and faced with hundreds of manufacturers and models. On the other side of the globe, most people aren't making the same decisions; accessing a luxury and accessing a necessity differ in meaning. Owning the latest tablet technology is hardly a priority when finding shelter overhead or keeping your job rank significantly before anything else. Much like most forms of technology, the market for tablet computers is still only limited to the world's most industrialized nations.
An overwhelming 41 percent of the Indian population falls below the international poverty line, and the Aakash tablet aims to transform this harsh reality into an opportunity for developmental growth. The Indian government is subsidizing the tablet to offer it for as low as $35 for students and teachers and $60 for all other consumers. The tablet itself is being developed by a small Canadian company called DataWind, whose hope for this tablet is to target India's lack of educational resources.
Although Aakash offers the most basic functionality compared to other powerful tablets, it does operate on Google's Android platform with 32GB memory. The 660 MHz processor is supplied by American company Conexant Systems, but some predicted drawbacks may be a slower machine and less responsive touch screen. It's also offering WiFi capability to encourage wider Internet usage in the country, where, at a glance, only about 5 out of every 100 people are online.
Aakash is actually one technology among other emerging cheap innovations sweeping India right now. Back in 2009, Indian carmaker Tata Motors built the world's cheapest car - the Tata Nano. At approximately $2,000, or 100,000 rupees, the Tata Nano was a small city car that fulfilled the poor people's dreams of owning a car. This year, the car may see heavier exports to other developing countries as redesigns and enhancements continue.
India has even managed to offer the most affordable open-heart surgery in the world. A hospital established in the Cayman Islands provides medical services for those seeking low-cost care, which even in the U.S. is a never-ending problem of access. Typically, open-heart operations in the U.S. can cost anywhere from $20,000 to $100,000, with the numbers varying depending on procedural complexity. For just $2,000, Dr. Devi Shetty and others at his hospital can perform the same surgeries.
Up until now, it seems as though India's model of growth continues to be driven by the simple principle of economies of scale. The production costs of expensive goods and services are driven down as output increases at high volumes. In the technological sector, the important question consumers are concerned about is whether low costs mean sacrificing functionality.
Although the future of affordable technology and the direction it's progressing in is still unclear, we can always consider what we've learned from history. In present day, South Korea is promising for its schools to go paperless by 2015 so as to integrate digital textbooks and tablets. In 105 AD, ancient China invented and spread the art of making paper to the rest of the world. Papermaking later industrialized and has become a technology we very much take for granted now. Then, people were motivated by inventing something for us to write on. Right now, we're motivated by convenience and preserving our finite resources, and India is trying to let us do that for as small a cost as possible.
Tablets may one day replace paper, but what they have in common is the demand-driven economy they thrive in. Just like when paper was first available, not everyone had access to it. It took centuries upon centuries to bring the production cost of paper down to its value today. If tablets are being sold for $35 in India, this could be the start of low-cost, first-world technology making its way into third-world market economies. Yet, it is hard to gauge how a $35 tablet will make long-term impacts on India's educational issues, let alone alleviate poverty in the country. In reality, ending our digital divide will require more than introducing technology in undeveloped nations, but giving everyone the chance to own a piece of current technology could be a small start to addressing a growing global challenge.
© Copyright IBTimes 2023. All rights reserved.