Aaron Feis, Stoneman Douglas High School Coach, Dies Protecting Students During Shooting
A football coach at Marjory Stoneman Douglas High School, Florida, is being hailed a hero for shielding the students from bullets during the shooting that took place Wednesday.
Initial reports on Twitter claimed football coach Aaron Feis died while protecting the students from the gunfire. But those reports were squashed by a tweet by another coach at the school, which stated Feis was in the hospital.
Jordan May, a coaching staff of Stoneman Douglas High School in a tweet which is now deleted said, "Coach Feis has not passed. He was shot but is not dead."
May, who is the son of head football coach of the school Willis May, said his father was in his office when the shooting took place and was not hurt, Miami Herald reported.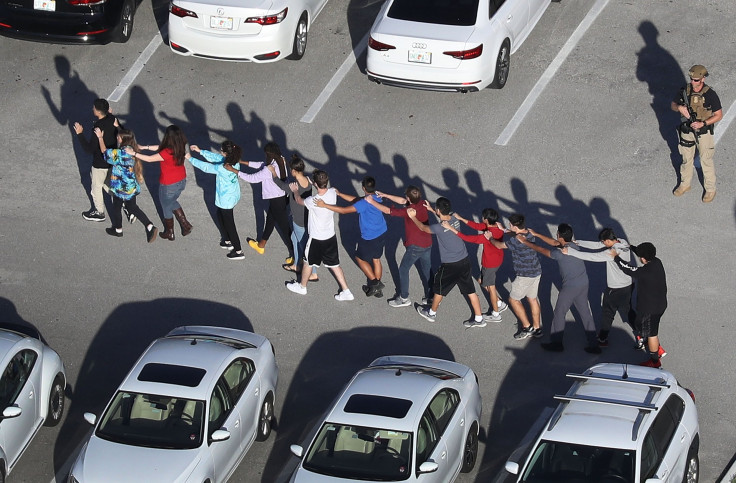 However, Feis eventually succumbed to the wounds. Broward County Sheriff Scott Israel announced the news without naming the coach.
"A beloved football coach is dead," said Israel.
Feis, a resident of Coral Springs, was a 1999 graduate from Stoneman Douglas High School and worked with the school for the entirety of his coaching career.
Andrew Hoffman, a former student who recently coached the swimming and water polo teams of the school, said Feis also worked as a security guard in the institute for eight years and took his job of protecting the students very seriously.
Hoffman said before Israel announced Feis' death, "He's very well dedicated to the safety of the school during the daytime."
Feis was said to be "quiet person" and had a good sense of humor, according to Hoffman.
"When there's a funny joke, he is always laughing for sure," Hoffman said.
Social media was filled with condolences after Feis' death and many hailed him a hero.
A former student of the school, Nicolas de Jesus Cruz was identified as the suspect behind the shooting at Stoneman Douglas High School, reports said.
Cruz, 19, was arrested by the police an hour after he left the school premises, Israel said during a press conference. Cruz allegedly used an AR-15 style automatic rifle to carry out the attack and was taken into custody by the Broward County Sheriff's Office at 4 p.m. EST from a home located close to the school, police authorities said.
He was perceived as a possible threat to the students.
Jim Gard, a math teacher at the school said, "We were told last year that he [Cruz] wasn't allowed on campus with a backpack on him. … There were problems with him last year threatening students, and I guess he was asked to leave campus. "
"We received no warnings. Potentially there could have been signs out there. But we didn't have any warning or phone calls or threats that were made," added Gard.
At least 17 people were killed and more than 14 injured during the shooting.
© Copyright IBTimes 2022. All rights reserved.
FOLLOW MORE IBT NEWS ON THE BELOW CHANNELS