Aaron Hernandez Timeline: Everything We Know About Former NFL Player's Death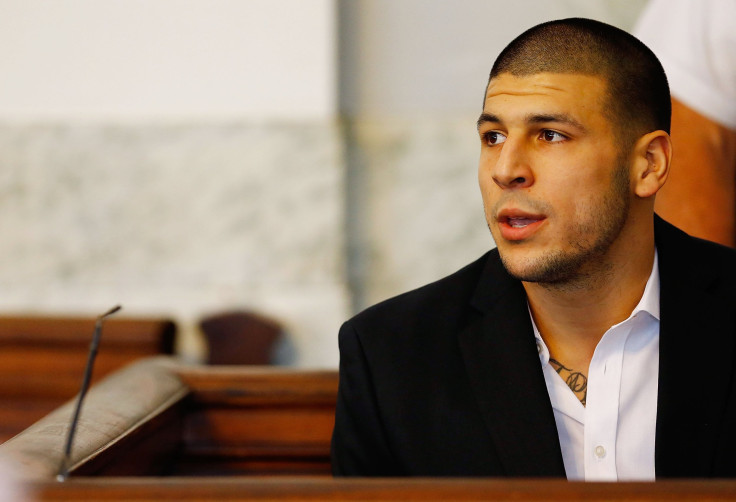 UPDATE: 11:28 a.m. EDT -- Aaron Hernandez's conviction for the murder of Odin Lloyd was dismissed by a judge Tuesday. Using a Massachusetts legal rule known as abatement, Hernandez's record is now clear of murder charges, according to WBZ-TV.
Original story:
In the days since former New England Patriots tight end Aaron Hernandez was found dead in his prison cell, the internet has been awash with bombshell reports regarding the former NFL star. Almost every day has brought a new revelation about Hernandez's life and death.
A look back shows everything we know about Hernandez's charges, his life in prison and his suicide.
Jun. 26, 2013: Hernandez was charged with the murder of former semi-professional football player Odin Lloyd. Attorneys said he drove Lloyd to an industrial park in Massachusetts where he shot him six times.
Jun. 26, 2013: The New England Patriots released Hernandez less than two hours after he was arrested and charged for Lloyd's murder.
May 15, 2014: Hernandez was formally indicted in the double homicide of Daniel Abreu and Safiro Furtado in 2012.
Apr. 15, 2015: Hernandez was found guilty of first-degree murder in the 2013 death of Odin Lloyd. He was sentenced to life in prison without parole.
Apr. 17, 2015: Reports emerged that Hernandez was placed on suicide watch following his conviction.
Apr. 14, 2017: Hernandez was acquitted of the 2012 double murder of Abreu and Furtado.
Apr. 19, 2017: Hernandez was found hanged in his prison cell at the Souza-Baranowski Correctional Center in Massachusetts in the early morning and pronounced dead at a nearby hospital.
Apr. 21, 2017: Newsweek published a report in which it alleged that Hernandez was involved in a gay relationship while in prison and left the man with which he was intimate a note. Hernandez's lawyer, Jose Baez, denied such reports and called them "malicious leaks."
Apr. 21, 2017: Massachusetts officials confirmed Hernandez's brain would be released to an academic center to determine whether he had chronic traumatic encephalopathy (CTE).
Apr. 23, 2017: Reports emerged of three suicide notes left behind by Hernandez: one to his fiancée, one to his daughter and one to the man Hernandez was said to have been in a relationship with while in prison. Subsequent reports said the third letter was not to someone in prison, but to his lawyer.
Apr. 25, 2017: Lawyers for Hernandez filed a motion in court to dismiss his murder conviction using a legal rule known as "abatement." Because Hernandez's appeal was still in process when he died, he could be posthumously declared innocent.
Apr. 27, 2017: The man whom Hernandez was reported to have been in a relationship with while in prison, Kyle Kennedy, made a statement. "I miss my friend," he said. "I would ask the media to respect the privacy of my family. This is a private matter that doesn't concern them."
May 4, 2017: An investigative report released by Massachusetts State Police revealed that Hernandez had jammed his door with cardboard to prevent it from opening and had spilled shampoo across the floor to make it slippery. Prison officers found him hanging naked from a bed sheet tied around window bars, with a fresh cut on his middle finger and "John 3:16" written on his forehead and prison walls. The report officially closed with an investigation that ruled his death a suicide.
May 5, 2017: Prosecutors released one of the suicide notes found in Hernandez's cell, addressed to his fiancée Shayanna Jenkins-Hernandez. A death report revealed Hernandez was linked to the Bloods street gang and was disciplined for having gang paraphernalia while in prison.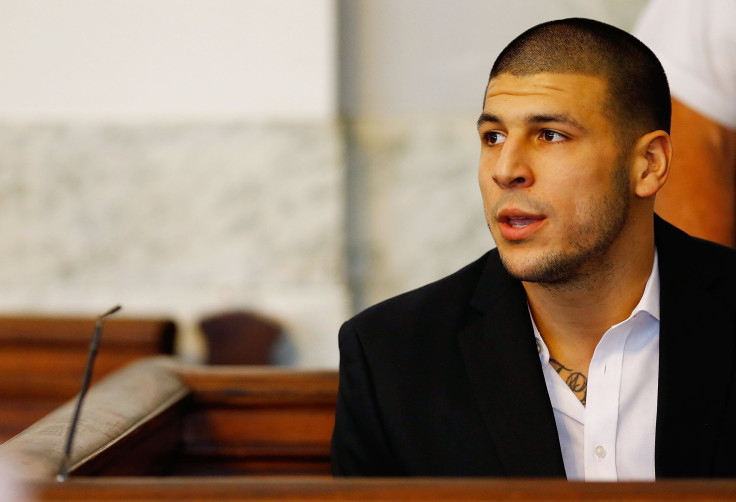 © Copyright IBTimes 2023. All rights reserved.