Adele Gave Harry Styles Her Album '21' As His 21st Birthday Present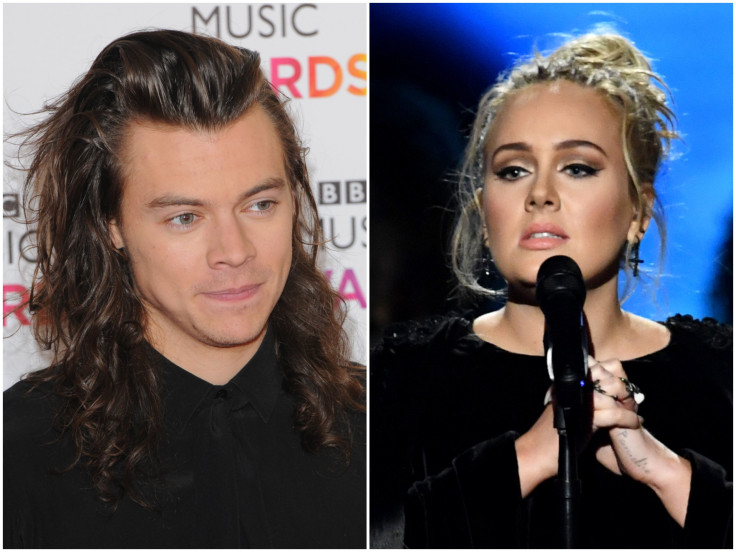 Grammy-award winning artist Adele is a powerful singer, a beloved performer and supporter of many charitable causes. What she isn't is a creative gift-giver.
Former One Direction singer Harry Styles revealed in an interview with BBC Radio 1 that the 28-year-old pop icon gave him a birthday present for his 21st birthday. What did she give him? A copy of her smash-hit album "21."
"For my 21st, she gave me ['21'] and said, 'I did some pretty cool stuff when I was 21, good luck.' And I was like, 'Geez.'" Yup, no pressure, Harry Styles.
However, the now 23-year-old singer had a pretty great year after he turned 21. One Direction had just released their fifth album, "Made in the A.M.," without bandmate Zayn Malik. So while Styles might not have released an album like "21" after his birthday, he certainly made his mark in the music world.
READ: How to listen to Harry Styles' "Sign of the Times."
Early last year, One Direction announced that it was going on a break. Soon after, Styles signed a contract with the band's label, Columbia Records, to produce music as a solo artist. The singer will drop his new album, titled "Sign of the Times," today, April 7. Next week, he will appear as a musical guest on "Saturday Night Live" on Saturday, April 15 on NBC at 11:30 p.m. EDT.
Then, the English singer-songwriter makes his acting debut in Christopher Nolan's World War II drama "Dunkirk."
Meanwhile, Adele is currently on a world tour and has just finished performing in multiple locations in Australia. She will complete her tour with four concerts, called The Finale, on June 28, June 29, July 1 and July 2 in London at the Wembley Stadium. Tickets for all these four concerts are already sold out.
© Copyright IBTimes 2023. All rights reserved.