Afghanistan Shooting Timeline: What's Really Happening At Joint Base Lewis-McChord?
Analysis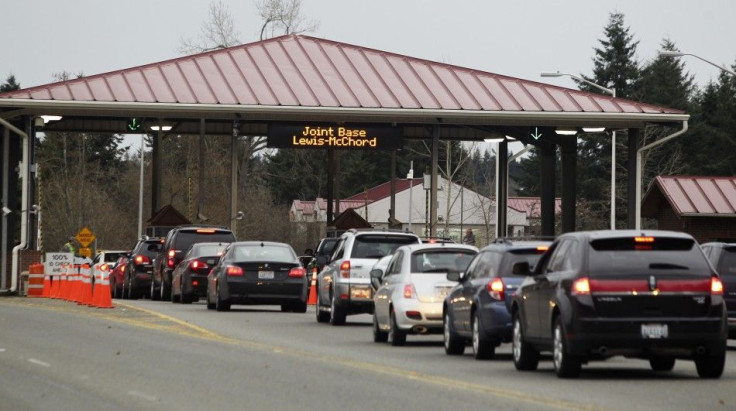 Joint Base Lewis-McChord has once again come under media and military scrutiny after a rogue soldier from that base murdered 16 civilians in southern Afghanistan on Sunday. Joint Base Lewis-McChord is located in Washington state, and its soldiers are deployed in forward bases throughout Afghanistan, and formerly in Iraq.
The attacks came just as tensions between Afghanistan and the U.S. appeared to be easing, with the two governments signing a memorandum of understanding about the transfer of Afghan detainees to Afghan control on Friday. Following news that the majority of Americans now oppose the war, and that tensions had died down despite reports that soldiers had been burning the Qu'ran, peace finally seemed within reach.
Sunday's massacre has put those peace negotiations, and the reputation of the U.S. armed services, in serious jeopardy.
Afghan President Hamid Karzai, who says nine children and three women were among the 16 killed, condemned the attack as an assassination that cannot be forgiven. U.S. President Barack Obama released a statement calling the killings tragic and shocking and promising a full investigation.
The president also made a point to assert that such atrocities are not representative of the exceptional character of our military and the respect that the United States has for the people of Afghanistan.
For the U.S. armed services as whole, this appears to be true. But for Joint Base Lewis-McChord, Sunday's shootings arguably suggest the possibility of a disturbing trend of murders, suicides and questionable dealings over the past three years, one that may go beyond issues of the base's size or the impact of isolated episodes.
Joint Base Lewis McChord has been bombarded with bad stories, veteran Jorge Gonzales, who served in the Army in Iraq in 2006, told the AP. Gonzalez is the executive director of G.I. Voice, a veteran-run nonprofit. He has called for a congressional investigation and hearings into the base's methods.
This was not just a rogue soldier, Gonzalez said. [This is] a rogue base, with a severe leadership problem.
Indeed, members of the U.S. armed services from Joint Base Lewis-McChord have been connected to some of the most infamous Army cases in recent memory. Sgt. John Russell, responsible for the Camp Liberty massacre in 2009, came from JBLM, as did shooters Benjamin Cole Barnes and Brendan Barrett.
Suicides at the base have been steadily growing and the compound has been under investigation in recent years, after complaints that solders' PTSD diagnoses had been improperly reversed by medical staff.
And in the fall of 2011, 11 veterans from Joint Base Lewis-McChord, including Staff Sgt. Calvin Gibbs, were convicted in the shocking thrill-killings of at least three Afghan civilians as part of a platoon kill team.
A full timeline of all major, documented incidents at Joint Base Lewis-McChord, or involving those who trained there, has been compiled below. Blame for these incidents may not rest entirely, or even at all, with those who run the base, or its operations. But with three years of data available, the number of incidents at Joint Base Lewis-McChord have gone from being viewed as isolated episodes to a cautionary tale, lending credence to the idea that the base is, as publication Stars and Stripes deemed it, the most troubled base in the military.
TIMELINE OF JOINT BASE LEWIS-McCHORD CONTROVERSIES
May 2009: Joint Base Lewis-McChord appears in national and international news for the first time with one of the worst cases of soldier-on-solder violence in U.S. military history. Sgt. John Russell kills five fellow service members at Camp Liberty in Iraq, headquarters for the base's 4th Stryker Brigade, after telling Army doctors that If you can't help me...then I will just kill myself. The AP notes that Russell's case, like that of the Fort Hood, Texas, massacre by Maj. Nidal Hasan in 2009, raises questions about the mental health of those in combat and the warning signs the Army missed.
January 2010: Six years after the Abu Ghraib torture scandal, Staff Sgt. Calvin Gibbs begins to form a rogue execution unit in the 5th Stryker Brigade, 2nd Infantry Division, in the Maywand district of Afghanistan.
Jan. 15, 2010: The kill team strikes. In a small village in the Maywand district, unarmed teen Gul Mudin is killed by Spc. Jeremy Morlock and Pfc. Andrew Holmes. Under orders by Gibbs, the two soldiers kill Mudin by means of throwing a fragmentary grenade at him and shooting him with a rifle.
Feb. 14, 2010: Christopher Winfield, Spc. Adam Winfield's father, receives a series of disturbing Facebook messages from his son in Afghanistan. Threats are coming my way, Winfield writes. There are people in my platoon that can get away with 'murder'... Pretty much the whole platoon knows about it. It's OK with all of them pretty much, except me. I want to do something about it, the only problem is I don't feel safe here telling anyone.
Feb. 15-22, 2010: Watch your back. Don't trust anyone, Christopher Winfield writes his son, before promising to try to get the authorities involved. He finally manages to reach someone at Fort Lewis, and tells duty sergeant James Beck his story. Beck takes his number down, but says he doesn't have the authority to begin an investigation in a war zone. He never calls Winfield back.
Feb. 22, 2010: Soldiers discover the body of Marach Agha by a roadside. According to investigators, Gibbs shot Agha with an M4 assault rifle, planting a Kalashnikov by the victim to justify the attack. The Army later says Agha may have been deaf or mentally retarded.
May 2, 2010: Mullah Adahdad is attacked with a grenade and fatally shot, the last hit by the kill team. Gibbs orders Winfield and Morlock to take Adahdad to a nearby ditch and get him on his knees. Gibbs then throws a grenade into the ditch, placing a second grenade next to Adahdad's body. Morlock orders Winfield to shoot. So I started shooting, Winfield recalls. That was that.
May 5, 2010: Members of a Stryker platoon return to Kalagi after tribal elders tell Army officers that Mullah Adahdad was unarmed and that the shooting was a set-up. This guy was shot because he took an aggressive action against coalition forces, Lt. Stefan Moye, the platoon leader, is recorded as saying by photojournalist Max Becherer. We didn't just [expletive] come over here and just shoot him randomly. And we don't do that.
May 5, 2010: Gibbs learns that unit member Justin Stoner has reported some of his comrades smoking hashish and decides to confront him in his room. Gathering six others, including Morlock, Spc. Emmitt Quintal and Staff Sgt. David Bram, Gibbs warns him to shut the f--k up from here on out before instructing his comrades to assault him. Gibbs then takes mummified fingers out of his pocket and shows them to Stoner, while Morlock warns him that Gibbs has killed people and is pretty willing to do it, if he has to.
May 7, 2010: Stoner reports the incident and refuses to go back to his room, saying, I don't want to die like those innocent Afghans. He is taken to Kandahar and questioned for three days, asserting that my unit is notorious for going on patrol, finding an innocent person and killing them without reason.
May 11, 2010: Morlock is questioned, and admits to the three murders. Gibbs is arrested. More than two dozen soldiers are questioned in the case, and all laptops, cameras and other media belonging to the 12 under investigation are confiscated.
Spring 2010: Investigators find 4,000 photos from Gibbs' kill team revealing horrific evidence of how dead victims were used as props in photographs with the soldiers, and how Gibbs and others collected skulls and bits of their victims, both as part of the thrill-killings and in combat. According to Der Spiegel, one of the first publications to get hold of and publish the photos, those in the 5th Stryker Brigade traded the photos like baseball cards.
Spring 2010: Der Spiegel publishes photos from the kill team including one of Morlock smiling and lifting the corpse of 15-year-old Gul Muddin by the hair and photos of mutilated body parts. Two videos were also published involving altercations with Afghans that may or may not be armed, one called Motorcycle Kill and one called Death Zone. Senior officials at NATO's International Security Assistance Force in Kabul compare the photos to those that came from Abu Ghraib in Iraq.
Aug. 27, 2010: Joint Base Lewis-McChord is back in the news when deserter Brandon Barrett shoots a Salt Lake City police officer in Utah before being killed by return fire.
Oct. 12, 2010: The Army is shown to have had advance knowledge of Barrett's intentions, having seen texts from the AWOL soldier, recently back from Afghanistan, before the attack, which stated that he was preparing to die in Utah and had one hell of an argument and about 1,000 rounds to prove my point.
November, 2011: The Maywand killings go before a military court. Prosecutors claim Gibbs was found in possession of finger bones, leg bones and a tooth taken from Afghan corpses. Gibbs admits to mutilating his victims, but insists the dead were killed in active combat, comparing his action to keeping the antlers off a deer you'd shoot ... You have to come to terms with the things you're doing.
Nov. 11, 2011: Gibbs, alleged ringleader of the kill team, is convicted on 15 counts, including three counts of premeditated murder. He was sentenced to life in prison with the possibility of parole.
Fall 2011: Five other members of the out of control platoon are charged with murder, and seven with participating in the cover-up. All but one of the 12, Spc. Michael Wagnon, end up convicted of the charges against them.
Dec. 27, 2011: Joint Base Lewis-McChord begins to be described as a base on the brink and as the most troubled base in military by news outlets, including Stars and Stripes, the U.S. military's independent news source.
Dec. 29, 2011: To the string of suicides, assaults and slayings plaguing Joint Base Lewis-McChord in Washington state, add one more, the L.A. Times writes. The base's Private 1st Class Dakota M. Wolf is charged with premeditated murder in the stabbing death of 19-year-old Scarlett Paxton in Washington state. Authorities have postponed the arraignment so the military can proceed first with charges of assault, being absent without leave and failing to report for a training exercise. Wolf never served overseas.
Jan. 1, 2012: Benjamin Colton Barnes, an Iraq war veteran discharged from Joint Base Lewis-McChord, shoots Mount Rainier National Park ranger Margaret Anderson at a roadblock. Authorities believe he was fleeing an earlier shooting at a New Year's party which wounded four people, two critically. Barnes is found dead in the snow a day later due to the cold and exposure.
January 2012: The Army begins to review complaints made by soldiers at Joint Base Lewis-McChord's Madigan Army Medical Center that almost 300 patients diagnosed with post-traumatic stress disorder have had their diagnoses unfairly reversed by a forensic psychology team. The complaints set off major alarm bells due to another report indicating that the base saw 12 suicides in 2012, more than ever before. In a 2008 report, the Rand Corporation estimated that one in five military-service personnel returning from Iraq or Afghanistan might suffer from symptoms of post-traumatic stress disorder or major depression.
Jan. 27, 2012: Sen. Patty Murray, D-Wash., who chairs the Senate Committee on Veterans Affairs, announces that she has referred the PTSD-reversal case to Lt. Gen. Patricia Horoho, the Army surgeon general, in an effort to determine whether the doctors were influenced by how much a PTSD diagnosis can cost in pension and other benefits. The main underlying cause of the improper discharge remains the enormous pressure from top Pentagon officials ... to curb military spending, Paul Sullivan, then-executive director of Veterans for Common Sense, testified at a 2010 House Committee on Veterans Affairs hearing.
Feb. 21-29, 2012: Col. Dallas Homas is removed from command of Madigan Healthcare System at Joint Base Lewis-McChord, as investigations into complaints continue by soldiers that their PTSD diagnoses were improperly reversed. U.S. Defense Secretary Leon Panetta tells a Senate committee that he has asked a Defense Department undersecretary to look into whether the military is diagnosing post-traumatic stress consistently.
March 11, 2012: An unidentified U.S. service member is detained after firing on civilians in Kandahar province. The soldier, who officials say was an Army staff sergeant, killed 16 in a house-to-house shooting rampage through two villages. Eleven of the dead were from a single family. Reports indicate he may also have burned some of the bodies of those slain.
March 12, 2012: The killer is reported to be from Joint Base Lewis-McChord, assigned to support a special operations unit of either Green Berets or Navy SEALs engaged in a village stability operation. U.S. officials claim the shooter acted alone, though some witnesses spoke of multiple shooters at the scene.
March 12, 2012: Details emerge about the alleged killer, who turned himself in after the shootings. He has been identified as 38 years old, on his fourth combat deployment in 10 years, and on his first in Afghanistan. Reports indicate he suffered a traumatic brain injury and had problems at home, but was considered fit for combat duty and deployed in December.
March 12, 2012: Jorge Gonzalez, executive director of G.I. Voice, a veteran-run nonprofit organization, calls for the government to look into the multiple crises at Lewis-McChord.
March 12, 2012: I promise you, not even a percent of those people are like this, but unfortunately it keeps happening, Spc. Jared Richardson told the AP. Things like this will continue until there is no more war.
FOR FREE to continue reading
✔️ Unlock the full content of International Business Times UK for free
offer available for a limited time only
✔️ Easily manage your Newsletters subscriptions and save your favourite articles
✔️ No payment method required
Already have an account?
Log in
© Copyright IBTimes 2023. All rights reserved.