Africa's Tourism Industry Hit Hard From Ebola Even Far From Virus Outbreak
The deadly Ebola epidemic raging in West Africa may be far removed from other African countries in the eastern and southern parts of the giant continent -- but it's wreaking havoc on their tourism economies nonetheless. The outbreak that has claimed nearly 4,500 lives is centered in Sierra Leone, Guinea and Liberia. Still, panic that the disease will spread has caused tourists to cancel or postpone trips to places like Kenya, South Africa and Tanzania, thousands of miles from the epicenter in West Africa.
Tourism accounted for about 8.5 percent of gross domestic product in African countries, according to the World Travel and Tourism Council, and was expected to grow by 4.1 percent this year. That's unlikely, given the hysteria surrounding the disease. "Ebola can damage Africa's economic revival of recent years, resurfacing the continent's negative stereotypes as a place of disease, famine and poverty," tourism research analyst Paz Casal told Bloomberg News in August.
Indeed, there are signs that it has begun to do so, especially as many potential tourists are unfamiliar with Africa's geography and size. (The continent covers about 11.6 million square miles -- about the size of the United States, China, India, Spain, Germany, Italy, France, the U.K., and Eastern Europe combined.)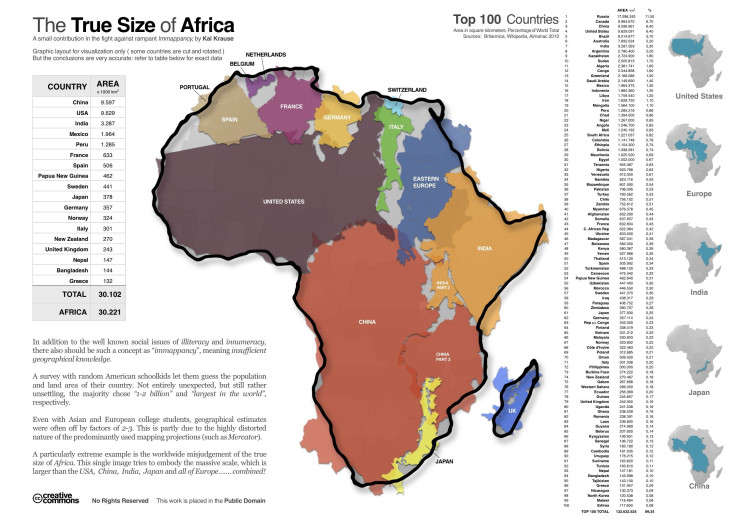 And experts agree that fears about traveling to places in southern and east Africa are unfounded. While the U.S. Centers for Disease Control and Prevention warns against trips to Liberia, Guinea and Sierra Leone, there's no advisory for other countries on the continent. Phyllis Kozarsky, a medical consultant to the CDC, told Yahoo News the agency has no travel concerns for East and South Africa.
Jim Holden, president of African Travel, said the epicenter of the Ebola outbreak is more than 3,500 miles from popular tourist destinations in East and South Africa. "Most of our guests are traveling further from the Ebola outbreak than Los Angeles is from New York," he said. "There are 54 countries that make up the continent. It's huge." While his company, which provides high-end custom tours to places in East and South Africa, hasn't seen many cancellations yet, he estimates that future inquiries are down about 20 percent.
Kota Tabuchi, managing director of the Africa division for tour company Travel Beyond, said that he hasn't seen a lot of cancellations either, but that there has been a 50 percent decline in the number of inquiries as compared to this time last year.
Other businesses aren't as lucky. André Steynberg, vice president of sales for tour operator Alluring Africa, told Yahoo Travel that sales are definitely down for his company. As a result of tour cancellations or postponements, "[Alluring Africa] has probably lost around $350,000 in the last five days. I would predict that 32 U.S. tour operators have lost about $2 million due to cancellations in the past week."
And many safaris were only at about 50 percent or 60 percent capacity during September, which is typically the high season, Paul Campbell of U.K. tour company Travel Butlers said. "Normally, these places are filled up years in advance. We've had people saying they are not going to travel to Botswana or Tanzania because they're concerned about Ebola," he told NPR.
ERM Tours, a company that organizes trips to countries in southern Africa, was already getting cancellations for trips in August. The company's managing director, Hannes Boshoff, told Reuters that about 80 percent of the company's Asian customers had canceled trips for upcoming months, including a group booking of 1,500 Thais worth $1.12 million.
While most airlines don't release information on how full flights to various points in Africa are these days, there's anecdotal evidence that they are discounting fares as a way to encourage bookings. Tabuchi has noticed a slight dip in airfares. He recently found a business-class ticket from Atlanta to Johannesburg on Delta for about $7,500 round-trip, which would typically run around $9,500. Justin Huff, Africa program director for Mountain Travel Sobek, has also noticed lower airfares: A recent round-trip economy class ticket from San Francisco to Nairobi on Emirates went for $1,200 -- about $600 less than the normal price.
The Zimbabwe Tourism Authority announced this week that the country has lost about $6 million in tourism revenue as a result of travel cancellations sparked by fear over Ebola. "The amount of business lost is most likely to continue growing and surpass $6 million, as we approach the holiday season," a ZTA executive said. And an annual tourism expo held in the country this week, aimed at showcasing Africa's best tourism products, saw cancellations from 30 buyers from Europe and Asia.
Many tour operators feel that part of their job is to educate consumers about the risk of contracting Ebola while in east or southern Africa, which is virtually non-existent. Huff said that he spends a lot of time lately acting as the voice of reason for clients who are nervous about their upcoming trips.
"Every morning I start off with clients who are going hysterical. I have to give them a geography lesson," he said. "If there's an epidemic in the Yukon Territories, you're not going to cancel your trip to the Florida Keys."
Such education works, Tabuchi said. "We have a staff of five people dedicated to selling safaris, and they spend a lot of time retaining clients and addressing their concerns. We've yet to take any cancellations."
Tabuchi added that some volatility is par for the course when it comes to tourism in Africa. "It's a cyclical sort of thing. Every four to five years, some event happens in Africa, whether it's election violence in Kenya or a military coup in Madagascar, that affects bookings," he said. "Because people consolidate Africa as one country rather than a continent of 54 nations, it's just the nature of doing business there."
© Copyright IBTimes 2022. All rights reserved.
FOLLOW MORE IBT NEWS ON THE BELOW CHANNELS