After Italy, France To Close Movie Theaters After Recording Spike In COVID-19 Cases
KEY POINTS
The French government has decided to close all the movie theaters to curb the spread of coronavirus
President Emmanuel Macron said the country will go into a state of lockdown starting Friday
Italy previously announced that it is shutting down the theaters after recording a surge in cases
French President Emmanuel Macron has announced that the nation will be going into a state of lockdown to curb the spread of COVID-19. He revealed that all the movie theaters in the country will be shutting down once again as infections continue to rise in the region.
The French government disclosed a new set of guidelines and instructed the cinema halls to close their doors after seeing more than 33,000 confirmed cases and 523 new deaths on Tuesday, The Hollywood Reporter has learned. The new rules will be implemented from Friday through Dec. 1.
Apart from movie theaters, places such as cafes, restaurants, and shops not dealing with essential goods will also remain shut for at least the next two weeks.
While addressing the nation on Wednesday, Macron noted that their forecasts did not expect the virus to spread at such speed. The president also shared that the "second wave" will be far deadlier than the first and that's why his government has decided to impose a nationwide lockdown.
"The virus is circulating at a speed that not even the most pessimistic forecasts had anticipated. We are all in the same position: overrun by a second wave which we know will be harder, more deadly than the first. I've decided that we need to return to the lockdown which halted the virus," Reuters quoted Macron, as saying.
Meanwhile, Marc-Olivier Sebbag, managing director of the National Federation of French Cinemas, told Screen Daily that the new lockdown guidelines are really "frustrating" because people were returning to cinemas in big numbers recently.
"It's particularly frustrating because there were some 3.3 million spectators in our cinemas last week in spite of the curfew, which was the best week since June 22. But at the same time, we're also taking heart from the fact that the past week's figures show there is still a love of cinemagoing in the country after all that has happened in the past months," Sebbag told the publication.
The last big movie to release in France was Christopher Nolan's "Tenet." The film enjoyed a strong debut and collected almost $6.7 million in its opening weekend amid the global health crisis.
Before France, Italy also took the decision of closing its movie theaters to prevent the spread of the life-threatening disease.
France has had over 1.2 million cases so far. The nation has also reported 35,785 deaths due to the virus.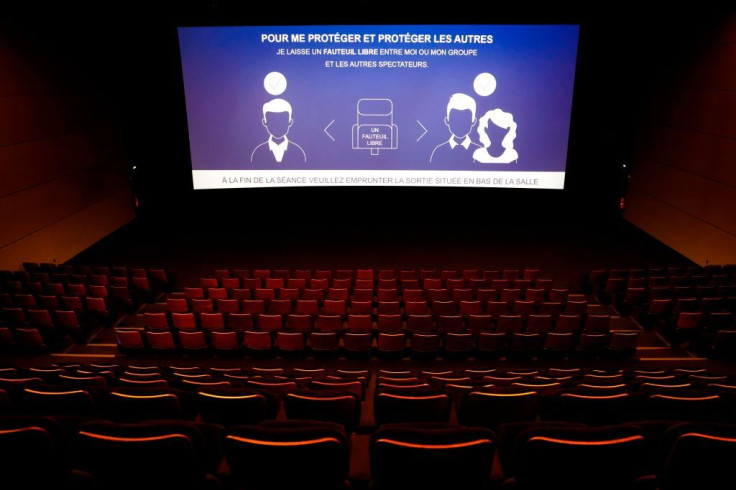 © Copyright IBTimes 2022. All rights reserved.
FOLLOW MORE IBT NEWS ON THE BELOW CHANNELS