'Agent Carter' Season 1 Spoilers: Watch Howard Stark And The Original Jarvis In Sneak Peek Video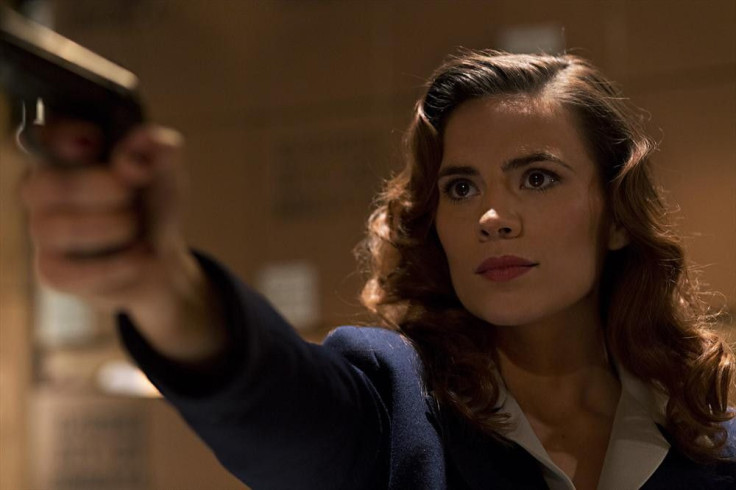 "Marvel's Agent Carter" won't be on ABC until January, but viewers who tuned in for "Marvel: 75 Years, From Pulp To Pop!" got a special sneak peek. The show follows Agent Peggy Carter (Hayley Atwell) as she adjusts to life post-"Captain America: The First Avenger." The clip helps set up the series and gives viewers a much longer look than the first teaser trailer.
The video shows Agent Carter, Howard Stark (Dominic Cooper) and Edwin Jarvis (James D'Arcy) at the docks. They're trying to be discreet while Howard ditches town.
As previously reported, the synopsis stated that Stark "finds himself being framed for unleashing his deadliest weapons to anyone willing to pony up the cash." The clip shows Stark leaving town on a speed boat to find some of the buyers who got their hands on his weapons. He gives Agent Carter a mission: find one of the worst weapons stolen before a buyer gets it. Stark explains that it's just a piece of paper with a formula for a weapon.
"Technically we're not even sure it works, but well, let's face it: I invented it, so it works," he says. It looks like Tony Stark inherited his father's humble personality.
The weapon isn't just something that kills one person at a time. If someone follows the formula, they could destroy entire neighborhoods. "I'm going to regret this, aren't I?" Peggy says.
Stark is confident that Peggy can handle the job. "When you're not humiliating him, that fellow up there is my butler, Edwin Jarvis. He'll help you in any way he can."
After Stark speeds off on his boat, Peggy goes back to Jarvis and the car. "Iron Man" fans know J.A.R.V.I.S. as Tony Stark's computer companion, but this Jarvis seems entirely human. Jarvis offers his services any time before 9 p.m., and Peggy asks what happens after that time.
"My wife and I go to bed," Jarvis explains. "Seven o'clock sherry, eight o'clock Benny Goodman, 9 o'clock bed."
"You're new to espionage, aren't you?" Peggy asks.
Peggy can't be bothered to explain to Jarvis that he has no idea what he is in for. She has to get to work. The clip ends with Peggy in a brutal fight with a man before pushing him out of a window.
Watch the sneak peek video below:
"Marvel's Agent Carter" premieres in January on Tuesdays at 9 p.m. EST on ABC. Does the sneak peek make you want to tune in? Sound off in the comments section below!
© Copyright IBTimes 2023. All rights reserved.