'Agents Of SHIELD' Season 3 Spoilers: Daisy Tries To Change The Future In Episode 15 [RECAP]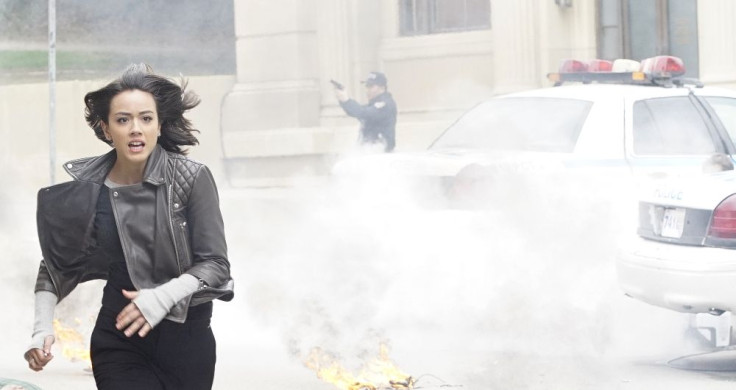 The team was reunited with a couple familiar faces in "Marvel's Agents of S.H.I.E.L.D." Season 3, episode 15. Unfortunately, they weren't happy reunions. May (Ming-Na Wen) saw her ex-husband Andrew (Blair Underwood) for the first time since he escaped in the midseason finale. Meanwhile, Coulson (Clark Gregg) and the other agents realized that Ward (Brett Dalton) might be dead, but his body isn't. They didn't have too much time to be shocked, though. The agents were trying to change the future in this episode.
Charles (Bjorn Johnson), a homeless guy, carves a wooden bird behind a restaurant, but the owner, Edwin (Wolfgang Bodison), tells him he has to go. As Edwin tries to hand Charles some money, Edwin suddenly looks up and says he needs Daisy Johnson (Chloe Bennet).
S.H.I.E.L.D. arrives and Edwin says that Charles made him see this exact moment. He even predicts Hydra's arrival seconds before they attack the scene. He says that he is going to die, and Daisy watches him get shot just a few seconds later.
Daisy touches Charles just as Hydra captures him. She sees flashes of the future, including Lincoln with a bloody face and Coulson shooting at her. "I was hoping you could help," Charles says in her vision before he dies. Daisy already knows it's a prophecy.
Everyone agrees that Daisy's vision could actually happen. Fitz (Iain De Caestecker) doesn't believe it's scientifically possible to change the future, but they have to try. Coulson says they just have to keep Daisy at headquarters. She was the center of the visions, and it might not happen if she isn't there.
Lincoln thinks that Inhuman powers might mean that this isn't a fixed timeline. After all, Raina's (Ruth Negga) visions were able to be changed last year. Lincoln was taught that Inhuman powers aren't random, so there has to be a reason Charles can share the future.
They bring in Charles' wife Polly (Lola Glaudini), who reveals that he walked out on their family several months ago after he developed powers. Charles can't touch anyone without sharing a vision of someone's death. Daisy asks about the robin that Charles was carving, and his wife reveals that Robin is their daughter's name. He'll never be able to touch her again without giving her a terrifying vision.
May wants to simulate the scene of Charles' death, but it doesn't go so well. May can't take out all the guards quick enough. Finally, May manages to do it in the right amount of time. Yet, she still can't head out on the mission. Just as they gear up to leave, Andrew arrives.
Andrew surrenders himself to the organization. "Lash is taking over," he reveals. "I'm about to turn for the last time, May. I came to say goodbye." Coulson demands May stays behind and puts her personal life first. Daisy has to go in her place.
May talks to Andrew and tells him that his IV is giving him the possible vaccine. Andrew knows that it likely won't work, but he figured if he has to turn into Lash (Matthew Willig) for good, he wants S.H.I.E.L.D. to be the ones who have control. "I feel like he's fighting for a cause we don't understand yet, and I don't know. You might need him," Andrew says.
May says this could've been avoided if he never met her, but Andrew thinks they were meant to be together. Andrew goes into his cell when he feels like he is going to change for what may be the last time. Andrew transitions into Lash while May has tears in her eyes.
While May says goodbye to her love, Hive gets to know Malick (Powers Boothe) a little better. Hive asks Malick why he brought the Inhuman to Earth. Malick says he believes that they'll take over the world together. It's about power for him. Hive claims he'll show him what true power really feels like. He also happens to have Coulson's old robotic hand.
Malick and Hive try to buy a company, Transia Corporation, that is working on the tech that was inside of Coulson's hand. They're turned down, so they force Charles to give the head of the company a vision of what will happen. The owner signs over his company, but that doesn't stop the gruesome outcome he saw. Hive still absorbs the flesh off their bodies, leaving only bloody skeletons behind.
Hive puts Malick in an exoskeleton that the company was developing. Suddenly, the Hydra head has super strength. Hive demands he kill one of his henchmen. Malick isn't so sure that he should, but once Hive insists, he squeezes the man's head in.
As Daisy heads into the Transia building to stop Charles from dying, Coulson and the agents watch the security cameras. That's when they see Ward's face. Fitz knows he isn't the real Ward. It's Hive.
Meanwhile, Daisy takes out the first few guards as planned, but she finds that everything isn't just as she predicted. There is a two-way mirror, and that's where she sees Coulson shooting at her. He is actually shooting at her reflection to attack a guard behind the mirror.
Coulson sends Daisy up to the roof to protect Charles, and she asks what he is going to do. "Find Grant Ward," he says. "Yeah, the day got weirder."
Hive says that Hydra can kill any S.H.I.E.L.D. agents as long as they're human, meaning Lincoln and Daisy should be relatively safe. However, Malick doesn't follow orders well. He attacks Daisy on the rooftop while wearing the high tech exoskeleton, but Charles gives him a vision to distract him long enough for Daisy to throw him back.
"Finally made a difference," Charles says. He asks Daisy to help him protect his daughter before giving her one last vision.
Daisy sees the same vision that was the flash-forward in the midseason premiere. In a quinjet headed for earth, drops of blood are in the air along with a cross necklace that looks like Elena's and a S.H.I.E.L.D. logo on someone's shoulder. "I'm so sorry," Charles says before he dies.
While Daisy recovers, Malick runs away in his helicopter. He calls Giyera (Mark Dacascos) and says that the henchman should be with him, but Giyera says he is right where he is supposed to be, next to Hive. "He sounded afraid," Giyera tells Hive.
Elsewhere in "Marvel's Agents of S.H.I.E.L.D." Season 3, episode 15:
Lincoln says he'd kill Coulson if he were to actually shoot Daisy.
Coulson was so worried about Daisy, he called her Skye.
After realizing that Daisy's vision is coming true, Simmons (Elizabeth Henstridge) is very ready to hold onto Fitz. "I think we're supposed to hold hands now," Simmons tells Fitz. "Maybe some things are inevitable."
"Marvel's Agents of S.H.I.E.L.D." Season 3 airs Tuesdays at 9 p.m. EDT on ABC.
© Copyright IBTimes 2023. All rights reserved.