'Aharen-San Wa Hakarenai' Episode 2 Live Stream, How To Watch Online, Synopsis [Spoilers]
KEY POINTS
Raido and Aharen are becoming good friends
"Aharen-san wa Hakarenai" Episode 2 is airing Friday
The episode will stream on Crunchyroll
After an awkward start, Aharen and Raido are spending a lot of time together and are getting closer. However, someone is watching Raido and she doesn't seem pleased.
The official website has released the spoiler stills and synopsis of "Aharen-san wa Hakarenai" Episode 2. Raido and Aharen are eating lunch and even heading back home together. Raido is slightly concerned about Aharen's lack of personal space.
Meanwhile, he notices someone is watching them but he doesn't seem to care. However, a girl appears in front of them and tells Raido that he should stop deceiving Aharen.
In the pilot episode, titled "Isn't This Too Close?," it was Raido's first day of high school and he was ready to do his best.
He vowed to change in high school. Raido recalled how he used to scare his classmates in middle school with his sullen face. But now, he was ready to change his ways and smile a bit for his classmates.
His strategy was to become friends with the girl sitting next to him named Aharen, but despite his repeated attempts to strike up a conversation, Aharen completely ignored him.
The next day, Raido could feel the distance between him and Aharen. He noted she was pretty small physically too and was starting to lose his sense of depth perception.
However, things changed completely when Raido picked up Aharen's eraser.
"Follow the 'indecipherable' daily lives of two students who form a particular and peculiar friendship," read the official series synopsis, according to Crunchyroll.
The cast of the anime includes Takuma Terashima as Raido, Inori Minase as Reina Aharen, Yurie Kozakai as Miyahira Sensei, Tomori Kusunoki as Hanako Sato, Tetsuya Kakihara as Ishikawa, Natsumi Fujiwara as Atsushi, Maria Sashide as Futaba, M.A.O as Mitsuki Oshiro and Kana Hanazawa as Tobaru Sensei.
The opening theme song of "Aharen-san wa Hakarenai" anime, titled "Hanarenai Kyori" or Inseparable Distance, is by TrySail. The ending theme, "Kyori-Kan" or A Sense of Distance, is performed by HaKoniwalily.
"Aharen-san wa Hakarenai" Episode 2 is scheduled for release Friday. Fans in the U.S. can watch the episode online on Crunchyroll. The episode will live stream in Japanese with English subtitles.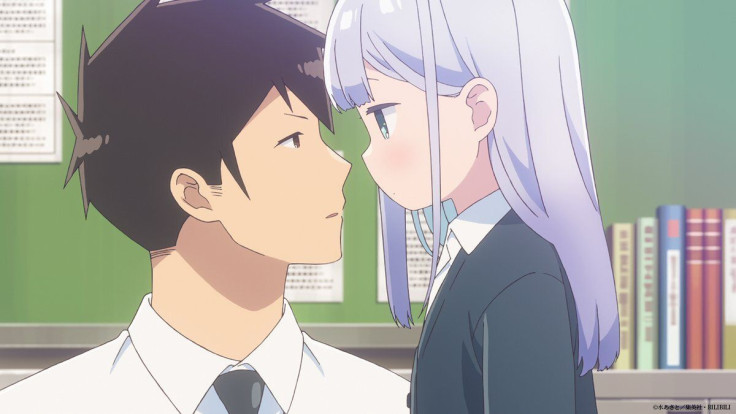 © Copyright IBTimes 2023. All rights reserved.