Ahead Of RNC Speech, 5 Times Donald Trump Went Off Message [VIDEO]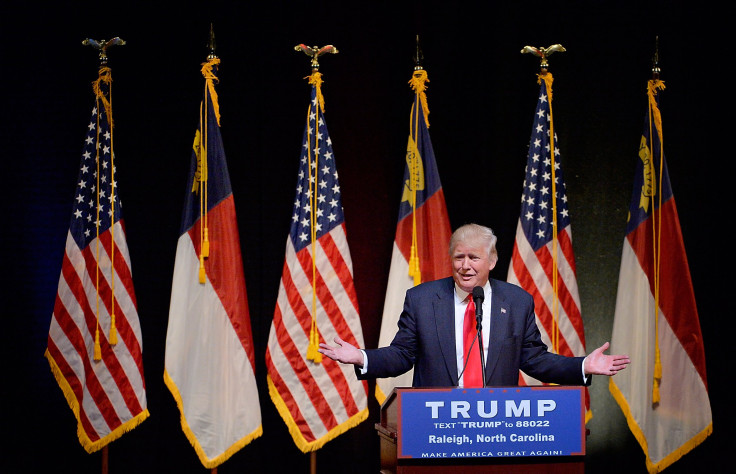 Republican nominee Donald Trump has mocked other candidates or politicians for their reliance on TelePrompTers. He's occasionally tried to speak from notes or use a prompter himself, but even then he couldn't seem to stop himself from straying from the intended message.
Thursday night, he gives the most important speech of his career as he formally accepts the nomination for president at the Republican National Convention. Will he stay on script?
Introducing his VP pick Mike Pence, Trump spent most of his time talking about himself and criticizing Hillary Clinton. Here are 4 other times he went off-track:
Praising Iraqi Dictator Saddam Hussein
"Saddam Hussein was a bad guy, right? He was a bad guy. Really bad guy. But you know what he did well? He killed terrorists. He did that so good. They didn't read them their rights. They didn't talk. They were a terrorist, it was over," Trump said this month at a rally in North Carolina. "Today Iraq is Harvard for terrorism. If you want to be a terrorist you go through Iraq. It's like Harvard, okay? So sad."
Trump later said the media had mischaracterized his statements and clarified that he doesn't actually have any love for Hussein.
Defending A Tweet That His Own Campaign Had Taken Down
"One of my guys — who's married to a Jewish woman — this is a very fine person: Dan Scavino. He put out a tweet talking about crooked Hillary Clinton and on the tweet there was a star. It's a star. Like, a star," Trump said at a rally in Cincinnati earlier this month.
A tweet from Trump's account featured an image of Hillary Clinton in front of dollar bills and a six-pointed star. A deluge of commentary criticized the tweet as a play on Jewish stereotypes. Trump's own campaign took down the tweet and reposted it with a circle replacing the star. But Trump reinvigorated the controversy by defending the original post.
"And I said, oh — because when I looked at it I didn't think anything — all of a sudden it turned out to be, in the minds of the press only because it could've been a sheriff's star, it could be a regular star," Trump said. He added that his youngest son likes to draw stars. "My boy comes home from school, Barron. He draws stars all over the place. I never said 'oh that's the Star of David, Baron, don't."
He later tweeted a photo of a Disney book and asked where the scrutiny of that was.
Clinton later mocked the 'Frozen' themed tweet.
Missing A Chance To Kick Clinton When She Was Down
While most of the political world was reacting to FBI Director James Comey savaging Clinton for her "reckless" use of private emails, Trump diverted attention to a weakness in his own record — his businesses in Atlantic City, New Jersey. He let loose a series of Tweets defending his practices and claiming to have made a bunch of money on the deals.
Getting Distracted By A Bug
Trump was in the middle of a campaign speech when an insect made him lose his train of thought. "Ooh, there was a mosquito. I don't want mosquitos around me. I don't like mosquitos. I don't like those mosquitos I never did," Trump said. "Ok, speaking of mosquitos, hello, Hillary, how are you doing?"
The Trump campaign did not respond to request for comment on this story.
© Copyright IBTimes 2023. All rights reserved.