Ahmed Mohamed GoFundMe: Fundraising Campaign To Send Texas Teen To MIT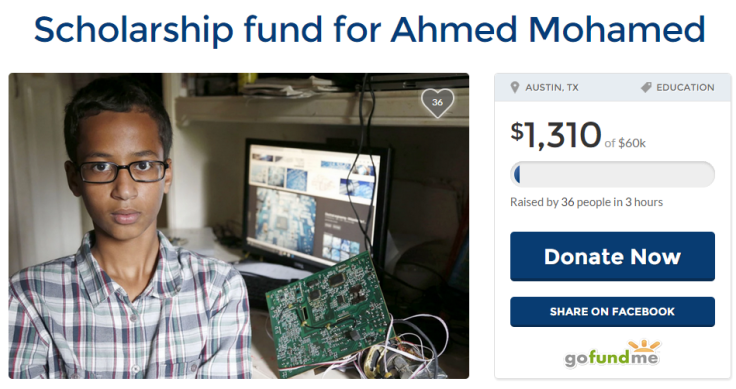 Everyone from celebrities to scientists to President Barack Obama have shown their support on social media for Ahmed Mohamed, the ninth-grader who was arrested for bringing a homemade clock to his Irving, Texas, high school this week. (One of his teachers wrongly suspected that the clock was a bomb.) Now, there's an online fundraising campaign to pay for his college education.
Niki Acosta, who works for Cisco Systems and describes herself as a technology evangelist, has started a GoFundMe campaign with the goal of raising $59,734, enough money to send Mohamed, 14, to the Massachusetts Institute of Technology for one year. (Mohamed said in a press conference on Wednesday that he hopes to attend the school.) The account went online Wednesday afternoon and had raised $1,360 in two hours.
Acosta said she started the scholarship fund campaign because as the daughter of an immigrant and a woman working in tech, she knows what it's like to be marginalized.
"The story pulled on my heartstrings. To see a young man who's a tinkerer, exploring these things on his own, be treated that way was horrible," she said. "My heart just sank at the sheer amount of ignorance. In tech circles, what Ahmed did is exactly the kind of thing we want to help kids achieve."
Acosta was inspired by the #IStandWithAhmed hashtag on Twitter and the fact that other people wanted to do something for the student who's had a tumultuous week.
"It just seemed like a good way to help a bright young man who had been wronged. And it's also a nod to the people in Texas -- there are some really great people here who are caring and compassionate," said Acosta, who lives in Austin.
Any funds raised by the campaign will go directly to the Mohamed family, added Acosta. The GoFundMe account was linked to the family's bank account after Acosta contacted them and told them about the fundraising effort.
"The family was very receptive and thankful. Ahmed's 17-year-old sister Ayisha is so bright and has been fielding all the requests. My hope is that eventually we can raise enough money to send her to school, as well," said Acosta.
The family did not immediately respond to a request for comment.
There will be no charges filed against Mohamed, police said on Wednesday.
© Copyright IBTimes 2023. All rights reserved.