Air Tanker Crashes In California While Fighting Dog Rock Fire In Yosemite National Park, Pilot Dead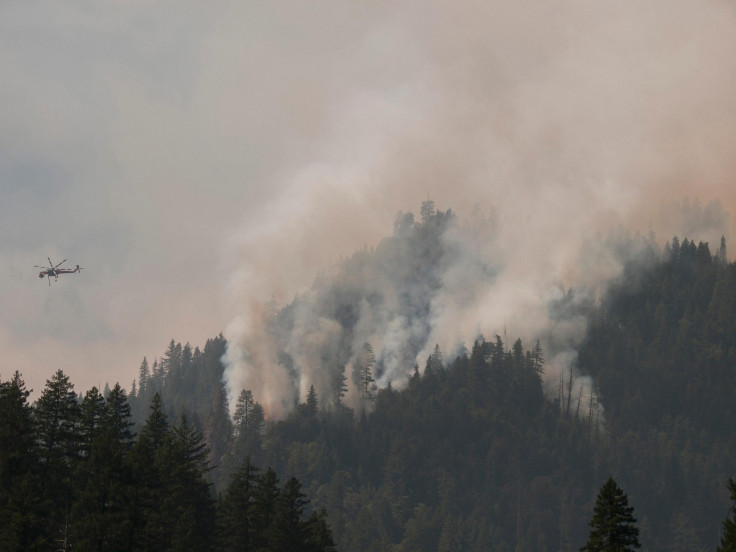 Update as of 1:33 a.m. EDT: The pilot aboard the air tanker that crashed while fighting a wildfire near Yosemite National Park is dead, The Associated Press reported, citing authorities. Rescue crews reportedly confirmed that the pilot died several hours after the plane went down.
Alyssa Smith, a spokeswoman for the California Department of Forestry and Fire Protection, reportedly said that the pilot's family requested that the name be released only after all immediate family members are notified.
An S-2T air tanker fighting a wildfire near Yosemite National Park in Northern California crashed Tuesday, media reports said, citing authorities. The condition of the pilot, who was the only person aboard the twin-engine aircraft, was "undetermined."
The plane reportedly went down near the Dog Rock fire within a mile of the park's western entrance. A spokesperson for the California Department of Forestry and Fire Protection said that rescue teams were "not at the scene yet, but they can see the aircraft," the Los Angeles Times reported. According to reports, rescue crews were trying to reach the plane through the difficult terrain. Authorities reportedly said that the cause of the crash was unknown.
"It's very rugged terrain," Janet Upton, a spokeswoman for the state's forestry and fire department, said, according to The Associated Press, or AP. "We determined there was a crash, but they're still trying to work their way through pretty rugged terrain to determine the status of the pilot. Obviously we're hoping for the best, but the situation is very serious."
The missing pilot is a contractor who works for DynCorp, a company that provides pilots and maintenance for fixed-wing aircraft operated by CalFire, a fire-fighting agency, Upton reportedly said.
The incident reportedly took place two hours after the Dog Rock fire started near Yosemite's Arch Rock formation in the western portion of the park, and rapidly grew to engulf 130 acres, prompting the evacuation of about 60 homes in the nearby community of Foresta.
California Highway Patrol Sgt. Chris Michael witnessed the crash while he was helping to close State Route 140 at the park's western entrance, according to AP.
"I heard a large explosion, I looked up on the steep canyon wall and saw aircraft debris was actually raining down the side of the mountain after the impact," Michael told AP. "It hit the steep side of the canyon wall. It appeared from the direction he was going, he was trying to make a drop down the side of the canyon when he hit the canyon wall."
© Copyright IBTimes 2023. All rights reserved.