Alan Bean, Astronaut-Artist And 4th Man To Walk On Moon's Surface, Dies
Alan Bean, the fourth man to step on the surface of Moon and a great artist, passed away aged 86 on May 26.
Bean, a NASA astronaut and former naval officer, flew into space on two occasions. He retired from the space agency in 1981 and used his flair for art to express all of his space adventures. Many of his paintings reveal the experiences he and his fellow astronauts had on the moon.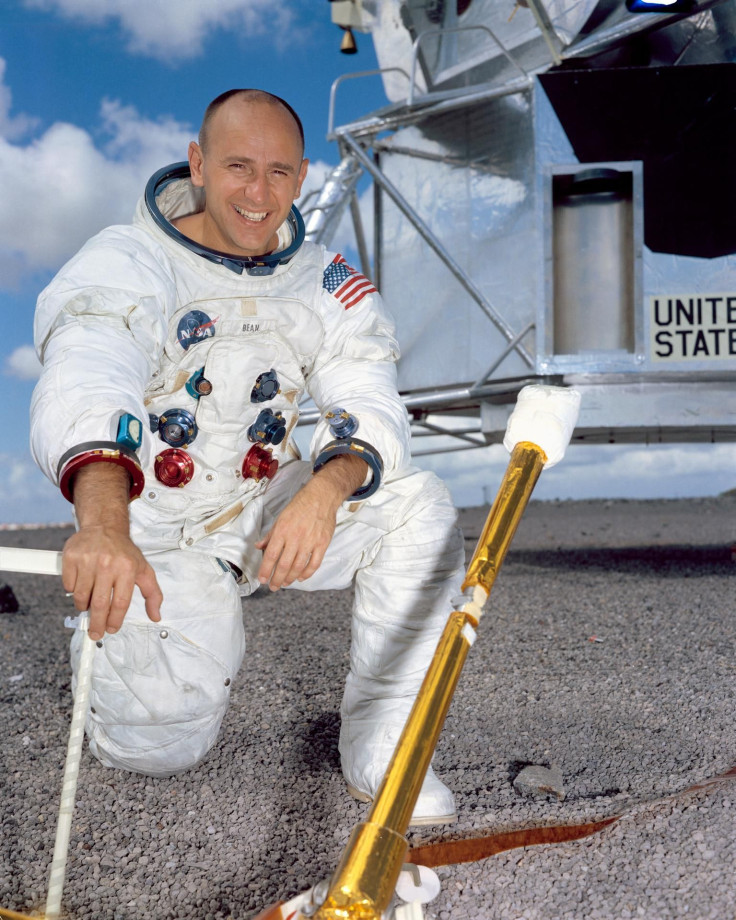 Born on March 15, 1932, Bean graduated as an aeronautical engineer and started his career as part of a jet attack squadron in Florida before joining the Navy Test Pilot School in 1955. A few years later he joined NASA and served as a backup astronaut for the Gemini 10 and Apollo 9 missions.
However, his first real mission didn't begin until Apollo 12, the second manned mission to land on the Moon, happened in 1969. Bean joined the crew as a lunar module pilot and landed on the satellite's "Ocean of Storms" after flying some 250,000 miles in the cosmos.
"Pete [the commander of the mission], who knew me from test pilot school [chose me] although I hadn't done anything during the period of NASA where he could say, 'He is really good. He just is undiscovered.' I wasn't the undiscovered talent. It was never that," Bean said in a 1998 NASA interview. "It was always not being able to show it somehow. So he, for some reason, still felt that I could be a good lunar module pilot."
Bean and Pete Conrad explored the lunar surface for two days and deployed several experiments, including the first nuclear power generator on the Moon. The mission was a success and he became one of the 12 men in history to walk on the surface of our only natural satellite. But, his adventures didn't end after the memorable spaceflight.
After severing the agency in a variety of roles for a few years, Bean returned to spaceflight as the commander of the second mission to the Skylab space station in 1973. The 59-day long mission was also successful and his crew accomplished all the assigned goals sooner than expected.
Both missions combined, the astronaut logged 1,671 hours and 45 minutes in space, with more than 10 hours of extravehicular activity in Earth and Moon orbit. He established 11 world records in space and astronautics and retired from the agency in 1981 to pursue art. His goal was to share the experience of living somewhere beyond this world, as no artist ever saw the places he really did.
"I had been painting earthbound subjects for many years by the time I returned from Apollo 12 and Skylab 3 missions, but my fellow astronauts convinced me to paint my experiences on the moon," the astronaut wrote on the website featuring his beautiful work. "Over the years, my art has evolved into a mixture of painting and sculpture, textured with my lunar tools, sprinkled with bits of our Apollo 12 spacecraft and a touch of moondust from the Ocean of Storms."
In the interview with NASA, he also added that he hoped his work will live on forever. "I believe that 100, 200, 300 years from now all these paintings will be around because they're the first paintings of humans doing things off this Earth. When humans go to Mars they're going to do the very same things, because this is what humans do."
In a statement released by his family on NASA's website, his wife of 40 years, Leslie said: "Alan was the strongest and kindest man I ever knew. He was the love of my life and I miss him dearly."
© Copyright IBTimes 2023. All rights reserved.
FOLLOW MORE IBT NEWS ON THE BELOW CHANNELS