Alberta Hailstorm Leaves Behind 10-Mile Ice Strip Across Airdrie, Canada [PHOTO, VIDEOS]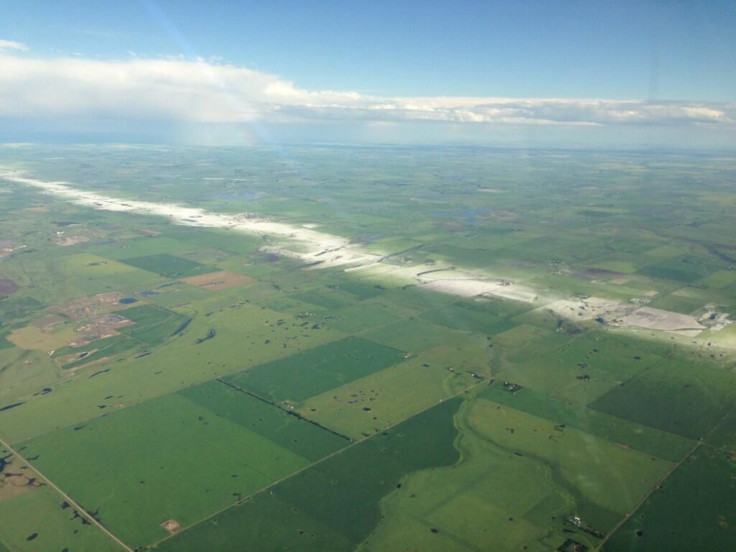 What appears to be a giant white strip in the middle of Canada is actually the aftereffect of a freak hailstorm in the province of Alberta this past weekend. The photograph, taken by a pilot, shows the remains of the storm in the city of Airdrie.
The now-viral photo, first shared on Twitter, was reportedly taken by a Jazz Aviation pilot, Captain Daryl Frank, north of Calgary on Saturday. According to a report from the Huffington Post, the hailstorm and high winds hit not only Airdrie but also Cochrane and north Calgary Saturday afternoon. The storm, although leaving behind up to 12 inches of accumulation that measured two miles wide and 10 miles long, only lasted an estimated 30 minutes, reported WunderGround.
The Calgary region isn't completely unfamiliar with record-breaking hailstorms. In 2010, the area received hailstones bigger than gold balls, that storm breaking national records with over $500 million in hailstone-related damage, reported the Calgary Herald.
The storm comes just shy of three weeks after the region suffered from devastasting floods that caused an estimated 75,000 people to be evacuated from their homes. According to the Associated Press, 25 neighborhoods in the Calgary and Alberta areas were evacuated after officials feared the nearby rivers of Elbow and Bow would overflow their banks.
© Copyright IBTimes 2023. All rights reserved.