Alex Jones Confronted With His "actors" Claims In Sandy Hook Defamation Trial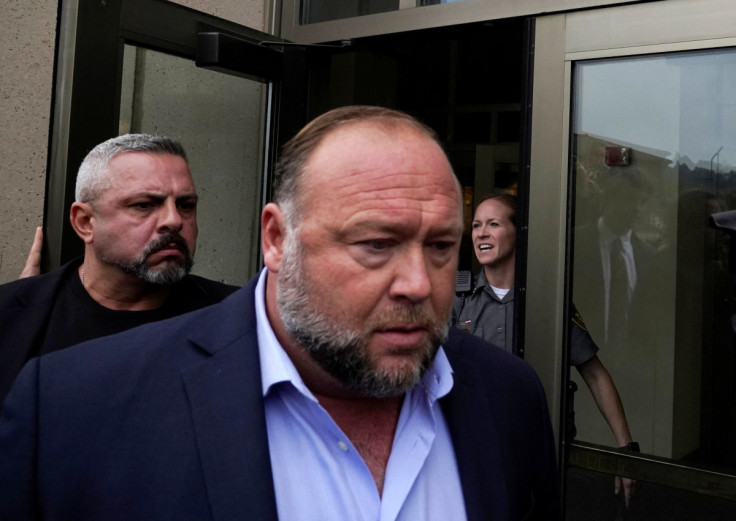 Alex Jones was confronted on the witness stand on Thursday with evidence he called the parents of children killed in the 2012 Sandy Hook school shooting "actors," as the U.S. conspiracy theorist tries to limit liability for claiming the massacre was a hoax.
The defamation trial in Waterbury, Connecticut, concerns only how much Jones and the parent of his Infowars site must pay in damages for spreading false claims that the U.S. government staged the killing of 20 children and six staff members as a pretext for seizing guns.
In his first day of testimony, Jones, who has acknowledged that the massacre at the Sandy Hook Elementary School in Newtown, Connecticut, took place, initially denied claiming for years that victims' parents were actors, and said his prior stance had been "complicated."
But a lawyer for the plaintiffs, Christopher Mattei, countered with footage where Jones said the parents were seen chatting after the shooting and feigned crying upon realizing that cameras were trained on them.
Mattei also showed jurors footage from a prior deposition where Jones conceded that his hoax claims implied that the parents were actors.
Jones also acknowledged calling Judge Barbara Bellis a "tyrant" after Mattei displayed an image posted on Infowars depicting Bellis with red lasers shooting from her eyes. Jones said he wasn't responsible for the post.
Bellis has largely barred discussion of politics and conspiracy theories at the trial, and Jones' testimony was interrupted by repeated objections from his lawyer Norman Pattis over its scope.
Jones is also not permitted to dispute his liability for damages, after Bellis issued a default judgment last year because he repeatedly failed to comply with court orders. Jurors must decide only what Jones and Infowars' parent Free Speech Systems must pay the plaintiffs for the pain and suffering they say he caused.
The plaintiffs include family members of Sandy Hook victims, as well as an FBI agent.
A Free Speech Systems representative testified last week that Infowars article views soared 49% in the year after the massacre, and other metrics skyrocketed later as Jones hosted Sandy Hook deniers on his shows.
One pause in Thursday's testimony came when Mattei asked about a defamation lawsuit Jones filed against media outlet The Young Turks to prevent Jones from telling jurors that the outlet was part of a vast conspiracy against him.
The trial is taking place a month after the U.S. conspiracy theorist was hit with a $49.3 million verdict in a similar case in Texas, where Free Speech Systems is based. Jones' lawyers hope to void most of the payout, calling it excessive under Texas law.
Free Speech Systems filed for bankruptcy in July, which would typically shield the company from lawsuits, but it agreed to face trial in Connecticut.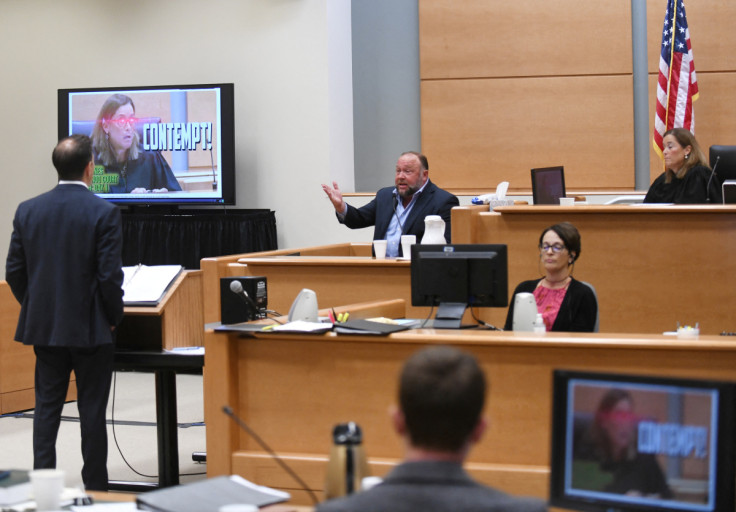 © Copyright Thomson Reuters 2022. All rights reserved.
FOLLOW MORE IBT NEWS ON THE BELOW CHANNELS