Alfred Angelo Closing Down Stores Across US, Sends Brides Into Panic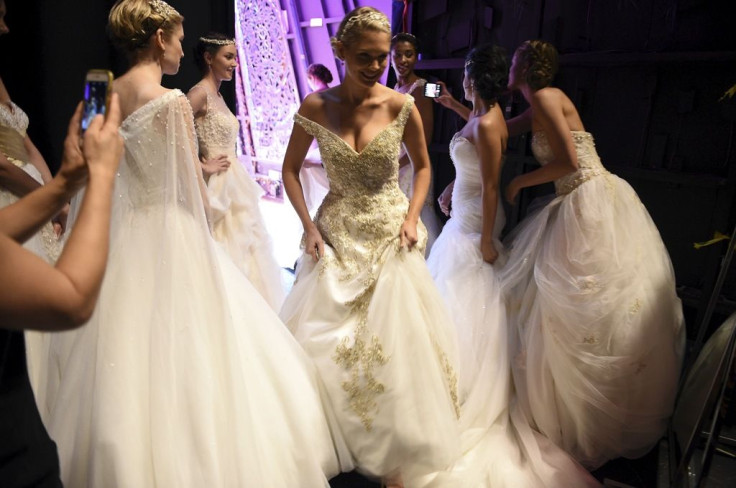 Popular bridal dress retailer Alfred Angelo has shut down its stores across the U.S. and filed for bankruptcy protection, reports said Thursday. Several brides-to-be took to social media to express anger and frustration over the sudden closure.
The Florida-based company, The Delray Beach, did not issue a prior warning to its employees about the move, an Alfred Angelo store manager told the Wall Street Journal. The 84-year-old company is yet to make a public announcement about the closure. The company hired the Florida-based law firm Stearns Weaver Miller Weissler Alhadeff & Sitterson to handle the bankruptcy case, sources told the Journal.
Read: True Religion Files For Chapter 11 Bankruptcy
"People have children, people have families, people have mortgages," the store manager told the Journal. "We call ourselves the front lines, dealing with brides, which can often be a stressful time. And we represented the company the best we could because we love the work. But the company didn't represent us."
Alfred Angelo has over 60 stores in the U.S. and more than 1,400 wholesale stores across the world. The company — founded in 1933 by Alfred Angelo and his wife Edythe Piccione — calls itself the world's leading manufacturer, wholesaler, and retailer of wedding gowns, bridesmaids, and dresses for other formal occasions.
"As a wedding dress retailer that has dressed brides and their bridal parties for over 80 years, we continue the timeless vision of our founders, Alfred Angelo Piccione and Edythe Vincent Piccione, by offering elegant and affordable contemporary wedding dress and bridal party fashions," the company's website states.
According to the Palm Beach Post, employees at Alfred Angelo's corporate office in Delray Beach were seen leaving the building carrying personal belongings. Only two people were present at the headquarters sitting inside a boardroom.
A company employee at another store called the firing of the employees as a "mass exodus before lunchtime."
"Everyone left one-by-one with cardboard boxes, plants," the employee told the Palm Beach Post. "One of them said it they were all fired today … It was so bizarre."
A police officer was sent to the company's store in Tukwila, Washington, after customers tried to forcefully open the shop following the news of its closure.
"They called me at 2 p.m. [5 p.m. EDT] and said, 'The store is closing for good at 5 p.m. local time The company is going bankrupt. Unfortunately, we can't give you your money back but you can come in and look at the dresses we have," Heather Fleming, who paid $1,600 for her wedding dress and other items, told the Seattle Times.
On its website, Alfred Angelo still has a sale going on all its in-store bridal gowns and bridesmaid dress. Several panicked brides-to-be reacted to the news on Twitter. Some said they had made full payment for their gowns and were awaiting the delivery.
Read: Wet Seal Files For Bankruptcy Following Store Closures
Bree Steffen, a reporter at ABC-affiliate 10 News in San Diego, said in Facebook video employees at area stores told customers who paid the full amount but did not get a chance to pick up their gowns will get the items delivered in "few weeks." However, other customers were told to contact Alfred Angelo's bankruptcy attorneys to know about procedures to get a full refund.
Alfred Angelo's attorney has not yet released any statement over the development and it remains unclear when they would do so.
© Copyright IBTimes 2023. All rights reserved.