Amal Clooney To Visit UAE And Speak At Government Communication Forum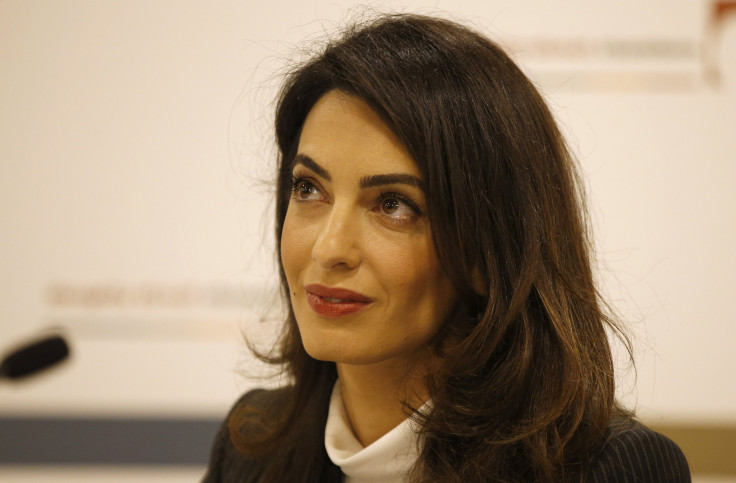 Human rights lawyer Amal Clooney is scheduled to visit United Arab Emirates and speak at the fifth edition of annual International Government Communication Forum (IGCF 2016) in Sharjah on March 20. The Sharjah Media Centre (SMC) announced that five eminent public figures will be the guests of honor at the annual forum. The two-day event is the first of its kind in the Arab region.
The forum is an important global event that convenes decision-makers, experts and stakeholders in government communication from around the world. The 38-year-old British-Lebanese lawyer will drawing on her expertize as an international advocate and human rights activist. Amal Cooney will underline how respect for international law can contribute to improving the image of nations globally.
Amal, who is married to Hollywood heartthrob actor George Clooney "will highlight the role played by international organizations, such as the United Nations, in encouraging governments and countries to follow international procedures and protocols towards enhancing their global reputation." Amal joins a line-up of five other speakers who will speak on various topics.
The five speakers include Dr Sultan bin Ahmed Sultan Al Jaber, minister of state and chairman of the Board of National Media Council; Mary Robinson, first female president of Ireland (1990-1997) and former UN High Commissioner for human rights (1997-2002); Shamma bint Sohail Al Mazrouei, UAE's minister of state for youth affairs, and Christopher Gardner, American entrepreneur, motivational speaker, author and philanthropist.
Also, Amal will visit India and speak at the India Today Conclave to start March 17. The two-day event will witness some of the finest minds come together to discuss and debate issues from around the world. The barrister is currently counsel to former president of the Maldives Mohamed Nasheed who was charged with terrorism and sentenced to 13 years in prison after a much-debated trial.
Amal has made a name for herself handling some very well-known clients. Meanwhile, she reportedly received death threats recently pertaining to the case and her husband has beefed up her security.
© Copyright IBTimes 2023. All rights reserved.