Amanda Knox Acquitted: Rudy Guede's Confession and the Mystery Murderer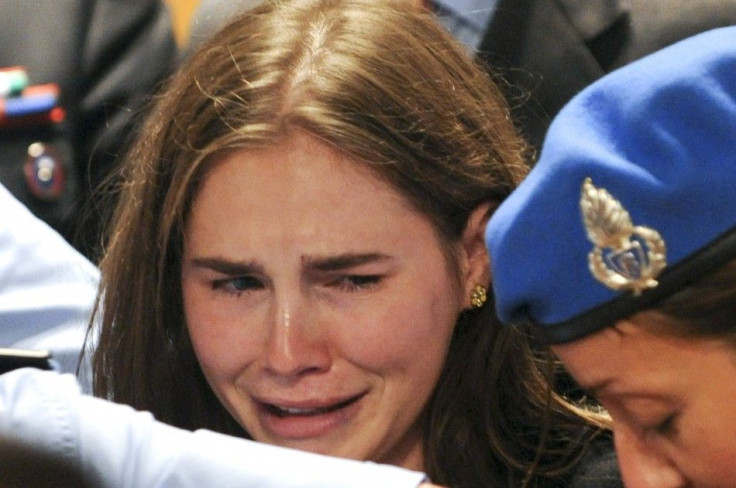 Amanda Knox and her former boyfriend Raffaele Sollecito were finally acquitted of the charges of murder of Meredith Kercher on Monday by an Italian court. After spending almost four years in jail, the controversial trial of the murder of the British student has finally come to an end, leaving everyone perplexed.
A jury consisting of six Italian citizens and two judges delivered the verdict on live television after more than 11 hours of deliberations, making a nervous Amanda Knox break down in tears. The acquittals can be appealed to the Italian Supreme Court, and prosecutors indicated they would appeal, The Seattle Times reported.
The verdict has overturned the December 2009 convictions that gave Knox and Sollecito 26 and 25 years of prison sentences, respectively, for the 2007 stabbing murder of 21-year-old Kercher, who shared an apartment with Knox.
Knox and Kercher shared a flat with three other young women and at the scene of murder, Kercher was found sexually assaulted and repeatedly stabbed, and some of her belongings were stolen.
At the time of her death, Kercher was 21 and Knox, 20.The acquittal of Knox and Sollecito has certainly given them their life back, but it has also left a big question as to who really killed Kercher. The three convicted for the brutal murder of Kercher were all students, young and promising.
The third defendant in the case is Rudy Guede, who has almost disappeared from media coverage after he was sentenced to 30 years in prison, to which he later appealed and got his sentence shortened to 16 years.
All three have denied being responsible for Kercher's death, and Guede has maintained throughout that he was present at the apartment with Kercher on the night of her murder.
On Nov. 18, 2009, ABC news had reported Guede's trial in which he had said I want the Kercher family to know that I did not kill and did not rape their daughter. It was not me that took her life away.
Knox's legal team, however, had rejected Guede's account stating, Today does not affect Amanda's trial because no one believes Rudy Guede. Guede is not reliable - he is a liar, Carlo Dalla Vedova, one of Knox's lawyers, told ABC News.
Guede claimed that he had heard Knox and Kercher argue right before the murder. According to Guede's account, on the night of the murder, while he and Kercher were together in the apartment, he had gone to get something to drink when Kercher went into her room and began railing against Knox because money was missing from her drawer. My money, my money, she kept saying.
He added, She said that Amanda brought boys back to the house and that she couldn't stand her anymore.
According to Guede, he and Kercher started making out, but stopped. Ten minutes later when he went to the bathroom, and while there the doorbell rang and he heard Kercher arguing with Knox.
He figured it was an argument between the roommates and he turned on his ipod until he heard a scream. Guede claimed that when he ran to Kercher's room, he saw a male figure.
He also said that an unidentified man tried to strike me. He backed down the hallway in the dark, fell, and heard the man say 'Let's go, there is black man in the house.'
Guede testified that when he went to the window in one of the rooms, he saw the silhouette of Amanda Knox leaving.
He said that an injured Kercher held his hand and tried talking to him but a terrified Guede fled from the scene, ABC News report said.
The case was built largely on DNA evidence that legal experts called flimsy and suspect. Serious doubts emerged over two crucial pieces of DNA evidence - a clasp from Kercher's bra and the alleged murder weapon, a black-handled kitchen knife, according to the Telegraph.
Knox has changed her statement many times and in the first interrogation has falsely accused Patrick Lumumba, a Congolese bar owner, of being the killer. He was arrested based on Knox's statement and later released when a Swiss businessman read about the case and came forward to testify that he was talking to Lumumba in his bar on the night of the murder.
Lumumba said that Knox nearly ruined his life and he still has nightmares about his arrest.
Knox's next version of the night was that she was with her boyfriend on the night of the murder and they spent the night smoking marijuana, watching a movie and making love.
Sollecito initially said he was not sure Knox was with him, but later claimed his memory was hazy because of the marijuana he had smoked and that Knox had been with him.
The scene of the murder is still very hazy and there is no clear picture as to what really happened that night.
Those who know Knox in Perugia describe her as a notorious sex-crazed woman, whereas her family says she is an innocent and hard-working girl.
On the night of the murder, Knox and Sollecito's mobiles were switched off from around 8:40 p.m. till 6 a.m. of the next morning, adding more suspicion.
After all these years of trial and investigation, and two of the defendants walking home free, the murder of Meredith Kercher still remains a mystery.
© Copyright IBTimes 2023. All rights reserved.