Amazon 3Q Earnings: The Last Quarter Of Losses To Stoke Kindle's Fire?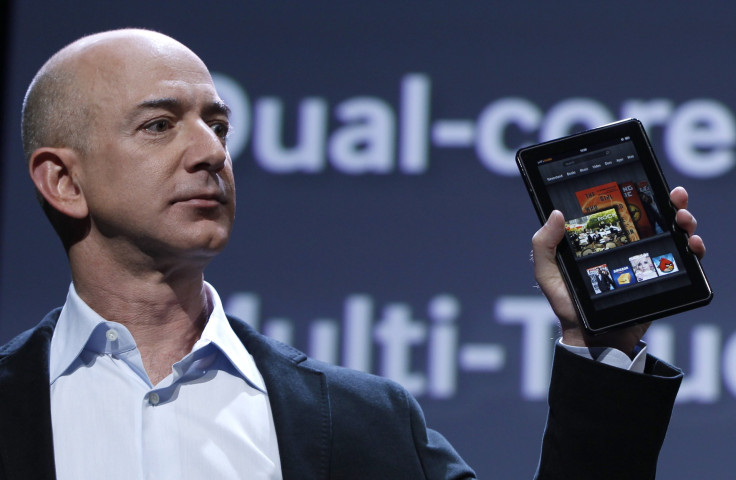 Amazon.com Inc. (Nasdaq: AMZN), the No. 1 e-retailer, is expected to report a net loss for the third quarter Thursday as part of CEO Jeff Bezos' effort to build momentum for his line of Kindle Fires to carve a profitable slice of the burgeoning tablet sector.
All year, earlier quarters saw only a very narrow profit on the gamble.
Bezos appears to be succeeding.
The Seattle-based retailer, which is also an increasingly important provider of Internet services in the cloud to small businesses and government agencies, has sold millions of Kindles for years and perhaps as many as 20 million Kindle Fire tablets over the past 12 months, all priced below the $499 iPad from Apple (Nasdaq: AAPL), the world's most valuable technology company, which also reports results on Thursday.
Through Amazon Prime, the company offers all manner of content to customers, from books to videos to live TV, much like Apple. As well, Bezos has made the service cheaper than Apple's cloud-based services.
Amazon has become an ever-bigger e-retailer of electronics, clothes, home furnishings, cars and consumer products, as well as books. Its software knows customer preferences and habits, holds millions of credit card numbers and can make canny suggestions about new products.
National electronics chains like Circuit City have collapsed and Best Buy Inc. (NYSE: BBY) has reported shrinking net income this year due to the competition. Small business owners in other categories like jewelry have raised the alarm that Amazon may be after them, too.
Bezos, 49, an electrical engineer with a degree from Princeton, may have other tricks up his sleeve. There's been speculation that he's designed a smartphone to compete against the iPhone, and that he's eyeing the wireless systems unit of Texas Instruments Inc. (Nasdaq: TXN), the No. 2 U.S. chipmaker. Neither prediction has come true yet.
Still, with about a 20 percent stake in Amazon, valued at $103.3 billion on Wednesday, Bezos can afford to bet the company on his gambles.
He's already put traditional booksellers like Borders Books out of business and become a major rival to Barnes & Noble Inc. (NYSE: BKS), the No. 1 bookstore chain, which turned to help from Microsoft (Nasdaq: MSFT), the world's biggest software company. The two companies now are investing in the Nooks that compete with Kindle Fires.
Analysts surveyed by Thomson Reuters expect Amazon to post a net loss of $33.3 million, or 8 cents a share on revenue of $13.93 billion, compared to the year-earlier's net income of $63 million, or 14 cents, on revenue of only $10.87 billion. On an operating basis, the company's expected to report earnings of $513.20 million, up 44 percent from a year ago.
Besides sales, Amazon Web Services now accounts for as much as 14 percent of revenue, but probably even more, especially after the company this month announced that a bevy of colleges, state governments and even NASA had signed up to use it for cloud applications. In that respect, Amazon is becoming a competitor of the computer giants like International Business Machines Corp. (NYSE: IBM) in offering secure Internet applications.
It's just because of this that Bezos might try to launch Amazon into the smartphone sector, although the company doesn't own wireless spectrum. But with directors including Jonathan Rubenstein, the former CEO of Palm before its acquisition by Hewlett-Packard Co. (NYSE: HPQ), Amazon has in-house expertise and cash to use it.
Shares of Amazon closed Wednesday at $228.49, down $5.82. They've gained 32 percent this year and lost 4 percent over the past 52 weeks.
© Copyright IBTimes 2023. All rights reserved.