Amazon Echo Unavailable, Rumors Of New Version To Rival Apple HomePod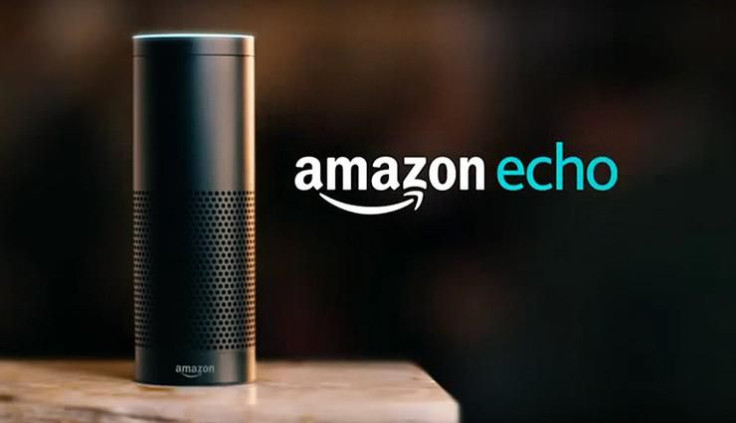 The original Amazon Echo in black is currently out of stock on the company's site, as rumors claim the online retailer will come out with a new version to compete with Apple's HomePod.
Amazon has released multiple Alexa-powered Echo devices, including the Echo Look and Echo Show, which were both launched this year. However, the original Echo hasn't been refreshed in two years, and has seen its price slashed in half for Amazon's Prime Day sale. The recent unavailability and discounts on the device suggests Amazon is gearing up to release a new Echo to rival the upcoming HomePod. Apple introduced the HomePod in June, and is expected to launch the speaker in December.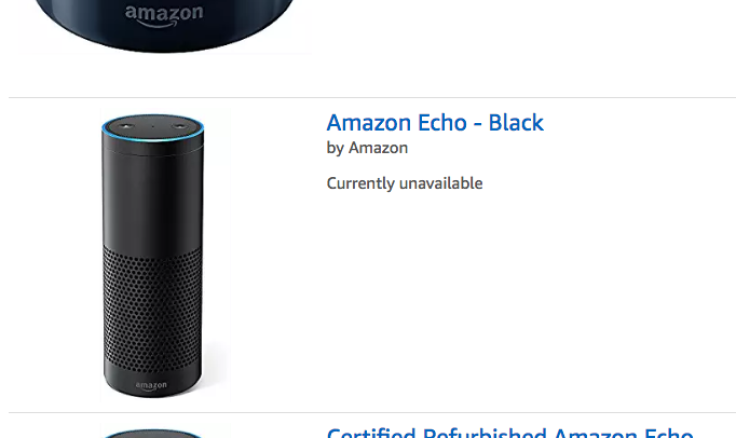 Amazon's New Echo
The new Echo will be an improved version of the original device, and will aim to take attention off the HomePod, sources told Engadget last month. Amazon's gadget will be shorter and slimmer than the original Echo. The upcoming device will also sport a softer design with rounded edges and a cloth-like covering.
Apple tried to market the HomePod not as an Echo competitor, but instead as higher-end audio speaker that's powered by its Siri. It seems like Amazon is going after that, by making the sound in the Echo better.
The new Echo will contain several tweeters, instead of just one large tweeter (the HomePod will come with seven tweeters). Amazon will reportedly also boost the device's microphone technology. The current Echo contains seven far-field mics, while the HomePod has six and Google Home has two. It's unclear how the new Echo, which is rumored to release this fall, will improved its microphone technology.
Amazon Echo Update
As the Echo was out of stock, Amazon announced a new feature for its Echo family. Now users will be able to play music across their multiple Echo devices around the house.
"Today, we're making Alexa even smarter with an all-new feature that lets you play music synchronized on multiple Echo devices to provide room-filling music throughout your home," said Toni Reid, Vice President, Amazon Alexa.
The feature allows users to play songs from Amazon Music, TuneIn, iHeartRadio, and Pandora, with support for Spotify and SiriusXM coming soon. Users can set up multi-room playback on their Alexa app. Once the group is made, like "downstairs" for devices in the first floor, users can say phrases like "Alexa, play John Mayer downstairs" to hear their music through multiple Echo devices.
The update won't put Echo devices ahead of the HomePod. Apple says HomePod speakers will be able to communicate with each other through AirPlay 2, so they can play music throughout the house. Users will also be able to control any other AirPlay 2‑compatible speakers.
HomePod Features, Rumors
The 6.8-inch tall HomePod, which was introduced at Apple's Worldwide Developers Conference will be available in white and Space Gray. The device will be equipped with Apple's A8 Chip, which is found in the iPhone 6. The HomePod sports a "seamless mesh fabric designed for both aesthetic and acoustic performance," Apple describes on its site. The HomePod will automatically sense where in the room it has been placed, whether next to the wall on a center table. It'll also be able to tell when another HomePod has been added.
Amazon offers Echo devices from prices starting at $49.99 for the Echo Dot to $229 for the touchscreen-powered Echo Show. The HomePod will cost much more than the Echo devices, priced at $349.
However, Apple CEO Tim Cook said in an interview with Businessweek that the HomePod is going to be worth it.
"We're hitting on something people will be delighted with," he said. "It's gonna blow them away. It's gonna rock the house."
One in three U.S. consumers said in a June survey they were interested in buying Apple's new HomePod speaker. However, Amazon still beats Apple when it comes to comparing assistant speakers. The survey found 17 percent of respondents said they were most likely to buy the Amazon Echo, followed by the Echo Dot at 11 percent, Google Home at 11 percent, while nine percent said they would buy Apple's Home Pod at nine percent.
© Copyright IBTimes 2022. All rights reserved.
FOLLOW MORE IBT NEWS ON THE BELOW CHANNELS