Amazon Kindle Tablet: It's All About Digital Content, Not Challenging Apple
ANALYSIS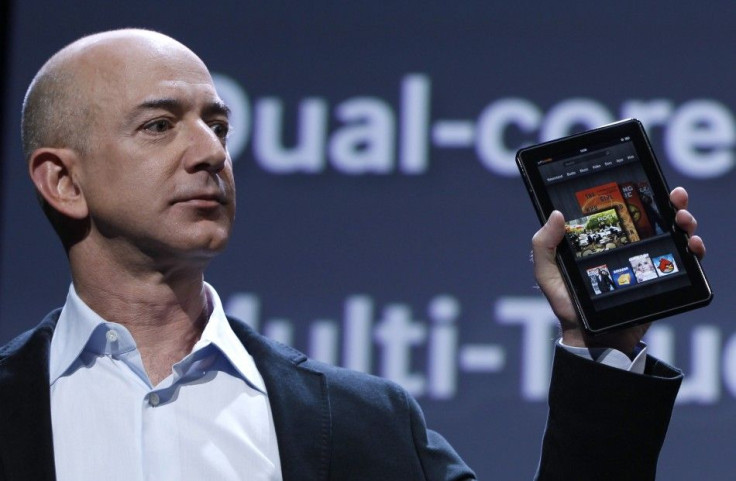 Shares of online retailer Amazon.com (Nasdaq: AMZN) jumped on Wednesday after the company unveiled its new, cheaply priced Tablet computer called Kindle Fire as a potential challenger to Apple Inc.'s (Nasdaq: AAPL) celebrated iPad.
However, some observers believe that the Kindle Fire does not necessarily pose a threat to the iPad (despite the fact that it costs less than half the price) because it is a vastly different type of product and is likely targeting a somewhat different customer base.
Moreover, Amazon.com, which has skyrocketed into the stratosphere of corporate America through its dominant online retail business, is not really diversifying its product line – rather, the Kindle Fire might be viewed as a complement to its existing operations.
The Kindle Fire, which features a 7-inch touchscreen, weighs only 14.6 ounces (one-third less than iPad-2) and boasts a dual-core processor, will only cost $199 – versus a minimum price of $499 for the iPad.
Amazon's chief executive Jeffrey P. Bezos explained at a news conference that the Kindle Fire is designed to exploit the popularity of the company's e-readers and lure in other customers who are seeking to stream music, films and videos. Indeed, Kindle Fire owners will have at their easy disposal Amazon's existing library of 18 million e-books, songs, films and television programs – i.e, its entire stellar array of digital content.
"We're building premium products at non-premium prices," Bezos declared.
Michael Gartenberg, an analyst with Gartner, told The New York Times: "Amazon has already nailed the hardest part of the equation: the content."
The company is obviously expecting a huge and hungry market for the device – Bezos himself boasted Amazon is "making many millions of these."
However, Apple remains the dominant player in the tablet market and it remains to be seen if Amazon can make much of a dent in it.
"Apple single-handedly created the tablet marketplace with its popular iPad product," said Dennis Wassung, a portfolio manager at Cabot Money Management in Salem, Mass., to International Business Times.
"Apple is likely to maintain a 70 percent share or more over the next couple of years in a very fast-growing tablet market," he said. "Samsung's Galaxy Tab has a small presence. But some other entrants, like Research-In-Motion's (Nasdaq: RIMM) Playbook, have largely failed,"
Indeed, Apple has sold more than 29 million iPads during just the first 15 months of its existence. By comparison, RIMM has unloaded a mere 200,000 units of its PlayBook in three months.
"The tablet market right now is easily defined as Apple and everyone else," added Gartenberg. "There is certainly room for another player, and a well-executed device from Amazon could do well."
Similarly, Brian White, an analyst at Ticonderoga Securities, wrote in a note to clients: [Kindle Fire is] hardly an iPad killer. While Amazon's price point, installed base, digital content and cloud ecosystem will attract a certain consumer demographic to the Kindle Fire, there is still no real competitor to the iPad 2.
Also, according to ComputerWorld, Carolina Milanesi, an analyst with Gartner, said: The point of the [Kindle] Fire is to sell more content, and keep customers within the Amazon ecosystem."
Also, because of the price differentials, Kindle Fire and iPad will appeal to different needs and customers.
Ezra Gottheil, an analyst for Technology Business Research, told ComputerWorld: What's emerged is a two-level market. Is there going to be overlap between the Fire and the iPad? Sure. I don't have any doubt that [the Kindle Fire] will have success. But for the most part the market has already bifurcated. And Apple owns, and will continue to own, the higher end of the tablet market.
Ticonderoga's White added: We believe the Kindle Fire addresses a different market than the iPad 2, a tablet-light user on a tight budget that may not have yet purchased a tablet or already use a Kindle.
Wassung told IB Times: "I don't think Kindle Fire will make a huge impact on iPad. They're rather different products. But the Kindle Fire should help to expand Amazon's existing product base, since users will access the company's huge library of content."
Furthermore, Wassung noted, Amazon has entered mobile media quite early, suggesting it can grow in the space tremendously in the coming years.
Perhaps the bigger picture is what an unprecedented success Amazon has been.
Since late September 2001 (a period that includes the most devastating recession in eighty years), Amazon stock has relentlessly surged from under $6 to $230 – nearly a 4400 percent jump – by comparison, the S&P 500 index has risen only about 14.7 percent over that span.
The bursting of the tech bubble did nothing to stop the Amazon freight train, as the company completely revolutionized the retail business, ultimately destroying such brick-and-mortar booksellers like Barnes & Noble (NYSE: BKS) and Borders Group.
Mark Coffelt, CFA, president of Empiric Advisors and manager of the Empiric Core Equity Fund in Austin, Tex., told IB Times that Amazon has had an extraordinarily successful business model that has made it virtually invulnerable.
"They also have not had to pay sales tax, which has been a huge boon to them," he said. "Moreover, they have successfully expanded the kind of retail products they offer, from books, music and films, to toasters and vacuum cleaners. Customers can buy practically anything they want in the most efficient and convenient manner imaginable."
The company's annual revenues have jumped from $19-billion in 2008, to $24.5-billion in 2009, to $34-billion in 2010. This year, Amazon is expected to generate $49-billion in sales – thus sales have far more than doubled in just three years.
Moreover, despite all the huge success Amazon has already enjoyed, the future upside may be even greater.
"Keep in mind that very few people shop online," Coffelt noted. "The percentage of customers who buy things over the Internet is still in the single-digits, but it's growing every year. As more and more people become comfortable making purchases through the web, Amazon's dominant position in online retail can only keep strengthening."
However, there is one thing troubling about the Amazon story – the stock is very highly priced, Indeed, shares are trading at a 12-month forward P/E of more than 70 (by comparison, Apple's P/E in only about 12).
As a quant investor, Coffelt would not buy Amazon shares.
"The stock is priced to perfection," he said. "If something goes wrong, the price could conceivably collapse. Although Amazon has executed perfectly over many years, that doesn't mean they won't make a mistake somewhere down the line. Look what happened to Netflix."
© Copyright IBTimes 2022. All rights reserved.
FOLLOW MORE IBT NEWS ON THE BELOW CHANNELS