Amber Heard's Sister's Claim Johnny Depp Controlled Ex-Wife's Friends, Jobs Sparks Twitter Debate
KEY POINTS
Amber Heard's sister claimed she witnessed Johnny Depp trying to control what the actress wore, which friends she saw and more
One journalist claimed this is "a common tactic used by abusers to isolate victims and keep them in fear"
Fans and supporters of Depp questioned the accusation that the actor tried to isolate Heard from her family and friends
The testimony of Amber Heard's younger sister has sparked online debates over accusations that Johnny Depp tried to isolate the actress from family and friends during their tumultuous relationship.
Whitney Henriquez took the stand Wednesday to testify in the ongoing defamation trial between her sister and Depp, alleging in court that she witnessed the "Pirates of the Caribbean" actor exert increasing control over Heard's style, friends and acting jobs when they were together, HuffPost reported.
Henriquez testified that the outfits Heard wore to events and outings because "more and more conservative" after the "Aquaman" star and Depp began sharing the same stylist. She also claimed that the former couple would have a fight every time Heard thought of taking on another movie.
"[Depp] would often say things like, 'I don't even understand why she even needs to work. I'll take care of her. I'll take care of you, I'll take care of everyone, she doesn't even need to work at all,'" Henriquez testified.
While Depp invited Heard's sister and friends to stay in his properties, Henriquez said that the actor "took issue" with various people over the years and allegedly prevented Heard from seeing them.
"Over time, she had such a small network of people that were there to support her, it was hard to watch," Henriquez said.
Depp has repeatedly denied that he was abusive and instead accused Heard of being the abuser in their relationship — an allegation the actress has denied.
However, EJ Dickson, a senior writer at Rolling Stone and co-host of "Don't Let This Flop," tweeted Thursday that Depp allegedly controlling what jobs Heard took, which friends she saw and what clothes she wore "is a common tactic used by abusers to isolate victims and keep them in fear."
"Henriquez says that Depp got angry and jealous that Heard was photographed with her friend in France, accusing them of having an affair. His jealousy/paranoia has been a recurring theme throughout the trial and, again, is incredibly common among abusers," she added.
Fans and supporters of Depp questioned the accusation that the actor tried to isolate Heard from her family and friends, pointing out that Depp allowed them to live rent-free in his properties to be near his ex-wife.
"Abusers try to isolate their victims. Amber [was] annoyed when Johnny wanted to see his daughter. Johnny lets Amber's friends and family live there and come and go as they pleased," one Depp supporter tweeted.
"Amber Heard's sister says that Johnny tried to isolate Amber. ... She had her best friend living next door, and everyone seems to know everything about their relationship, and friends were always there, movie nights, dinner parties, even vacations," another added.
"I was isolated. I don't talk to friends anymore that he kept me from," another netizen commented. "I left him 10 years ago and only now have reconnected with my family. I was terrified of him [and] still am. No way I would laugh or mock him when we were arguing. My 'tone' got me in trouble."
Dickson argued in a follow-up tweet: "[Inviting Heard's family and friends to live in his penthouse] doesn't mean he didn't try to exercise control over which friends/relatives she saw and when. In fact, it makes sense he would be extremely generous with her family [and] friends [because] that's pretty common for abusers too, to make a victim's loved ones dependent on [and] grateful to them."
Gina Deuters — a close friend of Depp and the wife of the actor's longtime business partner and assistant Stephen Deuters — previously told Page Six that she believes Depp and Heard's marriage was "less of a relationship and more of an Amber invasion."
"Instantly she started moving her friends into his properties," Deuters claimed. "It was quite shocking how she eventually isolated him from his family and friends … it definitely felt like we'd kind of lost him."
Depp is suing Heard for defamation over a 2018 op-ed she wrote for The Washington Post about surviving domestic abuse. Though she didn't mention him by name in the article, he argued that it cost him movie projects.
Heard is countersuing for defamation, claiming Depp launched a smear campaign to discredit her allegations as a "hoax."
The trial continues.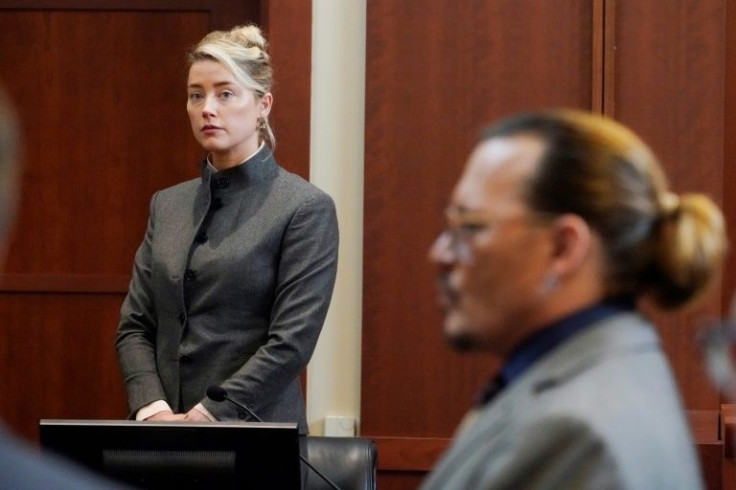 © Copyright IBTimes 2022. All rights reserved.
FOLLOW MORE IBT NEWS ON THE BELOW CHANNELS