Amber Rose Seen Hanging Out With Scott Disick And French Montana, After Blac Chyna-Rob Kardashian Dating Rumors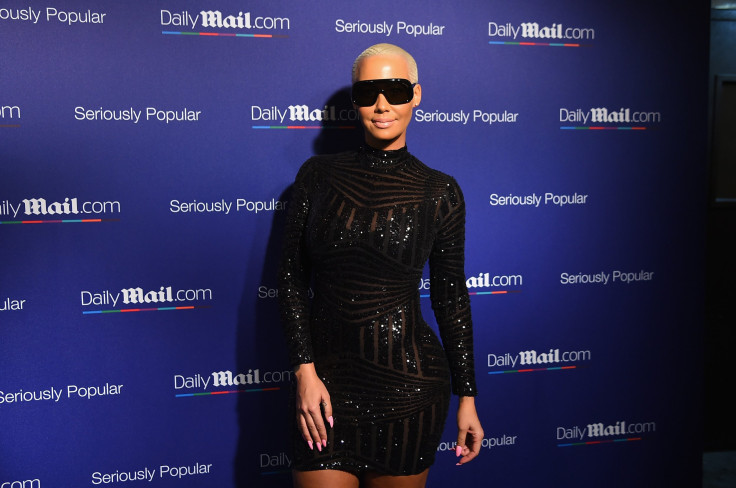 Model Amber Rose seems to know how to aggravate her feud with the Kardashians. She was recently spotted hanging out with Kourtney Kardashian's former partner Scott Disick and Khloé Kardashian's former boyfriend French Montana, triggering rumors that the subdued feud with the Kardashians may be reignited, Radar Online reported.
The latest news comes after reports Monday that Rose's former best friend Blac Chyna was dating Rob Kardashian.
The report by Radar Online, which cited a video posted by The Shade Room on its Instagram page, said that Disick was wearing a hood to avoid being seen while boarding a private plane outside of Las Vegas with Rose, Montana and some others. However, Rose reportedly looked like she did not mind being seen with Disick.
A month ago, Rose reportedly posted a message on her Instagram page showing herself wearing a crop top with the slogan, "Yo Daddy Wanna Take Me Shoppin." Radar Online speculated if the message referred to Disick.
Rose also started following Disick on Instagram on Monday, leading fans to speculate if she was trying to add fuel to the feud with the Kardashians. Rose responded to the speculations by telling The Shade Room, "I'm not following anyone to be corny or start trouble that's not me. I'm simply just a fan of his."
She added: "2016 is positive vibes."
Rose has taken jabs at Khloé, Kim and their youngest sister Kylie Jenner, before declaring that she is no longer feuding with the Kardashian clan. She dated Kim's husband for two years before Kim and Kanye got together and had called her a "homewrecker."
Last February, she got into a feud with Khloé for dissing Jenner in an interview. Rose had reacted to the news of Tyga dating Jenner while she was underage, at the time, and said: "That's ridiculous. [Tyga] should be ashamed of himself. For sure. He has a beautiful woman and a baby and left that for a 16-year-old who just turned 17." Since Tyga and Jenner started dating, Chyna and the 18 year-old "Keeping Up With the Kardashians" star have also been involved in a feud.
Khloé had come to her sister's rescue and responded to the comment on Twitter saying: "'I was a stripper since I was 15 years old,' Amber Rose told Foxx. Please don't worry about my sister who has a career & her s---"
Rose responded to the comment by taking a dig at Kim and said: "I'll be that lil whore to support my family like ur older sister is a whore 2 support hers. We're even."
Khloé responded to the message saying: "I guess people love to call us all whores. Easiest jab to throw. It is what it is. We still livin though," adding: "If I actually knew them and or had my own personal history with them. I would think others would want the same respect."
West had also commented on his past relationship with Rose and had said in an interview that he had to take "30 showers" before he could date Kim. He reportedly said: "It's very hard for a woman to want to be with someone that's with Amber Rose," adding: "If Kim had dated me when I first wanted to be with her, there wouldn't be an Amber Rose.
© Copyright IBTimes 2023. All rights reserved.