'American Horror Story' Season 4 Spoilers: Did The Elsa Mars Time Magazine Cover In Episode 10 Spoil The Ending Of 'Freak Show'?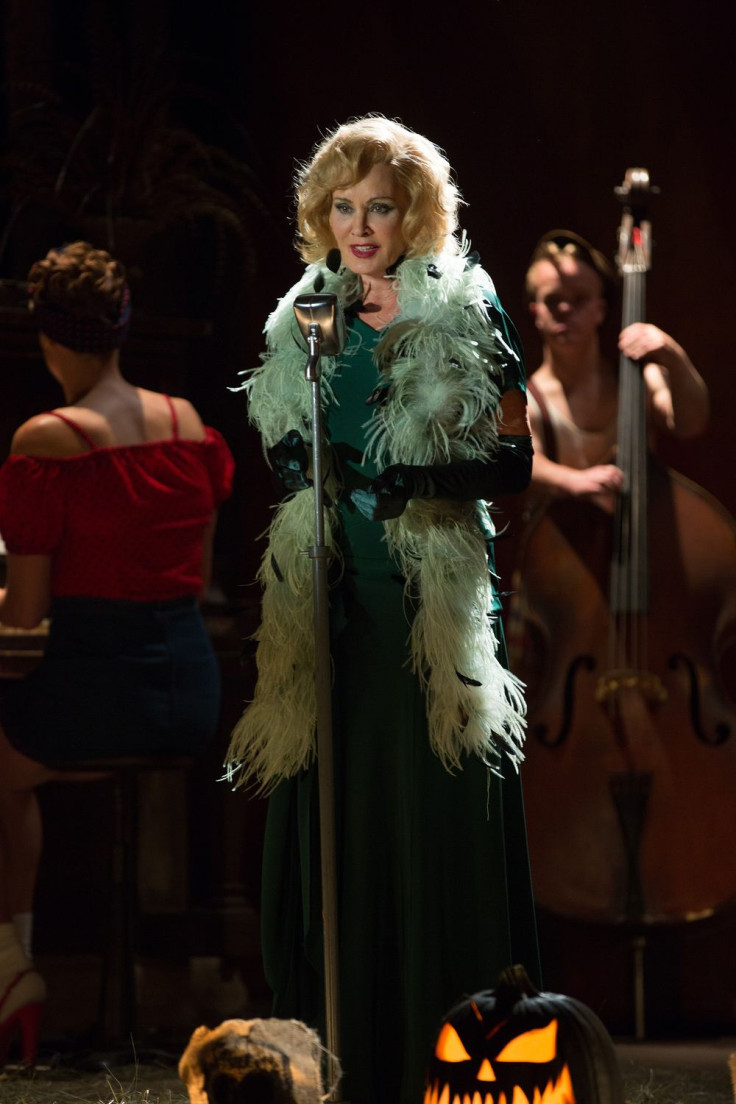 Did "American Horror Story" just spoil the ending of "Freak Show"? Since the hit FX series took its winter break following the show's heart-breaking midseason finale, all we've been able to think about is episode 10, which helped bridge together the mysterious connection between Season 4 and 2. But the only question now is: Did the episode reveal too much?
During "Orphan," Pepper (Naomi Grossman) was brought to live with her sister after becoming unruly following the death of her soulmate, Salty (Christopher Neiman). However, Elsa's (Jessica Lange) plan to surround her little monster with love turned into a disaster when Pepper's sister gave birth to a "deformed" baby.
The irrational and brutal husband of Pepper's sister was outraged that two freaks were living under his roof with the birth of his child. So, in order to rid his life of calamity he decided to take matters into his own hands. He drowned his baby, sliced off its ears and then blamed the heinous, premeditative act on Pepper.
Pepper was then dragged off to Briarcliff Asylum, the major plot location of Season 2, where she was sent to be locked away forever. It was at the mental institution that Pepper met Sister Mary Eunice (Lily Rabe). The nun could see Pepper wasn't a vicious monster. Instead, she saw what she referred to as "redemption" in Pepper's eyes for allegedly murdering the baby. That's when Sister Mary Eunice decided to make Pepper her "special project," giving Briarcliff's newest patient the task of sorting magazines instead of scrubbing dirty toilets.
It was during Pepper's filing that she came across an extremely interesting image at the end of episode 10. With her eyes swelled with tears, viewers saw Pepper lovingly staring at an issue of Time magazine with Elsa's pictured plastered across the front of the glossy cover. The story had just come full circle.
"TV's Elsa Mars: She Still Owns Friday Night," the magazine from July 6, 1958, read. And while we loved this touching scene, we couldn't help but wonder if it spoiled the series' ending. The Time cover suggests that not only does Elsa Mars find a way to survive "Freak Show," even thought the fate of her "monster's" lives are still up in the air, but she also manages to make it big in Hollywood – an unlikely scenario, or so we thought.
When we last saw Elsa, she was trying to sneak her way into the spotlight with the help of Stanley (Denis O'Hare), a con artist who claimed to have connections in Tinseltown. But the only association he had was to his partner in crime, Maggie Esmeralda (Emma Roberts), who was undercover as a fortune teller in Elsa's show.
If we're not mistaken, the timeline of Pepper being left at her sister's home and then entering Briarcliff would mean that Elsa would have had to land a gig on TV within a year. That seems kind of suspicious to us – and so does the alleged happily-ever-after ending of "Freak Show." Does Elsa really become a star? Does she even deserve to be one? We'll find out when "American Horror Story" returns for episode 11, "Magical Thinking," on Wednesday, Jan. 7, at 10 p.m. EST.
© Copyright IBTimes 2022. All rights reserved.
FOLLOW MORE IBT NEWS ON THE BELOW CHANNELS