'American Horror Story' Season 4 Spoilers: Emma Roberts Posts 'Freak Show' Character Photo With Fiancé Evan Peters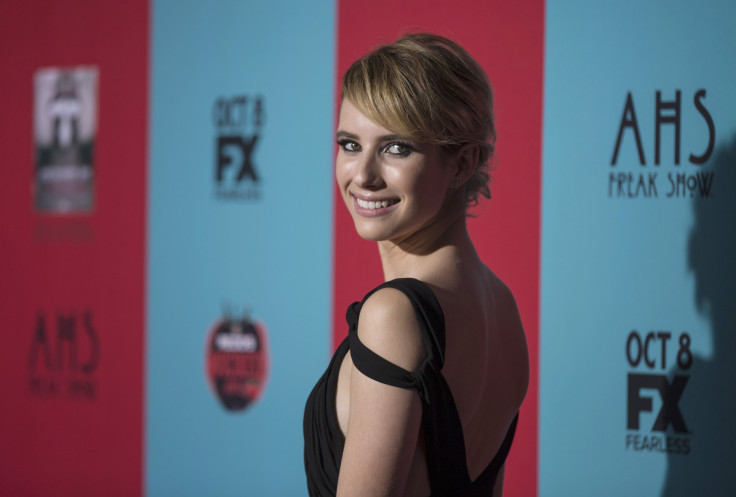 Love is in the air -- and on the blood-soaked set of the hit FX series "American Horror Story." Emma Roberts, who will appear in Season 4, "Freak Show," as a fortune-teller named Maggie, snapped an adorable behind-the-scenes photo of herself posing with her fiancé Evan Peters during a late night shoot for the spooky series. You can see the photo here.
"Late night shoot #freakshow #AHS," she captioned the picture on Instagram, asking her fans their reactions to episode 2, "Massacres and Matinees." "How did everyone like the episode tonight!?"

And while it's safe to say that Wednesday night's episode of "AHS" blew viewers away with the anticipated revealing of what exactly was under Twisty the Clown's (John Carroll Lynch) mask, we're even more excited to see Roberts' menacing character make her debut at Elsa Mars' (Jessica Lange) Florida camp.

As previously reported, Roberts will be playing Maggie, a crystal-ball fortune teller who also happens to be a "complete con artist," according to Ryan Murphy, co-creator of "AHS." Maggie will show up to Elsa's freak show, supposedly to help the camp. But ultimately her intervention will end in complete disaster.

In between wreaking havoc, Maggie will find time to develop a romantic relationship with Jimmy Darling (Peters) who performs in Elsa's show as Lobster Boy. Jimmy has ectrodactyly syndrome where his hands are left looking claw-like, but in the photo Peters' character can be seen with all five, pronounced fingers.
This isn't the first time that Roberts and Peters have struck up a relationship in the storyline of "AHS." The two were involved in a very messy threesome (along with Taissa Farmiga's character, Zoe) during Season 3, "Coven." Although Farmiga is taking a hiatus from Season 4, Roberts may have some competition once again. According to the plot, it looks like conjoined twins Bette and Dot Tattler (Sarah Paulson) have taken a liking to the handsome Jimmy. Maggie may want to watch her back -- these two have no problem killing to get what they want.
"American Horror Story: Freak Show" episode 3, "Edward Mordrake (Part 1)," will air on Wednesday, Oct. 22, at 10 p.m. EDT.
© Copyright IBTimes 2023. All rights reserved.